Disclaimer
: I was invited on an all inclusive Disney press trip for
#DisneyInHomeEvent
(
#SleepingBeauty
,
#Maleficent
,
#FireAndRescue
,
#StarWarsRebels
) and
#VeryBadDayEvent
. No other form of compensation was received. Opinions expressed belong to Whirlwind of Surprises and are NOT influenced in any way. Please view my full
disclosure, TOS, and privacy policy
. Please take the time to enter my other
giveaways
while you're here.
Do you know any firefighters? They do an amazing amount of work that goes unnoticed and unreccognized. Did you know just in California itself, there are 5600 fires a year? In the US, there are 50 000 a year! That means day in and out, firefighters, aerial and ground, are working to protect civilians that they don't even know. We only ever hear about the big fires. In September, we had the opportunity to visit the Van Nuys Tanker Base in preparation for National Fire Prevention Week and to visit one of the sites where Disney did their research for Disney Planes: Fire and Rescue.
Assistant Fire Chief, Steve Martin, and his team were very welcoming and helpful. I have 3 words for that experience: Awesome, awesome, awesome! To be able to see these planes up close was phenomenal. I met my fellow Canadians, the Quebecois, who go down to California on a yearly basis with their Super Scoopers (or the Canadian term: Water Bombers) as aerial firefighters. It is too cool. These Super Scoopers are able to pick up 1600 gallons of water in 12 seconds from 2 tiny water vents that literally are about a little bigger than one of my hands. I got to climb on these planes and go exploring. Stoked! I was the epitome of a kid exploring a candy shop for the first time.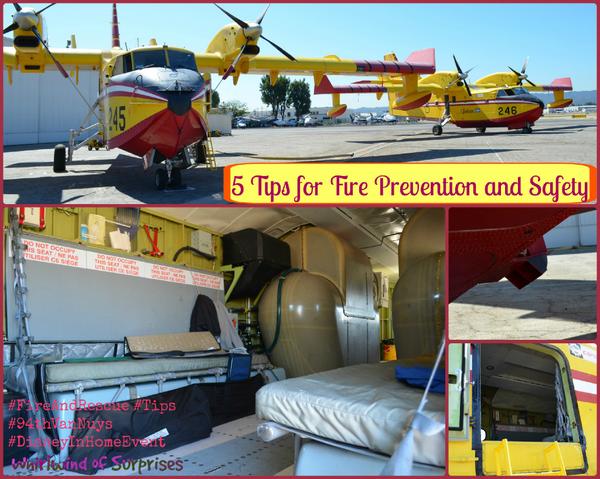 The Disney Planes: Fire and Rescue crew had come and watched and researched the planes, asking for advice from Steve Martin. Steve was so proud and excited when he found out that the Disney team had put his name in the credits! He was an integral part in making sure the Disney Planes: Fire and Rescue depiction of aerial firefighting was accurate and realistic.
Since we're starting National Fire Prevention Week, let's talk fire safety. Sure, the most common cause of wildfires are lightning strikes, however, that doesn't mean it's not serious business to take care of your home and ensure you have a safety plan.
5 Tips for Fire Prevention and Safety inspired by the Van Nuys Firefighters
1) Home Preparedness -Create a plan about what you'd do if there's an emergency. Are there elderly in the building? Do they have medications? Do you have pets to consider? What about kids? Do you need a first aid kit? A fire extinguisher? Food supplies? Water supplies?
2) Check your smoke alarms, are they working? Smoke alarms should be tested monthly by pressing the test button. A working smoke alarm can save lives. 3 in 5 lives are lost because there was no smoke alarm or no working smoke alarm when the fire occurred.
3) If there's a fire, stay low, close to the ground. Once you're in a safe spot, alert other family members prior to calling 911.
4) Two of five home fires start in the kitchen. Never leave your cooking unattended!
5) If you have a fire extinguisher at home, check the dates, they typically have to be checked once a year. Know how to use one with the acronym PASS. Pull - Aim - Squeeze - Sweep
Have a safe Fire Prevention week but keep these tips with you year round! Thank the firefighters for the work they do for us! Bring Disney Planes: Fire and Rescue home 11/4. For more Fire Safety Tips, check out my post on
10 Outdoor Fire Safety Tips
. More Fire Prevention week activities below, just click the image to download.
Stick around for more exclusive content on
#DisneyInHomeEvent
(
#SleepingBeauty
,
#Maleficent
,
#FireAndRescue
,
#StarWarsRebels
) and
#VeryBadDayEvent
.
Facebook
||
Twitter
||
Site
Follow WOS:
Google+
||
GFC
||
@CinnyBBS
||
WOS on facebook
||
Pinterest
||
Instagram
Until next time,