Disclaimer
: The product/s mentioned below have been provided for the purposes of this review. No other form of compensation was received. Opinions expressed belong to Whirlwind of Surprises and are NOT influenced in any way. Please view my full
disclosure, TOS, and privacy policy
. Please take the time to enter my other
giveaways
while you're here.
When I think of Prestel books, I don't know why but I always imagine an artfully depicted and unique children's book. They always have such an appeal that we love browsing through their new collections.
What's Cooking in Flowerville?
by Felicita Sala (Hardcover $14.95; Ages 5-9; 40 pages) -I like how this book shows young readers and cooks the different foods that come in different seasons. There are travels to the yards, balconie and rooftops to see where the citizens of Flowerville grow their vegetables plus of course, a delicious recipe that we can't wait to try out. I will admit, I'm most wanting to try the croquettes! We just love how it incorporates healthy ingredients to encourage proper nourishment for our kids.
Big Hedgehog and Little Hedgehog Take An Evening Stroll
by Britta Teckentrup (Hardcover $14.95; Ages 3-7; 32 pages) -Another beautiful book by Britta Teckentrup that highlights the bond between a caregiver and a child -from the minor indulgences to the gentle nudges that direct our children in the right way. The hedgehogs are just so stinking cute and my preschooler loved finding things in the pictures. It's no surprise that it has become a bedtime favorite.
Fantastic Fruits
by Olaf Hajek (Hardcover $19.95; Ages 6-9; 40 pages) -Similar to his prior books Flower Power and Veggie Power, Fantastic Fruits is filled with whimsical pictures that are very unique to his books. This may however be our favorite yet because it highlights so many different fruits and we love our fruits. It was so neat to read about each fruit and how they're grown and then eaten.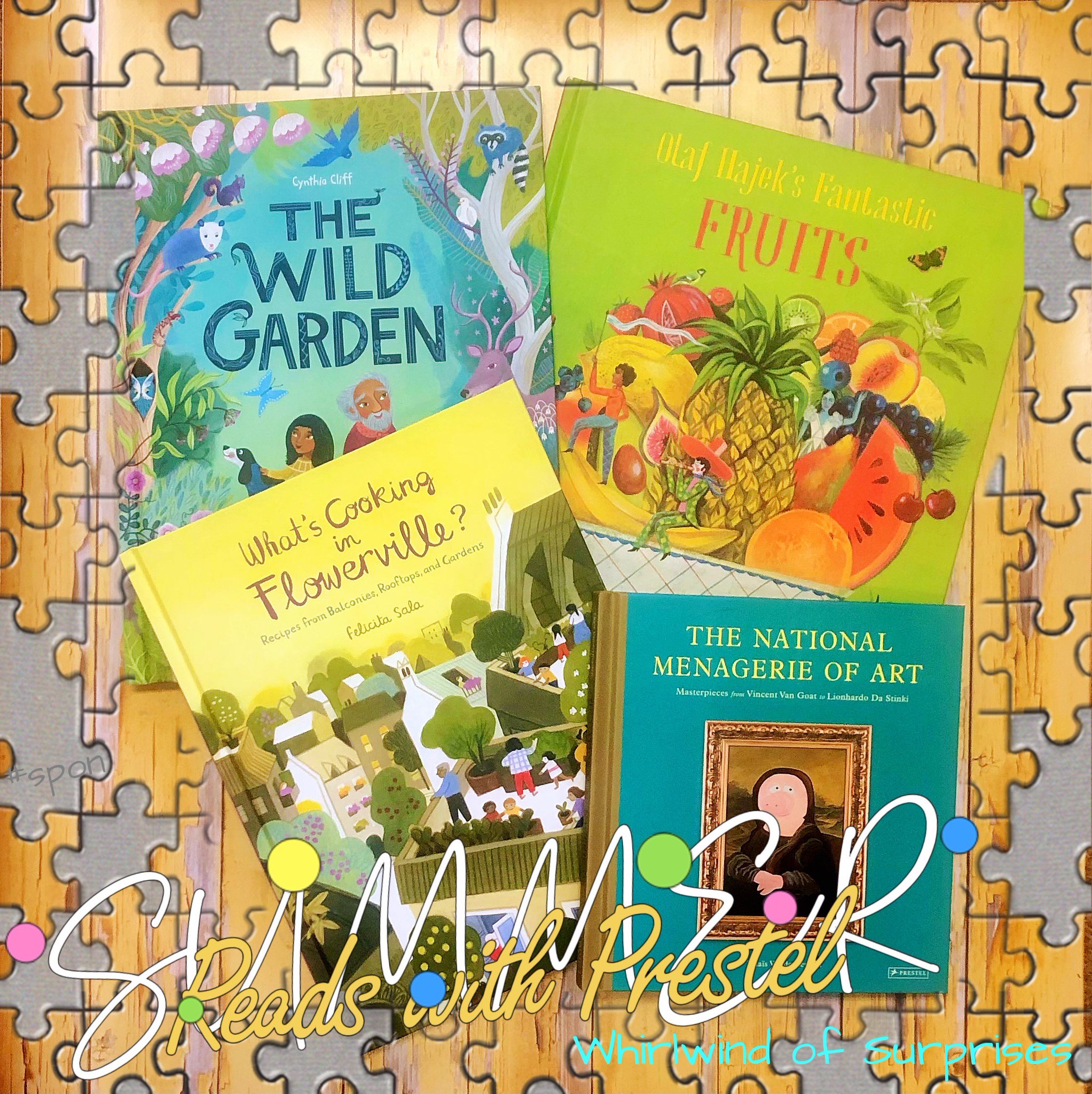 Is There Life on Your Nose?
by Christian Bortslap (Hardcover $17.95; Ages 6+; 56 pages) -Oh, this book is fun. Learning all about the yucky germs and good germs in our life in a way that kids understand. We actually read this recently as our bedtime reading. I have such a hard time getting my child to understand all these yucky germs as like any other preschooler, they love to pretend and jump...slide themselves all over the floor, act like a frog and dirty his hands right after washing them. This was a nicely simplified way to educate without being overwhelming.
The National Menagerie of Art: Masterpieces from Vincent Van Goat to Lionhardo da Stinki
by Thaïs Vanderheyden (Hardcover $12.95; Ages 5-9; 56 pages) -This book was quite cute. How many famous art pieces can you recognize in this fun parody? It's so much fun checking out the different pieces of art and the creative names of each piece. I think our preschooler just loved all the little piggies in the art! It's such a goofy way to introduce kids to the world of art.
The Wild Garden
by Cynthia Cliff (Hardcover $16.95; Ages 5-9; 32 pages) -This book introduces kids to community and biodiveristy and the way different things can grow and flourish in nature. It features a tidy community garden in the village of Mirren and the wild garden that Jilly and her grandfather enjoy. They bring about a merge of the gardens which shows that diversity can be a strength and allow different ideas, concepts to join and become better.
Prestel has really added quite a bit for the eyes and minds to this new collection of books. With heat indexes everywhere so hot, it's great to have a nice book to read in the comfort of the indoors.
Do you have a favorite?
Our friends have been so kind to offer up a fun giveaway prize pack including 4 hardcover books - What's Cooking in Flowerville?, Fantastic Fruits, The National Menagerie of Art, and The Wild Garden (MRSP $65) perfect for summer reading. Open to US/Canada/UK, 18+. Ends Jul 10, 2022, 11:59PM EST. Winners must respond within 48 hours or a new winner will be drawn. Good luck!
Prestel Summer Reading Prize Pack Giveaway (ARV $65) US 7/9
Stay connected:
Facebook
||
Twitter
||
Site
Follow WOS:
@CinnyBBS
||
WOS on facebook
||
Pinterest
||
Instagram
Until next time,