Disclaimer
: No form of compensation was received. Opinions expressed belong to Whirlwind of Surprises and are NOT influenced in any way. Please view my full
disclosure, TOS, and privacy policy
. Please take the time to enter my other
giveaways
while you're here.
One of my absolute favourite cookies are SnickerDoodles. I've always loved Cinnamon and put it in everything...french toast, coffee, hot chocolate, horchata... ev-ery-thing! I had a craving today and decided to whip some up with a bit of a variation. What resulted was some delectable Sugar-Free SnickerDoodle Chai Donut Holes -bite sized deliciousness!
Easy Recipes: Sugar-Free Chai SnickerDoodle Donut Holes
(Prep Time: 25 min, Bake Time: 8-10 min, Creates ~2.5 dozen)
Ingredients:
Wet Mix
3/4 cup Organic Blue Agave Nectar
1/2 cup Butter
2 large eggs
3 cups flour
1 tsp baking soda
2 tsp vanilla extract
3 tsp Starbucks pre-mixed Chai Tea
Dry Mix
4 packets Splenda = 1 tsp Splenda
2 tsp Cinnamon powder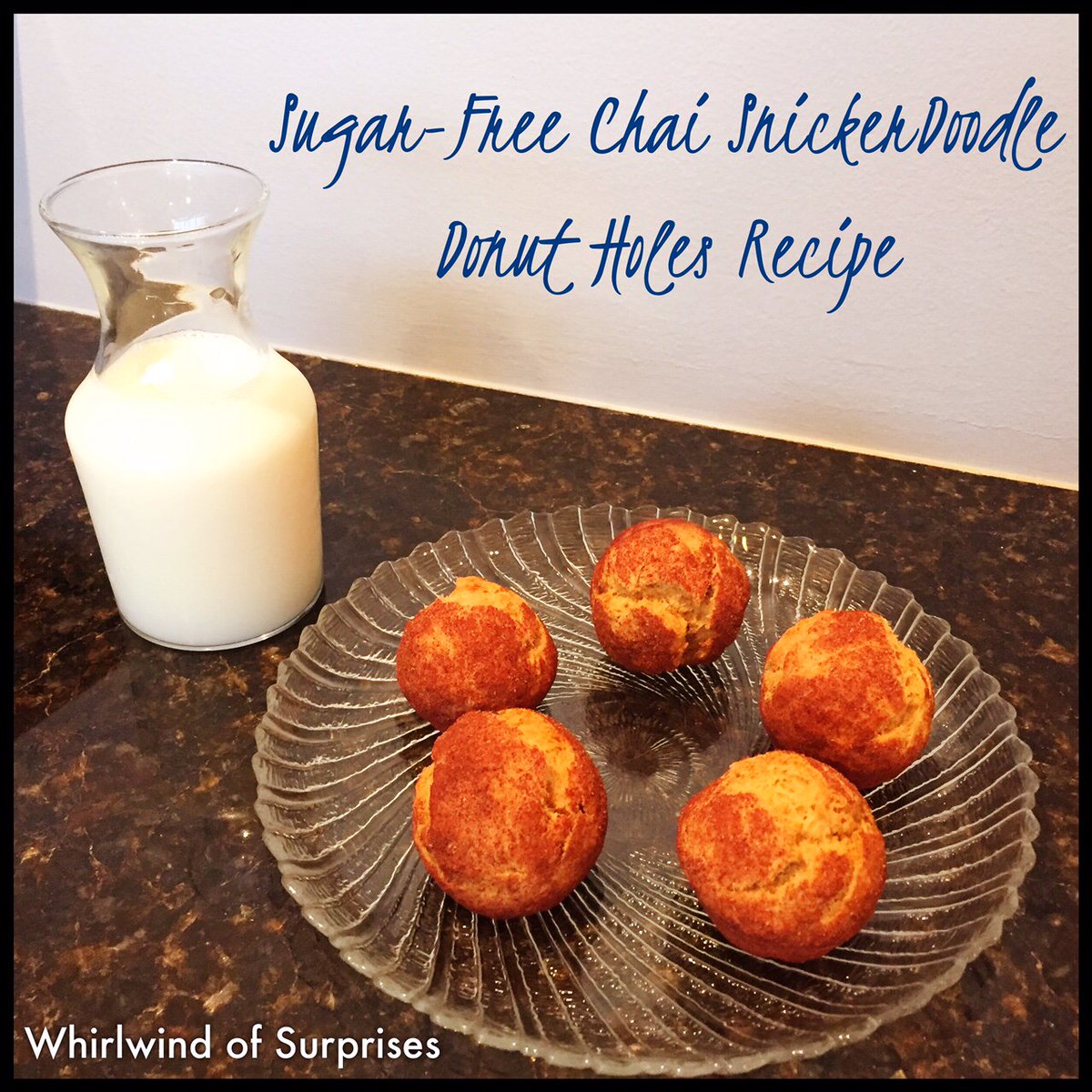 1) Mix all ingredients from the wet mix until the mixture is well-blended.
2) Mix Dry Mix in a separate bowl
3) Preheat oven to 400F.
4) Roll out 1" balls from the wet mix and roll in dry mix to cover generously with cinnamon-sweetener mixture.
5) Grease pans, making sure to set the balls ~2" apart.
6) Bake for 8-10 minutes.
I couldn't stop eating at them once they came out of the oven. The recipe makes about 2.5 dozen so it's perfect to bring to work or school as a snack or treat to share. Try using multigrain flour to make this yummy treat even healthier!
Sounds delicious? Check out our other
easy yummy recipes
.
Follow WOS:
Google+
||
GFC
||
@CinnyBBS
||
WOS on facebook
||
Pinterest
||
Instagram
Until next time,