Disclaimer
: I attended a screening of Disney Pictures The Finest Hours. No other form of compensation was received. Opinions expressed belong to Whirlwind of Surprises and are NOT influenced in any way. Please view my full
disclosure, TOS, and privacy policy
. Please take the time to enter my other
giveaways
while you're here.
The Finest Hours is Disney's latest based on true story movie that is set in the 50's. It is quite the remarkable events that led to the heroic rescue of 32 crewmen aboard the SS Pendleton oil tanker off the coast of Cape Cod. It all began February 18, 1952 as a massive blizzard struck New England and wreaked havoc on the ships caught in its deadly path. The story is touted as the most dangerous rescue in US Coastguard history but should you go see the movie? Here are 5 reasons why you should watch The Finest Hours.
The Finest Hours is directed by Craig Gillespie and stars Chris Pine; Academy Award® and Golden Globe® nominee Casey Affleck, Ben Foster, Holliday Grainger, John Ortiz and Eric Bana.
5 reasons to watch The Finest Hours
1) True heroic events
-This was the main reason I wanted to see this. The bravery exhibited by Bernie Webber (Chris Pine) is one of true valor and integrity. It's not often that we see true heroes step up against the odds and when we do, it inspires us all.
2) Sassy female lead
-Back in the day when women and men weren't quite on equal footing, women were expected to be quiet and timid. It was so refreshing to watch Miriam (Holliday Grainger) hold her own and tread where no man thought a woman should be.
3) Community
- In today's society, how often do we bond together as a community anymore? I, myself, am guilty of the same. I work and blog and when I'm home, I just want time to myself and my family. There's nothing like your own private time, right? The movie reminds me of how valuable families and communities are and how supportive they can be in times of need.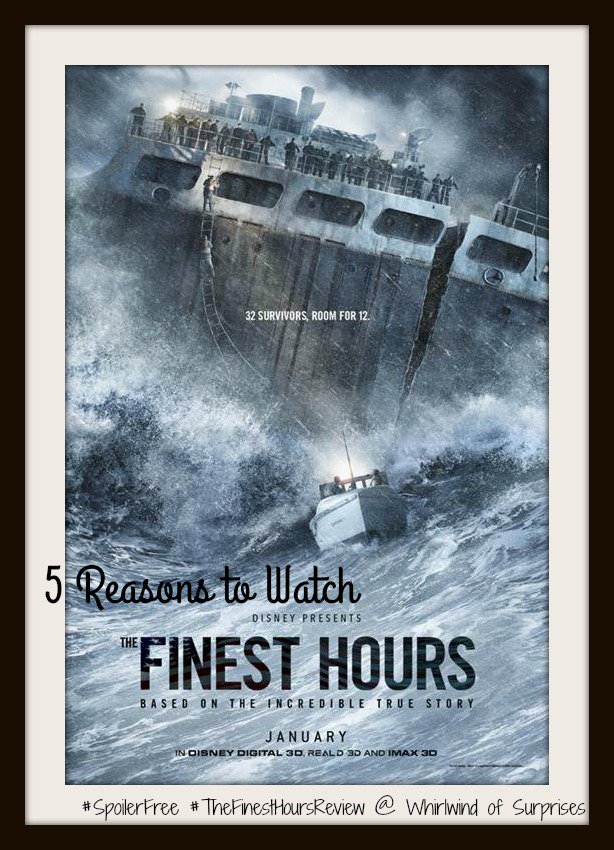 4) Chris Pine
-This particular reason was particularly vouched for by my husband. There is no rhyme or reason...but it is Chris Pine. Personally, I quite liked Casey Affleck's role as Ray Sybert, first assistant engineer, who steps up nicely to deal with the dangerous situation at hand.
5) Luck vs true navigation skills
- This particular mind wracking decision is one you will have to make your own. Obviously, the rescue is made or else it wouldn't have been the most daring small boat rescue in Coast Guard History. Either way, the graphics and the movie keeps you riveted at the edge of your seat with the IMAX immersive experience. I would definitely go with IMAX for this movie.
THE FINEST HOURS opens in theatres everywhere on January 29th, 2016!
Stay connected:
Facebook
||
Twitter
||
Site
Follow WOS:
Google+
||
GFC
||
@CinnyBBS
||
WOS on facebook
||
Pinterest
||
Instagram
Until next time,