Disclaimer
: I was invited on an all inclusive Disney press trip for
#DisneyInHomeEvent
(
#SleepingBeauty
,
#Maleficent
,
#FireAndRescue
,
#StarWarsRebels
) and
#VeryBadDayEvent
.. No other form of compensation was received. Opinions expressed belong to Whirlwind of Surprises and are NOT influenced in any way. Please view my full
disclosure, TOS, and privacy policy
. Please take the time to enter my other
giveaways
while you're here.
Wow, never in my life, would I think I'd be able to tour the Walt Disney Estate. This was the first home Walt built for him and his wife and where the family grew. It took 2 months and $50K. Today, it is a private home owned by a Russian film director and not open to the public. They were generous enough to open up their home for us to see in honor of the upcoming release of Sleeping Beauty October 7th since they are huge Disney fans themselves! We received a tour from Disney historian Paula Sigman Lowery, which means you also now get a glimpse of the magic we witnessed.
Starting from the outside cobblestone driveway that was slightly rustic but homely, we were in for treat. As I walked up the cobblestone pathway leading up to the estate, I couldn't help but imagine the fun sled and toboggan rides that could occur in the winters if it were anywhere but sunny California. As you climbed to the top of the driveway, you began to look around and the first thing you notice is the amazing skyline view that spread more than 180 degrees around the house. Don Hahn (Executive Producer, Maleficent) was saying you could even see the ocean during the day.
Turn around and you are treated to a quaint, whimsical home that resembles a mini cottage blended with a castle. Heading to the backyard, you are again tantalized with breathtaking night views. And that's not it...if you were Walt's family or the current family residing in this residence, you could enjoy this view from a pool, a patio or the lower lawn. What was remarkable about the backyard is that it still to this day, has the playhouse that Walt had made for his kids.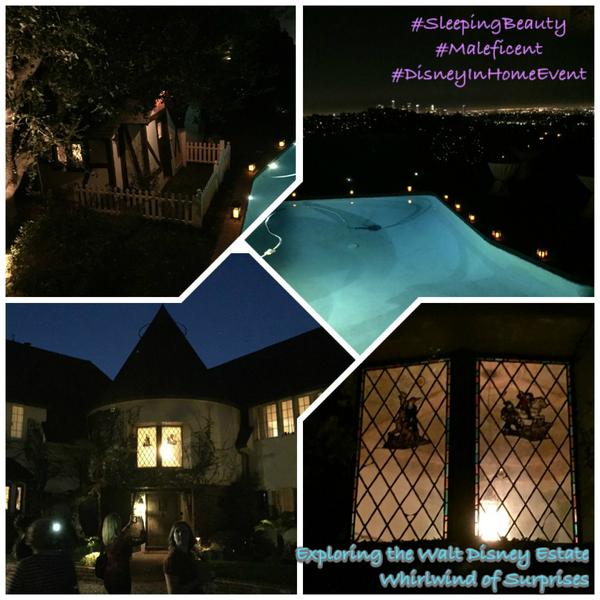 From the back, we entered into Walt's home and private theater. How neat is that? Even back in the day, the man had built themselves a home theater. I particular enjoyed that the fixtures and light switches were still the same. The detail in the home was intricate and whimsical. With a curling staircase, the house reminded me much of Disney's fairytales. The ceilings had beautiful drawings painted and carved with various textures, all preserved to this day.
All the furniture is no longer original, however it was pleasant to see the current's family tastes in furniture that matched the home very well. it appears this film director and his family are big fans of Walt and so they have decorated much of the interior with Disney memorabilia, which was so neat to see.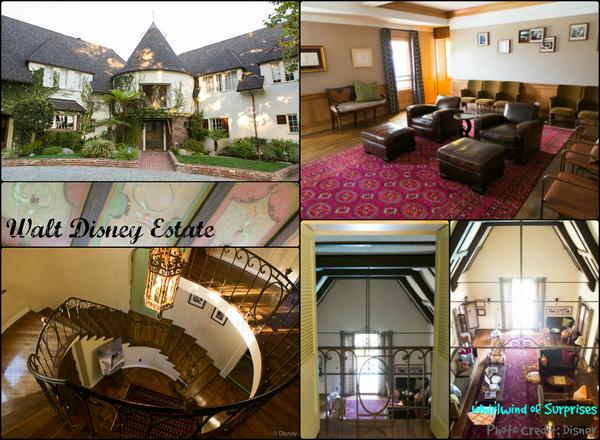 The family room looked out to the pool and overlooked the city and yet was a viewing point for the family themselves. A balcony nestled onto 2nd floor overlooked the family room and would be the viewing point for the Disney family's Christmas tree yearly. We even visited the bedrooms where Walt was truly a family man, reading stories to his girls.
The Walt Disney Estate was phenomenal. To have stepped into a place that not many have before and know that this was were Walt created Maleficent and worked on many other Disney masterpieces really blows my mind. I have to say, I'm feeling a bit #blessed.
Bring Sleeping Beauty home 10/7 and Maleficent home 11/4.
Stick around for more exclusive content on
#DisneyInHomeEvent
(
#SleepingBeauty
,
#Maleficent
,
#FireAndRescue
,
#StarWarsRebels
) and
#VeryBadDayEvent
.
Photo Credit: Whirlwind of Surprises & Disney
Follow WOS:
Google+
||
GFC
||
@CinnyBBS
||
WOS on facebook
||
Pinterest
||
Instagram
Until next time,