Disclaimer
: I was invited on an all inclusive Disney press trip for
#DisneyInHomeEvent
(
#SleepingBeauty
,
#Maleficent
,
#FireAndRescue
,
#StarWarsRebels
) and
#VeryBadDayEvent
. No other form of compensation was received. Opinions expressed belong to Whirlwind of Surprises and are NOT influenced in any way. Please view my full
disclosure, TOS, and privacy policy
. Please take the time to enter my other
giveaways
while you're here.
Remember how we talked with
Dave Filoni and Freddie Prinze Jr.
about female roles and heroes? We also had an interview opportunity with Vanessa Marshall (voice of Hera Syndulla) and Tiya Sircar (voice of Sabine Wren) during our recent press trip. It was really refreshing to interview these two actresses. It sounds like the cast members were all duped regarding the whole Wolf vs Star Wars name and story except for Vanessa Marshall.
Tiya had thought it was a new animated series on Disney called Wolf and she didn't realize until she received the call. For Vanessa, she felt elements of Star Wars within the copy she had read and was such a Star wars fans that she transposed what she knew about Star Wars into the script. She was so excited when she found out that she started hyperventilating and crying to the point that her agent worried about her!
What I love about Hera is that she's the female, yet strong and gentle, leader of the Star Wars Rebels crew but Vanessa puts it wonderfully. Vanessa said, "Hera is the leader, a great fighter and pilot. She plays a maternal role within the crew and sets a great sample. She even does a bit of mentoring to Sabine." What's beautiful is that all the female characters are not concerned about gender or class. Rather, they are united towards doing the right thing.
Tiya was a little more forefront about her opinions and I truly applaud her for it. She said, "In my opinion, in pop culture now, there's many female personalities. They may be famous not for a specific skill or talent but famous for the sake of being famous. So it's an honor to play this female character -Sabine is a teenager, intelligent, not concerned about superficial features, she wouldn't be interested in selfies. She's right there along with the guys and I hope that young girls and boys can aspire to be like these characters."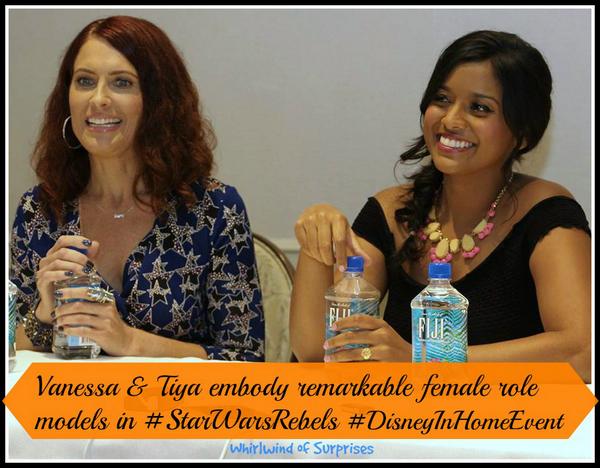 That is huge, I couldn't agree more. In the present world where technology is everywhere and celebrities are such big influences on children, I'm glad that there are women celebs out there who are able embody hope, faith, morals, and ethics to be great role models for children and adults to learn from.
Tiya and Vanessa agreed that it was work that didn't seem like work because with them working in a group, there's so much love and energy. They actually get to act their scenes together and kind of developed a Motley Crue of characters, a family that works, even outside of the series.
For example, Vanessa is the maternal figure, she always checks if they're hungry or cold. Freddie Prinze Jr is the big brother that makes sure everything is good and under control. Steve is the prankster. Isn't that fun? Watch more of their antics on Star Wars Rebels, the series premieres 10/13 on Disney XD at 9PM EST/PST. Grab the Star Wars Rebels special in stores now!
Stick around for more exclusive content on
#DisneyInHomeEvent
(
#SleepingBeauty
,
#Maleficent
,
#FireAndRescue
,
#StarWarsRebels
) and
#VeryBadDayEvent
.
Follow WOS:
Google+
||
GFC
||
@CinnyBBS
||
WOS on facebook
||
Pinterest
||
Instagram
Until next time,