Disclaimer
: The product/s mentioned below have been provided for the purposes of this review. No other form of compensation was received. Opinions expressed belong to Whirlwind of Surprises and are NOT influenced in any way. Please view my full
disclosure, TOS, and privacy policy
. Please take the time to enter my other
giveaways
while you're here.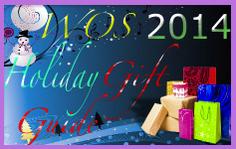 As an aunt of 3 nephews and a new niece, I am always looking for great gifts that will not only be fun but also educational. Well, there's also the cute stuff too. I haven't been able to stop shopping for baby clothes since my friends' have been pregnant! However, I'm a huge fan of the fun educational stuff. Kids pick up the most when they're young and it's when their minds are being moulded. So if they're going to watch DVD's and play, why not give them the stuff that helps them learn and gives them an advantage in school later on? I have four of these sets from PBS Kids to introduce to my readers today.
Caillou has long been a household favorite! I remember watching this with my baby brother when he was just a kid. Who would've thought Caillou in his forever 4 year old image is already 25! In celebration of Caillou's 25th anniversary, PBS has come out with an anniversary DVD and Book Gift Set ($14.99). The DVD "Caillou's Family Favorites" has a run time of 100 minutes and includes 4 episodes (14 adventures) of make-believe fun! The special edition double story book features "Training Wheels" and "Captain Caillou" in 48 pages of bedtime reading.
Speaking of make believe and creative play, PBS has two additional new sets that include a figurine to encourage creative play. "Daniel Tiger's Happy Holidays" (available Nov 4) and Dinosaurs Train's "Dinosaurs in the Snow" (available Nov 28) are both adorable sets that can be purchased with ($14.99) or without a figurine ($12.99).
I love the concept behind "Daniel Tiger's Happy Holidays." This DVD (Run Time: 100 minutes) is meant to help children (target ages of 2-4) develop key social and emotional skills necessary for school and life in 7 different episodes, including a special double episode ("Snowflake Day!"). 4-year-old Daniel Tiger is our star. Unique about the Daniel Tiger series is the use of catchy, music to reinforce valuable life lessons. Special features include printable activities and coloring pages.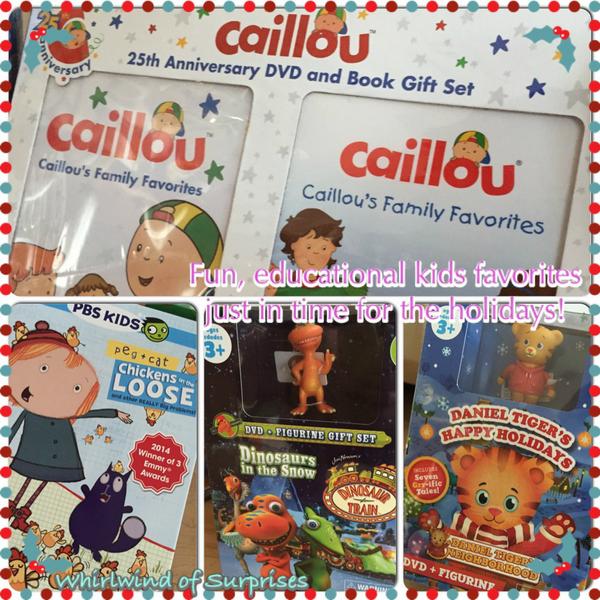 "Dinosaurs in the Snow" (Run Time: 120 minutes) is the newest release for Dinosaur Train fans and well, the draw is pretty obvious. What preschooler doesn't love both dinosaurs and trains?! Eight new adventures and a Buddy figurine stimulate and encourage basic scientific thinking skills. Buddy is off for adventures through prehistoric jungles, swamps, volcanoes, and oceans, while discovering basic concepts in natural science, natural history, and paleontology with his adoptive family of Pteranodons. Special features include an interactive game, coloring pages, a dinosaur reference guide, and information for parents.
Last but not least is the very first Peg + Cat DVD, "Chickens on the Loose and other Really Big Problems." This series is relatively newer to me and is one of PBS KIDS newer educational series that help kids build math and problem solving skills. Chickens on the Loose (Run Time: 100 minutes) has a series of eight stories featuring Peg and her sidekick, Cat, if not already obvious by the title, Peg + Cat. Each adventure and story throws Peg + Cat against an unexpected challenge and the only way out is using those math and problem-solving skills! Each episode has two learning goals. For example, in "The Chicken Problem", Peg and Cat have to get 100 chickens back into the coop and the main learning goal is size correspondence, while the second learning goal is the number 100. Special features include printable coloring pages and activities.
Quality educational programming that kids love and adults approve of are sometimes difficult. PBS Kids make this decision making process a bit easier. Check out these gift sets this year and make some little ones happy and smart!
Follow WOS:
Google+
||
GFC
||
@CinnyBBS
||
WOS on facebook
||
Pinterest
||
Instagram
Until next time,