Disclaimer
: I was invited on an all inclusive Disney press trip for
#VeryBadDayEvent
and
#DisneyInHomeEvent
(
#SleepingBeauty
,
#Maleficent
,
#FireAndRescue
,
#StarWarsRebels
). No other form of compensation was received. Opinions expressed belong to Whirlwind of Surprises and are NOT influenced in any way. Please view my full
disclosure, TOS, and privacy policy
. Please take the time to enter my other
giveaways
while you're here.
Every time I interview teen talent, I'm amazed at the dedication and dynamics between the cast. The last time I did this was during
Frankenweenie
where it was interesting to observe the interactions between the teen talents who voiced friends and enemies. This was similar, yet different. In Alexander and the Terrible, Horrible, No Good, Very Bad Day, the siblings were played by Ed Oxenbould (Alexander), Dylan Minnette (Anthony), and Kerris Dorsey (Emily).
As you might have guessed from my
Steve Carell and Jennifer Garner interview
, all 3 of them loved working with Steve Carell. So much that they wrote and sang him a song on Steve's last day on set. It was to the tune of Midnight Oil's Beds are Burning. Ed said, "Steve can make anything sound funny." Dylan, "It was effortless." Kerris thought Steve was witty and impecable.
It was a consensus that their favorite scene to film was the party day. There was a lot of dancing and a surprising amount of work (3 days) that didn't really feel like work! Ed, Dylan and Kerris were apparently just doing their own thing, dancing in the background during one of the shoots and of course, it gets captured on film. You'll see it in the movie where the camera is initially on Jen and Steve and you can see past them where the 3 kids are dancing, but then it goes directly on them.
Kerris got so into her sick role that some days, she'd end up going home and talking in the sick voice to her family! There's a trick to it. Kerris was teaching us that the key to playing sick was "all about the voice." The voice has to be more nasally, back of your throat and in your noise. N's have to be B sounding. I need practice with this one!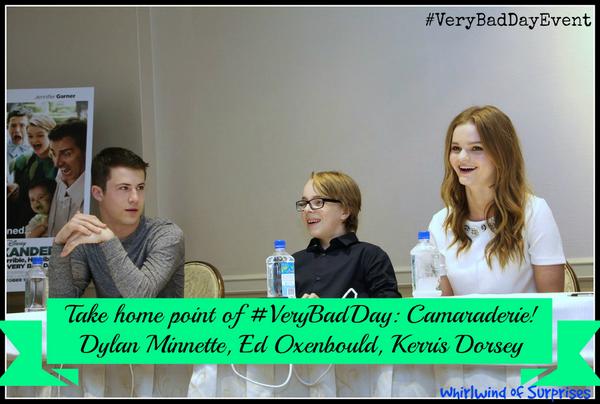 More Fun Facts from Ed, Kerris, and Dylan
:
1) The car scene was completely improvised. Ed had a habit of walking around the set and make weird voices. So during that car scene, they just started doing it.
2) On the soundtrack, Kerris wrote the song "Best Worst Day" and performed it herself. Kerris' sister and her watched the trailer to try to capture the essence of Disney and the worst day turning out to be the best day.
3) Dylan's band, The Narwhals, also has a song "Surf Surf Don't Drown" in the soundtrack.
4) Dylan, Kerris, and Ed became good friends after filming this movie. It was so nice to see that they all walked away from this film with a life changing experience. They all had a great time.
5) Kerris was super excited for the Peter Pan harness flying scene. So much that she kept asking when it'd be...she wasn't the only one. Ed showed up just to watch the scene be filmed, although he had no part in it at all!
Here's a clip of Dylan Minnette as Anthony with his girlfriend Celia (Bella Thorne) and lots of XOXO's.
Watch Alexander and the Terrible, Horrible, No Good, Very Bad Day in theaters 10/10.
Stick around for more exclusive content on
#DisneyInHomeEvent
(
#SleepingBeauty
,
#Maleficent
,
#FireAndRescue
,
#StarWarsRebels
) and
#VeryBadDayEvent
.
Stay connected:
Facebook
||
Twitter
||
Site
Follow WOS:
Google+
||
GFC
||
@CinnyBBS
||
WOS on facebook
||
Pinterest
||
Instagram
Until next time,