Disclaimer
: I was invited on an all inclusive Disney press trip for
#VeryBadDayEvent
and
#DisneyInHomeEvent
(
#SleepingBeauty
,
#Maleficent
,
#FireAndRescue
,
#StarWarsRebels
). No other form of compensation was received. Opinions expressed belong to Whirlwind of Surprises and are NOT influenced in any way. Please view my full
disclosure, TOS, and privacy policy
. Please take the time to enter my other
giveaways
while you're here.
Well, Disney starlette Bella Thorne plays the role of the crazy girlfriend on Disney's Alexander and the Terrible, Horrible, No Good, Very Bad Day, but is there more to it than meets the eye? We spoke with Bella to find out more about her thoughts of #VeryBadDay and her character, Celia. Plus, some interesting tidbits that I'm not sure if her "Bellarina" fans know about.
Bella Thorne likes the film not only because of the concept but also because Steve Carell and Jen Garner were a part of it. Her favorite scene actually coincides with some of the other cast members' favorite scene was the fun car scene with the loud noises since it was so weird and funny. She found it especially hard to sit in a car with Steve Carell while he's being ridiculous and she's not supposed to laugh, while everyone else is cracking up.
She did an interesting take on the mean girl. Rather than playing a traditional mean girl role, she portrayed Celia as a perfectionist who gets angry when things don't go her way. Perhaps, that's why viewers find it difficult to really not like her. We all have things we want to go perfectly and when it doesn't, we understandably get upset.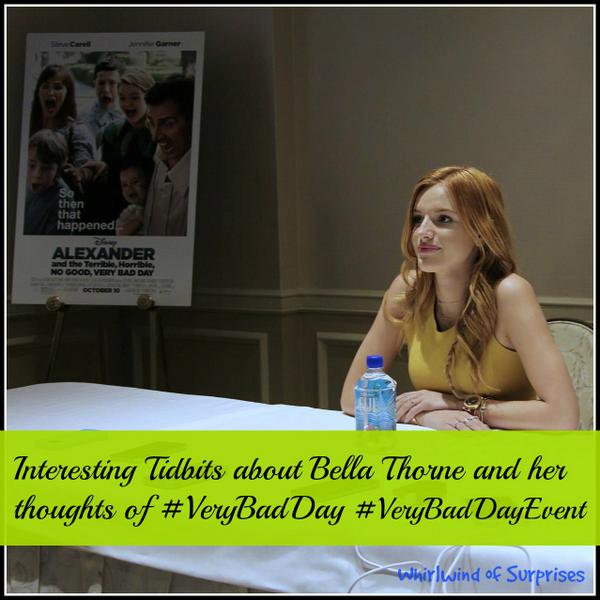 Interestingly, Bella didn't read the book as a child because of her dyslexia and she was uncomfortable reading it at the time. However, she now can read things once and have it completely memorized, including her script. Although, that kind of backfired when she memorized a word wrong and was corrected on site. She would up doing took 20-25 takes before she finally got it right and Dylan Minnette ended up laughing and ruined the scene so they had to redo it again.
Interesting Tidbits from Bella Thorne:
-3 words to describe her character Celia: funny, interesting, and not so forgiving
-She couldn't remember Tokyo Wako's name, she kept wanting to call it Benihan's... "Beni-freaking hana!"
-Bella stopped going to public school in 3rd grade, which resulted in her having a weird locker fetish. "It's the school and seeing all those lockers. I love me a locker." She loves looking at lockers and "seeing kids turning those things" (i.e. combination locks). "It really gets me going!"
-She has a book coming out Nov 11th called "Autumn Falls". It's about a girl whose father dies and he leaves her a book, a journal, to write in. What she doesn't realize is that what she writes in the book comes to life, but because she's dyslexic, things come out a bit wonky.
-She loves In N' Out, the
animal burger
!
-Spanish is Bella's first language although I was informed that "all Bellarinas knew that already".
Stick around for more exclusive content on
#DisneyInHomeEvent
(
#SleepingBeauty
,
#Maleficent
,
#FireAndRescue
,
#StarWarsRebels
) and
#VeryBadDayEvent
.
Stay connected:
Facebook
||
Twitter
||
Site
Follow WOS:
Google+
||
GFC
||
@CinnyBBS
||
WOS on facebook
||
Pinterest
||
Instagram
Until next time,