Disclaimer
: I was invited on an all inclusive Disney press trip for
#DisneyInHomeEvent
(
#SleepingBeauty
,
#Maleficent
,
#FireAndRescue
,
#StarWarsRebels
) and
#VeryBadDayEvent
. No other form of compensation was received. Opinions expressed belong to Whirlwind of Surprises and are NOT influenced in any way. Please view my full
disclosure, TOS, and privacy policy
. Please take the time to enter my other
giveaways
while you're here.
It's not often that I find myself laughing non-stop during interviews. It was very difficult to keep a straight face in the presence of Steve Carell and Jennifer Garner. They play Ben and Kelly respectively on Alexander and the Terrible, Horrible, No Good, Very Bad Day. How do you suppose they ended in this movie? Steve and Jennifer were great in their roles and I think they portrayed it perfectly, which was echoed by Producer Lisa Henson.
Steve initially said he was asked to be in it and he said yes, because he thought the script was funny, inventive and different. The he went on to say that, "Jen was going to do so it was a huge draw" for him. Unfortunately, his lie was uncovered by Jennifer who said it really was the other way around since Steve had become a part of the film before she had.
Knowing the humor that Steve Carell brings to all of his movies, it was a pretty basic question to ask what kind of pranks he pulled on set. Surprisingly, he said, "I didn't play pranks but someone at this table played pranks." To which, we were treated to a hilarious story of how oblivious guys are to their surroundings.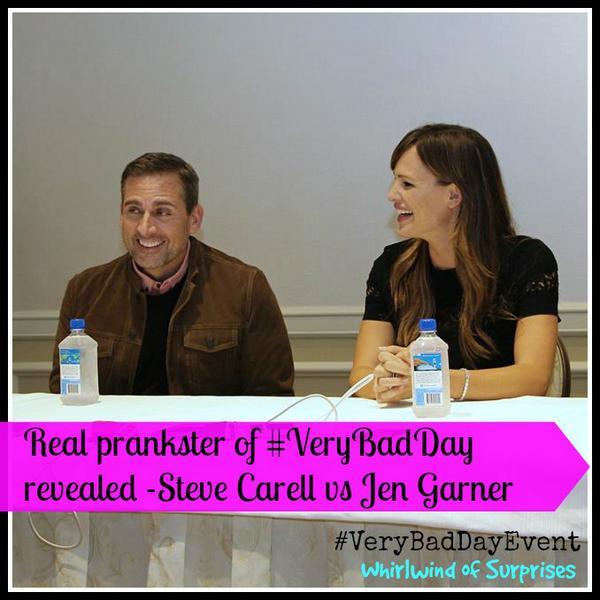 For those of you who don't know, Steve and Jen went to the same college, Denison University, although at different times. So apparently before they started shooting, Jen bought a whole bunch of Denison University paraphenalia, and throughout the film, someone would be wearing the Denison sweatshirts and pants and Steve would never notice it and kept going on. Per Jen, "he's clearly a man."
It got to the point where Jen called Steve's wife to ask if she could stash a Denison chair in the back of the house and see how long it would take him to find it. Any guesses?
2 weeks
!!! Steve's wife was downstairs and heard him laughing. It had been there all that time and he had just registered that it was a Denison University chair.
More Fun Facts about the movie straight from Jen & Steve:
1) Steve did the shrimp scene on his own, he caught all the shrimp and per Jen, has great "eye-shrimp coordination."
2) Jen says Steve actually got "unfunny" during the fire scene. Although Steve asserts that it was more like he was trying to stay focused so he wouldn't have to repeat the scene.
3) Dick Van Dyke actually did Chim Chim Cheree with Jen, which was exciting because Mary Poppins is one of the top 3 films in her house.
Fire scene
4) Jen's scene where she was screaming at the car in front of them crushed Steve's image of her.
5) Dylan and Kerris wrote a song and together with Ed sang a song to Steve Carrell.
6) Jen loved hanging out and chatting together with all the kids one day during their filming breaks without anyone being on their phones. They just hung out and had a great time.
Watch this awesome family flick in theaters Oct 10th!
Stick around for more exclusive content on
#DisneyInHomeEvent
(
#SleepingBeauty
,
#Maleficent
,
#FireAndRescue
,
#StarWarsRebels
) and
#VeryBadDayEvent
.
Stay connected:
Facebook
||
Twitter
||
Site
Follow WOS:
Google+
||
GFC
||
@CinnyBBS
||
WOS on facebook
||
Pinterest
||
Instagram
Until next time,