Disclaimer
: I was invited on an all inclusive Disney press trip for
#DisneyInHomeEvent
(
#SleepingBeauty
,
#Maleficent
,
#FireAndRescue
,
#StarWarsRebels
) and
#VeryBadDayEvent
. No other form of compensation was received. Opinions expressed belong to Whirlwind of Surprises and are NOT influenced in any way. Please view my full
disclosure, TOS, and privacy policy
. Please take the time to enter my other
giveaways
while you're here.
Have you caught Star Wars Rebels on Disney XD at 9PM EST/PST yet? I thoroughly enjoyed the special Star Wars Rebels: Spark of Rebellion, which is in stores now as an animated Star Wars story that could be well enjoyed by Star Wars fans, young and old. Star Wars Rebels has amazing components of a captivating story, good take home points, and
great female role models
. Of course, it also has it's comedic and rebellious moments, provided by Steve Blum (voice of Zeb Orrelius) and Taylor Gray (voice of Erza Bridger).
Well, if you've watched the special, you'll know that Zeb and Erza didn't really get along to begin with. To tell the truth, Zeb just didn't like Erza, plain and simple. He wouldn't miss an opportunity to hit him. So when we interviewed Taylor Gray and Steve Blum, it was interesting to see their dynamics off screen as well.
Taylor and Steve had a great relationship that they both love, they just rip each other once in awhile. Taylor says about Steve with a grin, "
He doesn't hit me, mostly just teaches me bad things!
" The mischief!
These two exuded the presence of a comedic duo during the interview. Since it was an animated film, everything is either voices or sound effects. Steve Blum loved to pull pranks like making fart noises with his hands. So in a scene were Erza is supposed to take multiple punches, Taylor would have to make grunts appropriate of being hit, right? Steve would cleverly inject a fart sound after every grunt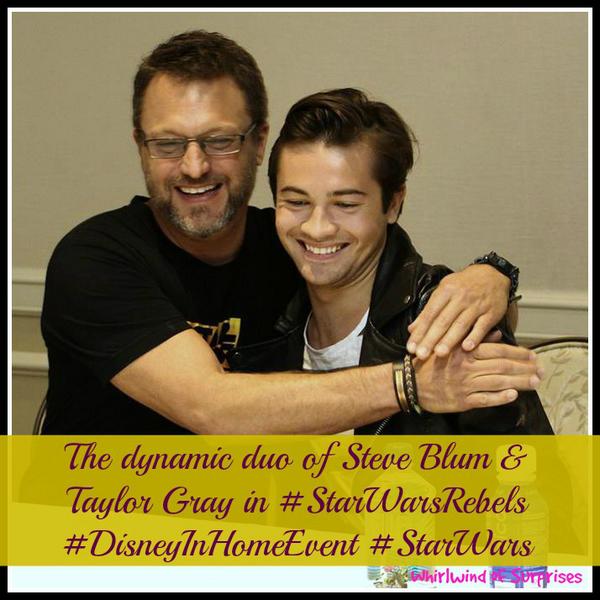 Apparently fart noises weren't the only sound Steve Blum excelled at. The young Taylor Gray admired Steve's ability to do "every sound in the book". To which, Steve modestly said he grew up doing anime so he had to know how to "make every disgusting sound known to man".
It wasn't all fun and games though. For Steve Blum, he was 17 when he first went to the premiere of Star Wars. It was something that changed his life and gave him new hope from the apathetic person he was that didn't even go to his own high school graduation. In that sense, he is excited to bring "quality programming that's safe for kids" to a new generation. Not only that, Star Wars Rebels "offers the notion that there's something bigger than we are and that we can strive to be better."
My favorite part of the whole interview was how serious they were about their roles. For Steve, he treats every role like it is the most important character in the world. Now that's some serious work ethics that we could all learn from, pure professionalism! Taylor Gray was busy with other obligations the day of the audition and was running at least an hour late, sweaty and wasn't even going to go in the way he was. However, he ended up going in anyways and well, it obviously worked out for him.
And of course, the two recommended that if there's a question you can't answer, always defer to "the force".
Watch the dynamic duo of Zeb (Steve Blum) and Erza (Taylor Gray) on Star Wars Rebels on Disney XD Mondays at 9PM EST/PST. Grab Star Wars Rebels: Spark of Rebellion in stores today.
Read on for more exclusive content on
#DisneyInHomeEvent
(
#SleepingBeauty
,
#Maleficent
,
#FireAndRescue
,
#StarWarsRebels
) and
#VeryBadDayEvent
.
Follow WOS:
Google+
||
GFC
||
@CinnyBBS
||
WOS on facebook
||
Pinterest
||
Instagram
Until next time,