Disclaimer
: I was invited on an all inclusive Disney press trip for
#DisneyInHomeEvent
(
#SleepingBeauty
,
#Maleficent
,
#FireAndRescue
,
#StarWarsRebels
) and
#VeryBadDayEvent
. No other form of compensation was received. Opinions expressed belong to Whirlwind of Surprises and are NOT influenced in any way. Please view my full
disclosure, TOS, and privacy policy
. Please take the time to enter my other
giveaways
while you're here.
The last time I visited DisneyToon Studios, Planes: Fire and Rescue was already in production. However, that didn't even begin to show the amount of work that goes into the making of these animated films. Disney Planes: Fire and Rescue was actually 5 years in the making. This kind of work requires passion and commitment to be able to dedicate yourselves to the project for so long as we heard from Bobs Gannaway (Director) and Ferrell Barron (Producer). Bobs and Ferrell gave us exclusive insights to the making of Disney Planes: Fire and Rescue, available to fly home with you November 4.
Have you met Scorchy? Did you know he's Disney's new Smokey the Bear? Disney actually did some PSA with the National Park Services with Scorchy. Even though he didn't have a huge role in the movie, Disney still tried to place in some PSA's in the movie for the National Forest Fire reminding viewers that fire can be caused by unattended camp fires.
A basic theme of the movie is to pay tribute to the firefighters around the world. It was achieved throughout the movie and also via specific honoring of some of the firefighters that the film got some of it's inspiration from. If you remember the Wall of Fame in the movie where they had pictures of planes that were lost while firefighting, there was a particular CalFire Aircraft depicted. That CalFire Aircraft was one of the aircrafts that went down during its heroic duty.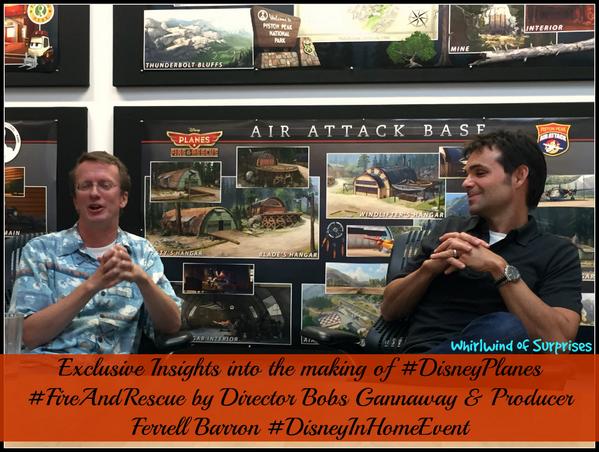 I love how educational the film was in the sense of firefighting and it's rich history. Windlifter was brought in because American Indians have a long history with aerial firefighting. They were a huge part of smoke jumpers for centuries. Adherent to traditional Disney research for all of their films, they bring in relevant experts. Of course, they had an American Indian consultant which proved very useful as Windlifter's name was originally "Strongwind" and that unfortunately sounded more gas-like than Native American. Plus the adjective typically comes second in true Native American names.
In our previous post on
fire safety
, we had mentioned that lightning is the number one cause of forest fires. That also played into the movie. Bobs and Ferrell went with the idea of the fire being caused by lightening so that there wouldn't be a culprit to track down that would detract from the storyline.
The funnest and perhaps funniest part of the interview was figuring how and why they chose certain voice actors. Bobs and Ferrell agreed that they cast characters that they felt embodied the spirit of the character.
Harvey and Winnie (the old couple RV's) - They "wanted Stiller and Meara who've been a comedy couple for years together and already have the dynamics" of a couple
Lil' Dipper -Julie Bowne for her "energy", she's "borderline crazy!"
Windlifter –Wes Studi - He is actually a Cherokee Indian. So when he tells people to be quiet in the film, he says it in Cherokee.
Interesting, right? Isn't it crazy how such an amazing high-flying film has so many educational points to it? Own Disney Planes: Fire and Rescue November 4.
Stick around for more exclusive content on
#DisneyInHomeEvent
(
#SleepingBeauty
,
#Maleficent
,
#FireAndRescue
,
#StarWarsRebels
) and
#VeryBadDayEvent
.
Follow WOS:
Google+
||
GFC
||
@CinnyBBS
||
WOS on facebook
||
Pinterest
||
Instagram
Until next time,