Disclaimer
: I was invited on an all inclusive Disney press trip for
#DisneyInHomeEvent
(
#SleepingBeauty
,
#Maleficent
,
#FireAndRescue
,
#StarWarsRebels
) and
#VeryBadDayEvent
. No other form of compensation was received. Opinions expressed belong to Whirlwind of Surprises and are NOT influenced in any way. Please view my full
disclosure, TOS, and privacy policy
. Please take the time to enter my other
giveaways
while you're here.
While we were at the
Walt Disney Estate
, we not only toured the beautiful premises but also got the chance to speak with David Jessen (VP of Content Enhancement) and Sarah Hyland in celebration for the release of Sleeping Beauty, Diamond Edition which is available today!
Sleeping Beauty was Walt's 16th classic and for the Diamond Edition, they've reinvented all the sing alongs. David Jessen are part of the guys that produce all the bonus content and you may wonder where Sarah Hyland comes in. Well, Walt Disney is doing a parade and they thought it'd be a great idea to have David do a piece for it. The concept of "Once Upon a Parade" grew out of that and Sarah Hyland was the chosen host, maybe even more appropriate than they had originally thought.
Sarah has always been a huge Disney fan and she had originally thought it was more of a behind-the-scenes feature where she'd be looking at floats. Instead, it turned out to be "clever" and "beautifully and cinematically shot". Believe it or not, she showed up for the shoot in her own peasant girl's clothes. The only thing that wasn't hers was the headwrap! She plays the peasant who creates herself a big role by helping to save the parade by finding a way for Maleficent to join in.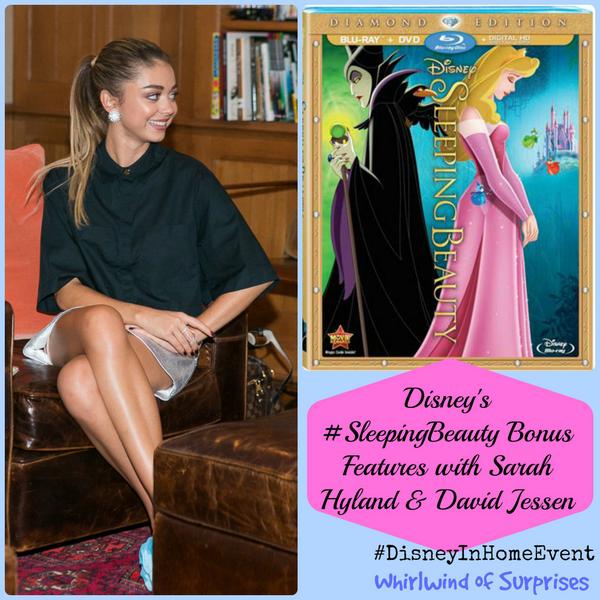 The next thing I'm going to tell you completely contradicts Sarah Hyland's role on Modern Family...but it's actually cool because I love how she's truly intellectual. She loves books and reading and actually has been to the Renaissance Fair twice a year for the last 4 years! As one of my good friend says, it takes a true genius to be able to play dumb.
Other bonus features include:
-"Art of Evil: Generations Of Disney Villains," a legacy piece spotlighting Disney's favorite villain animator and Maleficent creator Marc Davis
-"@DisneyAnimation: Artists in Motion," in which Walt Disney Animation Visual Development artist Brittney Lee goes through the process of creating a three dimensional sculpture of Maleficent, completely out of paper. Creating Maleficent out of Paper is featured on an earlier post.
-Never-before-seen deleted scenes "The Fair" (with Deleted Character The Vulture,) "The Curse is Fulfilled" and "Arrival Of Maleficent,"
-Beauty-Oke sing-along to "Once Upon A Dream."
David Jessen was telling us how in the Disney archives, there was actually a vulture quite similar to what they used for Maleficent's Diaval (crow).
Click to download a fun Sleeping Beauty Slumber Party Kit and a craft kit!
Bring Sleeping Beauty home 10/7 and Maleficent home 11/4.
Stick around for more exclusive content on
#DisneyInHomeEvent
(
#SleepingBeauty
,
#Maleficent
,
#FireAndRescue
,
#StarWarsRebels
) and
#VeryBadDayEvent
.
Photo Credit: Disney
Follow WOS:
Google+
||
GFC
||
@CinnyBBS
||
WOS on facebook
||
Pinterest
||
Instagram
Until next time,