I can't wait for the day when I move into my own home and can decorate the way I like. It's been hard living in a rental apartment the past several years, knowing that I can't alter my place to make it truly me. So, I've always held a fascination with vinyl decoration decals. You know, you stick them on, make your place pretty...simple, right? When you move, you just have to rip them down and they're reusable so technically, you can bring them with you to your new home.
I finally got a chance to do that! I picked out this gorgeous design from
Vinyl Disorder
and even had it created in gold. I figured my hallway could use a splash of color. They have so many designs available and for all sorts of surfaces, even your car, that it took me hours to choose.
When it arrived, the instructions seemed simple and easy.
I think my trouble centered around how large my sticker was. I got it up no problem, level, and held in place with masking tape. Taking the backing off was tougher than I had thought as the stickers tried to stick to the back instead of to the overlying layer. Once I got that off, I flattened the sticker to the wall and used the plastic scraper to smooth the sticker out and remove bubbles. Once I thought I had it all nice and flat, I removed the overlying layer. Again, I had some slight troubles with the sticker wanting to stay with the transfer layer instead of to the wall. This one was easier to do though and I found it easier to work by peeling from the top corner down.
When it's all said and done, it was actually pretty hard to put up (~90min). Some bubbles still tormented me despite my desperate attempts to get them out. It still looks nice, doesn't it? I think if I had gone with a smaller size instead of the 36", it would've been much easier to put up. These vinyl designs are typically be removed in the case you move. However, due to the intricate leaf designs, this one may be hard to remove without a small tear or two.
Overall, I love the idea and would take up the challenge again to decorate more of my walls. I feel having done it once, my next time would be more polished. In the end though, seeing that little splash of gold on my never ending white apartment walls is like a breath of fresh air.
Buy It
:
Shop online
for your own vinyl decorations. Free shipping for orders $50+.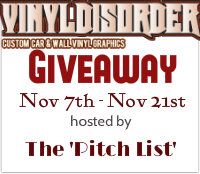 Win It
: Enter on the Rafflecopter below from Nov 7-21 to win your choice of style, color, and up to 36" vinyl decoration. Open to US/Canada, 18+. Good luck!Please take the time to enter my other
giveaways
while you're here.
a Rafflecopter giveaway
Take a look at what the other ladies chose to decorate with.
Disclaimer
: The product/s mentioned above have been provided for the purposes of this review. No other form of compensation was received. Opinions expressed belong to Whirlwind of Surprises and are NOT influenced in any way. Please view my full
disclosure, TOS, and privacy policy
.
Follow WOS:
Google+
||
GFC
||
@CinnyBBS
||
WOS on facebook
||
Pinterest
||
Blog Frog
Until next time,