Disclaimer
: I am a Karina Dresses Ambassador. No other form of compensation was received. Opinions expressed belong to Whirlwind of Surprises and are NOT influenced in any way. Please view my full
disclosure, TOS, and privacy policy
.
Have you tried
Karina Dresses
yet? If you're new to our blog, frockstar ambassadors love to showcase our Karina Nation style through weekly and monthly Frockstar™ Nation Events. Welcome to April's 2nd Frockstar™ Nation Event where you have a fantastic opportunity to win a $1000 Karina Dresses closet.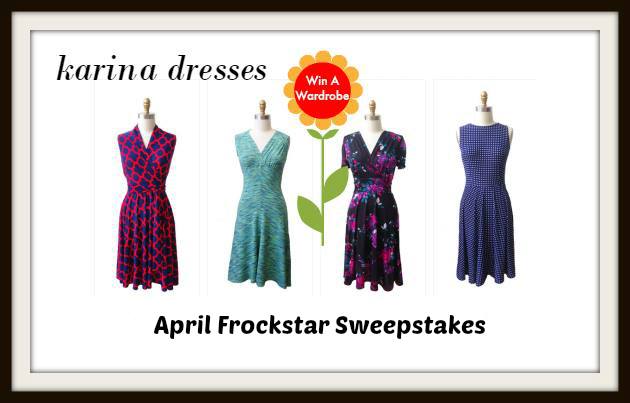 The Frockstar™ Nation Event includes a $1000 Karina Dresses wardrobe for one lucky US or Canadian reader. Karina Dresses has a
newsletter
you don't want to miss. Email subscribers are automatically entered to win a new dress and are announced in each weekly newsletter. That means you'll have to open the email to see if you've won! Plus, opening that email allow you access to the flash sales Karina has.
If you're already a subscriber, enter the giveaway to win! If you're not yet a subscriber, join the Karina Nation and confirm your subscription and enter the sweepstakes for $1000 in Karina Dresses and be automatically entered into the weekly draw!
Subscribe here
!
Enter on the Giveaway Tools form below from Apr 01-15, 2015. Open to US/Canada. Good luck! Please take the time to enter my other
giveaways
while you're here.
Use @KarinaDresses and #frockstar to let Karina know your favorite dress from the Frockstar™ Nation Event bloggers. You can also get 100 entries a day by commenting on each of the bloggers posts from the linky below!
Check out my past reviews on the:
Gala 3/4 sleeve in Champagne
||
Lauren 3/4 sleeve in Plaid
||
Carmen 3/4 Sleeve in Teal & Tan Floral
||
Megan 3/4 Sleeve in Paisley
||
Penelope 3/4 sleeve in Creme Brulee Puchi
||
Josie Long Sleeve in Blue Houndstooth
||
3 generations of Karina Dresses Frockstars
||
Penelope 3/4 Sleeve in Geometrics
||
Sleeveless Penelope
||
Sophie in lavender Geometric
||
Gala in Mini Dot
||
Nora
||
Mother's Day Gift Guide 2013
||
Ruby in Hibiscus
||
Sophie in Blue Skies
||
Adele in Sea Pucchi
||
Housewarming & Moving Tips
||
Frockstar Summer
||
MN State Fair
||
Transition from work to play
||
Clara in Wine
||
Penelope in Purple Plaid
||
Megs in Navy Dot Ponte
||
Penelope in Grey Ponte
||
Patti in Purple Stripe Ponte
||
Audrey in Gold Chains
||
Nora in Red Polka Dots
||
Karina Dresses has a newsletter you will want to get in your inbox. Each weekly newsletter has a winner of a new dress selected from the email subscribers. You have to open the email to see if it is you! In addition to giveaways, The Karina Dresses newsletter also has flash sales with the hottest prints at almost 50% off! To make this newsletter even more desirable to join, if you sign up and confirm your subscription (or are already a subscriber and enter this giveaway) you will be entered into the sweepstakes for $1000 in Karina Dresses! Are you ready to join the Karina Nation?
Subscribe here
!
If you are a blogger and you would like to do a review of a Karina Dress, they choose their reviewers from their affiliates! You can
sign up to be an affiliate here
.
Newsletter
||
Site
Follow WOS:
Google+
||
GFC
||
@CinnyBBS
||
WOS on facebook
||
Pinterest
||
Instagram
Until next time,