Disclaimer
: The product/s mentioned below have been provided for the purposes of this review. No other form of compensation was received. Opinions expressed belong to Whirlwind of Surprises and are NOT influenced in any way. Please view my full
disclosure, TOS, and privacy policy
. Please take the time to enter my other
giveaways
while you're here.
Given my love for lists and tips, this list is a little out of the ordinary. This Spring, I've developed a love of 5 completely random things. Some of it has to do with the random chilly bursts we've been having amongst the much welcomed warmer weather. Other just has to do with a resolution to myself to create time out of my limited time for some self love and a commitment to fitness. Anyways, here's my list of 5 Random Things that I'm loving for Spring. Are any of these items on your list?
5 Random Things that I'm Loving for Spring
1)
Texting Gloves
-Love these for those chilly mornings and days. They're more in the department of light mittens, however the perk is that the thumb, index and middle finger have a gray patch that somehow magically allow you to access touch screens on your tablets and smart phones. They were fairly comfortable, however a little snug for my longer fingers. They're a OS only fit, which may make them a deal breaker for bigger hands. The sensitivity of the mittens for the touch screens was alright. I was able to utilize it but at times, it would take a few swipes for it to pick up. However, being on sale and less than $10, it sure beats freezing my fingers in the cold.
2)
Light jacket
-This is essential for the chilly mornings! My favorite right now is a light down jacket perfect for Spring/Fall, easy to throw on and take off when it warms up. The best thing is, these jackets are typically on sale this time of year.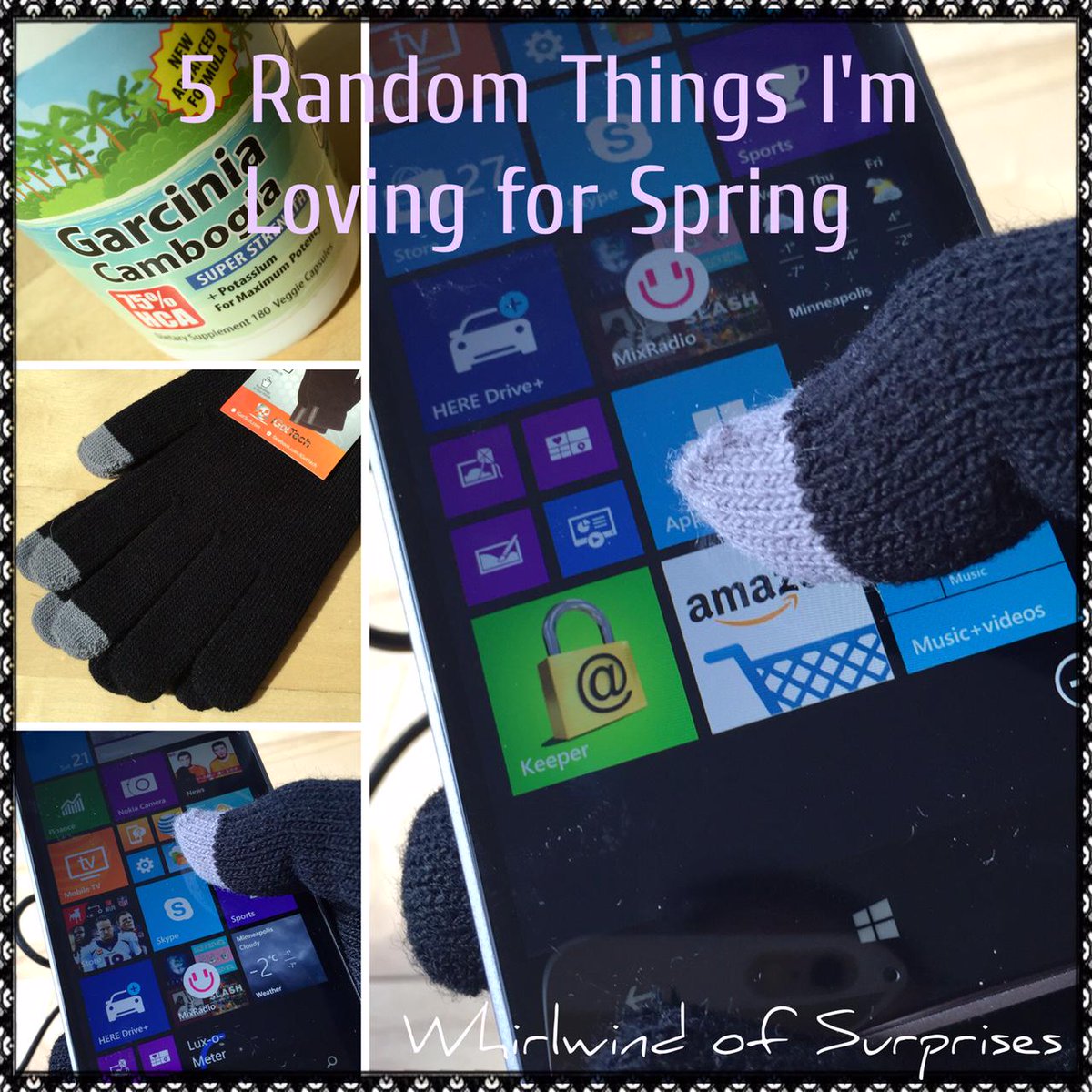 3)
Garcinia Cambogia
-The newest diet fad Garcinia Cambogia is something I've been testing out. You can read my previous experience "
Does Garcinia Cambogia really work?
" This time, I tested out the Garcinia Cambogia by
Island Vibrance
. This is by far the highest hydrocycitric acid (HCA) concentration (75%) in 100% Pure Garcinia Cambogia Extract that I have used. The goal of this product is to suppress appetite, overcome cravings, block fat production, increase metabolism, enhance serotonin levels and much more. Each 2 capsule serving prior to meals contains 1500mg Garcinia Cambogia, and 100mg Potassium (to help absorption). I found it helped to decrease my overall eating during the meals and was an integral part helping me to maintain my weight. My favourite thing about Island Vibrance is the 180 capsules size of the bottle. This lasts a good 45 days if you're taking it twice a day before meals
4)
Yoga
-Diet and weight loss, however, doesn't happen with just a magical pill. I've developed a new obsession and joined a Core Power Yoga studio. Out of a commitment to my own health being and wellness, I've actively creating time in my schedule to force myself to go work out.
5)
Smoothies
-Eating a healthy breakfast or in my case, a healthy smoothie, makes for a fantastic start to my day. I use lots of fresh or frozen fruits and vegetables and blend it with milk. It's another part of my commitment to health and wellness!
Are any of these items on list? What are you loving for Spring?
Facebook
||
Twitter
||
Site
Follow WOS:
Google+
||
GFC
||
@CinnyBBS
||
WOS on facebook
||
Pinterest
||
Instagram
Until next time,