Disclaimer
: The product/s mentioned below have been provided for the purposes of this review. No other form of compensation was received. Opinions expressed belong to Whirlwind of Surprises and are NOT influenced in any way. Please view my full
disclosure, TOS, and privacy policy
. Please take the time to enter my other
giveaways
while you're here.
A little bit of tech helps to bring the summer flare! With the energy of the
Atrico Multi Port Rapid Smart Charger
, I was able to keep my devices well charged and ready to take the pictures for my gorgeous Easy Light Summer Recipes. This multiport charger has a point of allowing multiple items that need to be charged into one console, meaning it's that much more convenient charging multiple devices and not having to fight over outlets.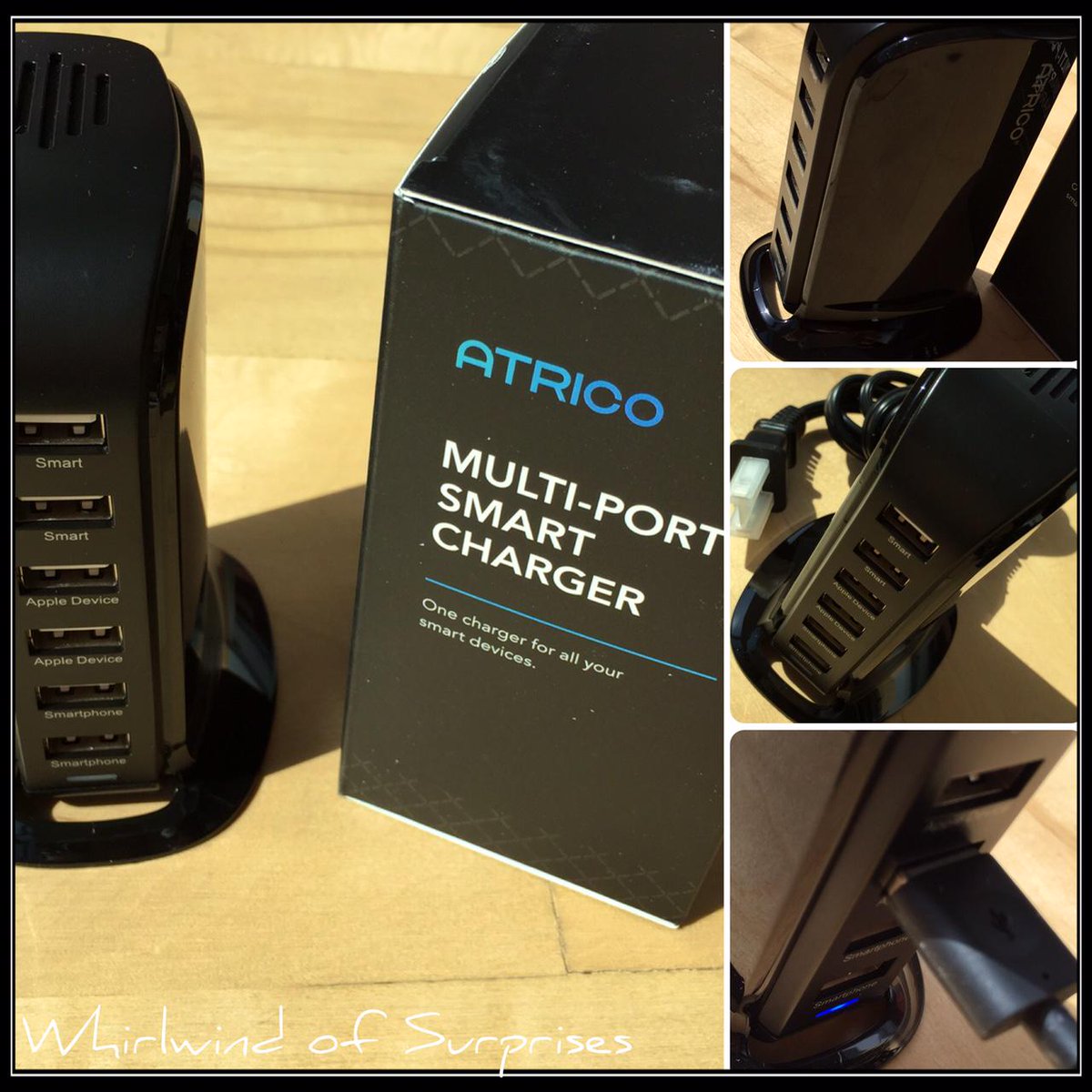 This smart looking charger has 2 Smart IC Ports for any device, 2 Smart Ports unique for Apple iOS devices and 2 Ports for any Smartphone. The Tower can put out a maximum of 8 Amps at once and a max of 2.4A per port. It lights up a pretty blue light when it's charging and works great as a travel charger as it can handle either 110v or 240v. It warms up a bit when things are charging but it's reassuring that the tower is made with fireproof composite materials. To be honest though, it doesn't quite clean up all the cords since I still have to attach the usb cords to the unit to charge my devices so there's still some baggage involved. Anyhow, now that my devices are nice and charged, I can show you the beautiful pictures I took of my Summer Recipes with them.
Kuuk has quite the variety of products that work great to throw together a summer party. They have a variety of silicone molds for
large
and
small ice balls
,
cupcakes
,
popsicles
and more! All things that work great into the summer, right? They also have a
hand held spiralizer
that's super fun to use.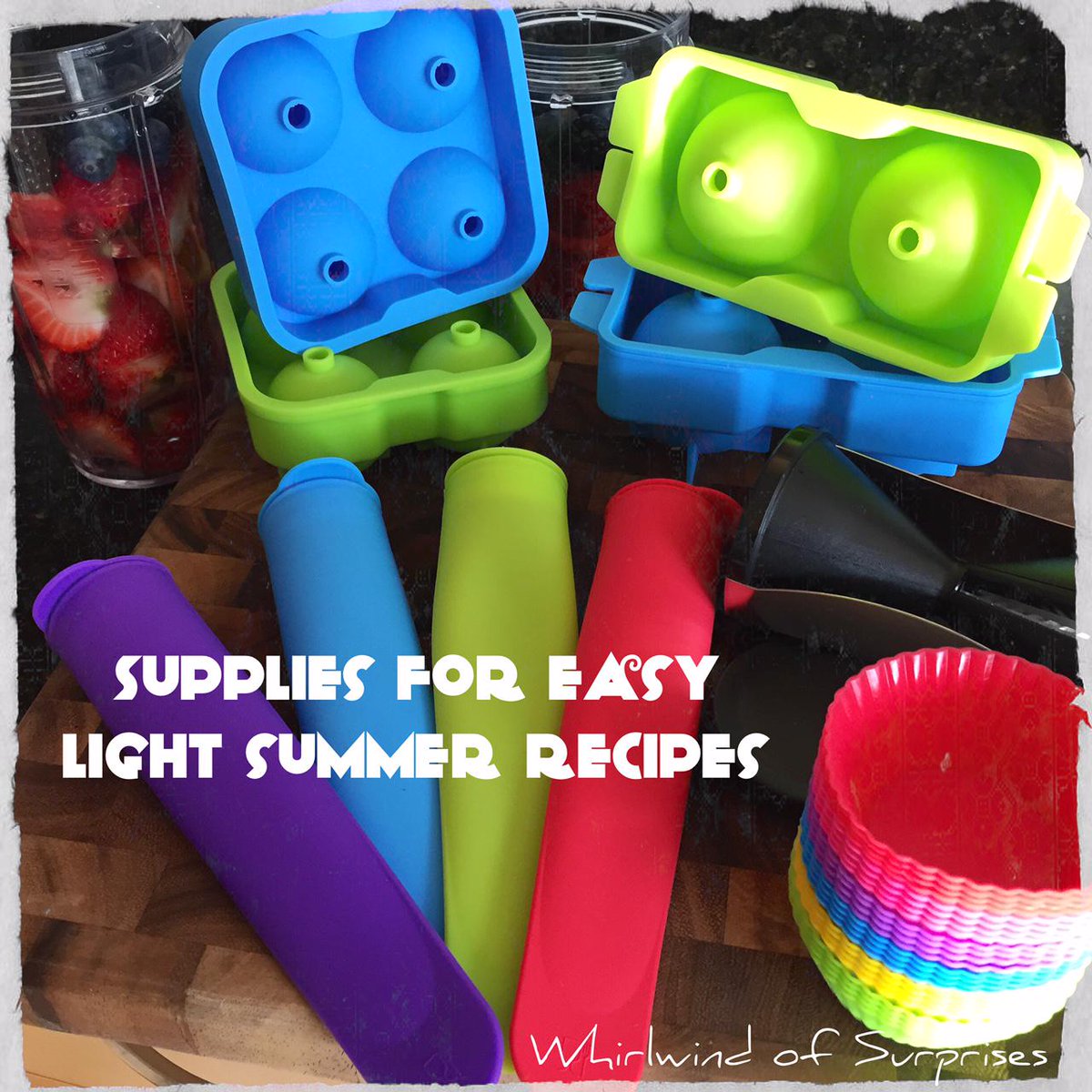 The molds are all made of high quality silicone, safe and without the BPA and chemicals that's in plastic. They work easily and don't leave an after taste. Everything is dishwasher safe. I was able to use the cupcake and popsicle molds with ease, however had some difficulties with the ball molds. I suspect it was because I was trying to pour thicker juice instead of water into the balls. Frankly, it'd be easier if Kuuk provided something to inject the fluid through the top hole so that I could inject the fluid to make a perfect ball. Other than that, I had no complaints about the silicone molds. I loved the bright colors and the ease at which I could clean them. The spiralizer was also easy to use, hold and twist your vegetables or whatever through it and it'd turn into these curly thin strips. I had a few minor issues like not being able to twist the remnants through because there's just no way to get your grip down into there so you end up with a chunk that you can't spiralize.
Either way though, I was able to complement my summer smoothies with an smoothie ball as to not dilute the flavours, create adorable appetizer salads, and even popsicles for dessert!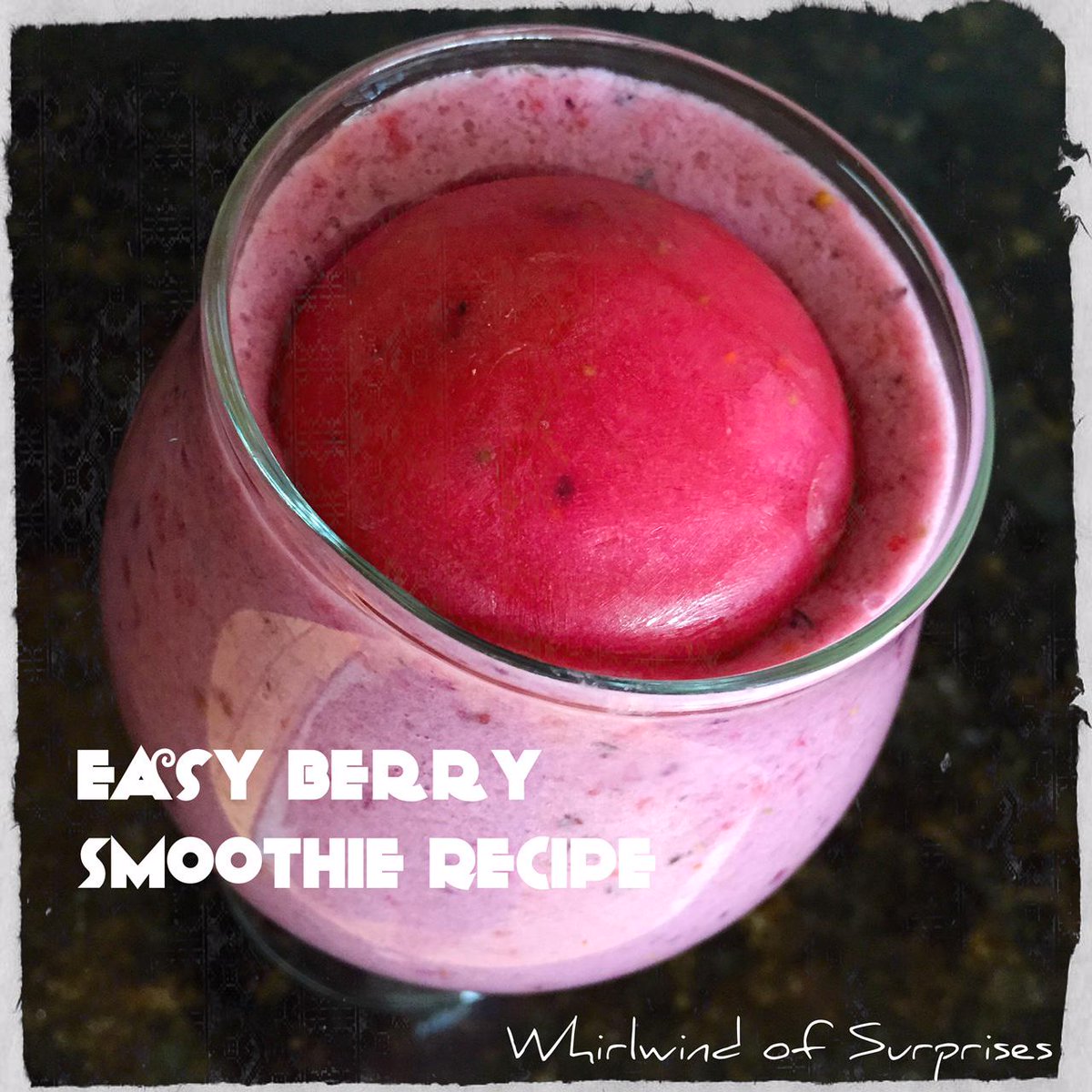 Easy Berry Smoothie, Ice Balls and Popsicles Recipe
Ingredients: strawberries, blackberries, blueberries, milk
Really, all you need is a blender and the above ingredients. For me, I used my Nutri Ninja blender using both the 24 and 18oz cups. I loaded it with strawberries, blackberries and blueberries and used skim milk filling to the fill line. I then blended it and filled the ice ball molds and popsicle molds to prepare for dessert. Once the ice ball molds freeze, top any of your smoothies with that extra chill that won't dilute your power drink of the day! The prep time is quick, the filling the molds time is what takes longer.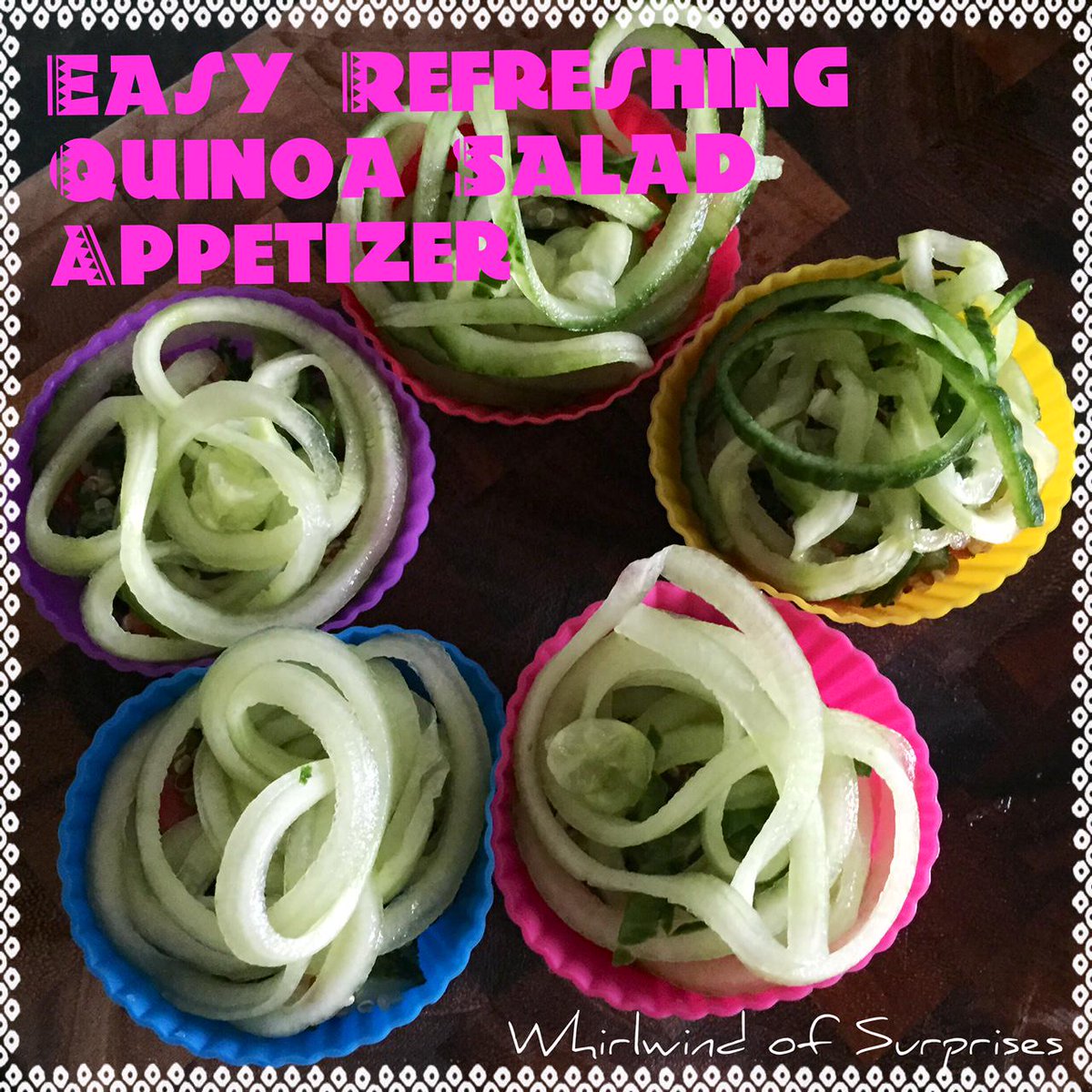 Easy Refreshing Quinoa Salad Appetizer
-ready in less than 10 minutes!
Ingredients: Store bough quinoa salad, 1 cucumber
1) Using a spiralizer, spin the cucumber through to get your thin strands of cucumber.
2) Spoon 2-3 tablespoons of quinoa salad into cupcake molds.
3) Create your topping with the spiralled cucumber strands!
Depending on how much you spoon in and use, I could make a batch of 24 with the 1 cucumber and about 1/2-3/4 of the 1kg Costco Quinoa salad trays.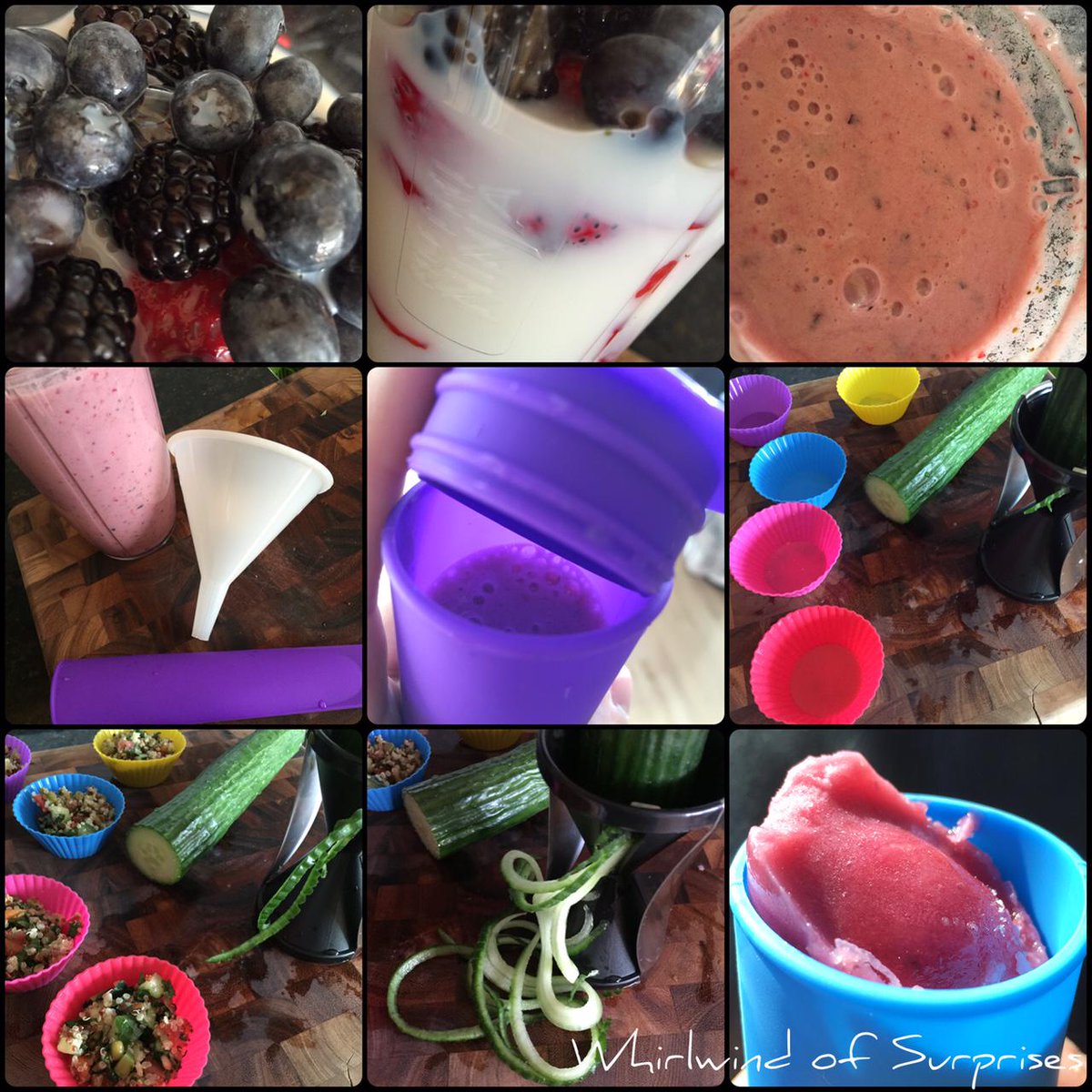 Follow WOS:
Google+
||
GFC
||
@CinnyBBS
||
WOS on facebook
||
Pinterest
||
Instagram
Until next time,