Disclaimer
: I have been invited to a Disney/Marvel/Dreamworks #ThorDarkWorldEvent & #DeliveryManEvent press trip. No other form of compensation was received. Opinions expressed belong to Whirlwind of Surprises and are NOT influenced in any way. Please view my full
disclosure, TOS, and privacy policy
. Please take the time to enter my other
giveaways
while you're here.
I don't know how to break this to you, honey. I'm leaving you, yes, again. Because Disney, Marvel, and DreamWorks has beckoned once again,
and yes, they rank just a little higher than you
. So sorry, I still love you and I promise I will be back. Remember that random joke I made with our friends the last time we ate with them? Well, it's seriously happening. Your wife somehow predicted the future. Maybe we should buy the lottery.
So, ya, you probably don't remember but last time we ate with our buddies and we were making fun of our good friend's fiance because her ideal man was "Thor".
We said, "Thor? You mean Chris Helmsworth, right?"
She says, "No, Thor."
LOL, we were laughing, saying what if by some miraculous occurrence, I ended up meeting Thor. Well, we're close, so I really might because something truly amazing has cropped up. I had to go through so many loops and holes just to make my schedule work but it was all worth it. I'll cut to the chase. I'm in superhero heaven.
Disney, Marvel, and DreamWorks have invited me on the #ThorDarkWorldEvent and #DeliveryManEvent from November 2nd to 5th. What are all those hashtags for? Well, mwahahaha, #ThorDarkWorldEvent will cover our
fun
work, very serious stuff I say, of the events surrounding Thor 2, more properly known as Thor: The Dark World, which opens in theatres 11/8/2013.
We will be attending the
red carpet premiere
!! The likes of Tom Hiddleston (LOKI), Chris Helmsworth (THOR), Jamie Alexander (SIF), and more will be showing up there. The plans also include interviewing Tom Hiddleston and Jamie Alexander. I'll have to snap a pic of Chris Helmsworth and send it to them though, since our friends are now engaged. It'd make a good wedding present.
And more importantly, that would seal my spot as their coolest friend.
So you see, I'm on a mission...a mission in the name of honor, valor, and friendship.
The adventure only starts there because we're going to Disneyland! Oh, it's been years since I've been there. First, we get to check out the THOR: TREASURES OF ASGARD exhibit at Disneyland, then it's a bit of play time for me and my fabulous company of bloggers and friends.
Oh, I hadn't explained the #DeliveryManEvent tag yet, have I? It sounds familiar, doesn't it? Well, it is and it isn't. You may remember the
#DeliveryManMovie set visit
I did when I had a blast
interviewing Vince Vaughn
,
Cobie Smulders
, and director
Ken Scott
.
Most ladies were already jealous last time, but guess what? We'll be seeing and interviewing
Vince Vaughn
again and this time, there's added eye candy in the form of
Chris Pratt
(who's recently developed an incredibly gorgeous and toned body for his next film). Yep, both from Delivery Man, opening in theatres on 11/22/2013.
Feels like Christmas came early this year. Yet, there are still presents that need to be unwrapped. I get to visit this magical place known as Disney Toon Studios for the In-Home release of PLANES (available 11/19/2013) for a press day. *Swoons* And if that wasn't enough, we also get a sneak peak of Marvel's new In-Home release IRON MAN & HULK: HEROES UNITED (available 12/03/2013). Gosh, these Disney reps sure know how to get to a girl's heart and put a smile on my face. For that, I thank them.
Where are we staying? Oh you know where, that hotel I loved last time, remember it?
Loews Hollywood Hotel
had such wonderful food and service last time that I even wrote a
Loews Hollywood Hotel review
.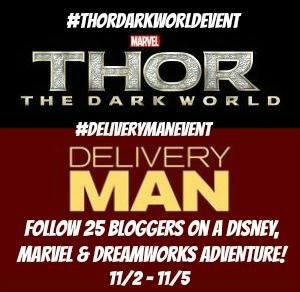 Should you feel like you need to keep tabs on me, or stalk me, or whatever.
Follow along with the fun Nov 2nd to 5th, 2013 with the hashtags #ThorDarkWorldEvent and #DeliveryManEvent.
Don't worry, I'll keep you updated!
Now, help me decide on a dress!
Excited for #Thor2-Help me pick a red carpet #premiere #dress! #ThorDarkWorldEvent #DeliveryManEvent #movies #fashion pic.twitter.com/gK3Cmja4Nc

— Cinny (@CinnyBBS) October 7, 2013
Got questions for the stars of Thor: The Dark World and Delivery Man? Tell me in a comment.
Stay connected with Thor: The Dark World:
Facebook
||
Twitter
||
Site
Stay connected with Delivery Man:
Facebook
||
Twitter
||
Pinterest
||
Instagram
Follow WOS:
Google+
||
GFC
||
@CinnyBBS
||
WOS on facebook
||
Pinterest
||
Instagram
Until next time,