Disclaimer
: I have been invited to a Disney/Marvel/Dreamworks #ThorDarkWorldEvent, #DeliveryManEvent, and #DisneyPlanesBloggers press trip. No other form of compensation was received. Opinions expressed belong to Whirlwind of Surprises and are NOT influenced in any way. Please view my full
disclosure, TOS, and privacy policy
. Please take the time to enter my other
giveaways
while you're here.
I still haven't yet packed for my #ThorDarkWorldEvent, #DeliveryManEvent, and #DisneyPlanesBloggers trip that's now only 2 days away but I had to share my updated itinerary and excitement with you. Plus, I know have a list of who's already RSVP'd to the Thor: The Dark World Premiere!
Well, besides the obvious guests of the cast/crew guests:
Chris Hemsworth, Tom Hiddleston, Anthony Hopkins, Stan Lee, Kat Dennings, Ray Stevenson, Christopher Eccleston, Idris Elba, Jaimie Alexander, Zachary Levi, Tadanobu Asano, Jonathan Howard; Kevin Feige (producer), Alan Taylor (director), Louis D'Esposito, Victoria Alonso, Craig Kyle (executive producers), Robert Rodat (story by)
Ya, Chris Helmsworth is cool and all but there's someone I'm psyched for! It is none other than Jeremy Renner, aka Hawkeye!! Other notables include:
Michael Rooker, Clark Gregg, Sebastian Stan, Karen Gillan, Chris Hardwick, Brett Dalton, Iain De Caestecker, Elizabeth Henstridge, Neal McDonough, Callan Mulvey, Ming-Na Wen, Shane Black, James Gunn, Louis Leterrier, Anthony Russo, Joe Russo, Edgar Wright, Maurissa Tancharoen & Jed Whedon, Luke Benward, Paris Bereic, Jean-Luc Bilodeau, Joey Bragg, Dove Cameron, Chelsea Kane, Benjamin King, Devan Leos, Tahj Mowry, Bradley Steven Perry, Kali Rocha, Jake Short, Derek Theler, Marcellus Wiley, Jay Williams
Who are you most excited to see? I have to wonder if it's going to be different than the London premiere.
Photo Credit: Disney
As if TWO red carpet events weren't enough, our itineraries and schedules were updated for even more fun. We are now also
interviewing Cobie Smulders (My last interview with Cobie Smulders when they were filming in NYC), Zachary Levi (Fandral in Thor: The Dark World), Disney Planes director, Klay Hall and Producer, Traci Balthazor-Flynn. Plus, yes, it hasn't quite ended yet. We are going to raid ABC's studios to check out THE NEIGHBORS, interview it's creator & executive producer Dan Fogelman and chill on the set of TROPHY WIFE.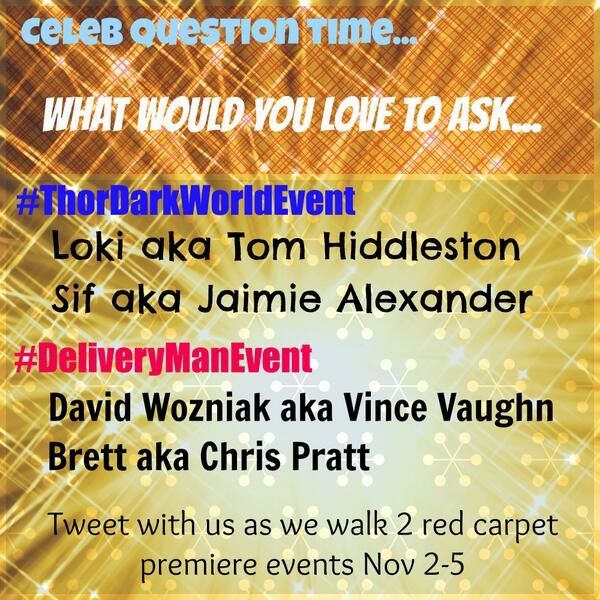 Besides the new updates, we're still doing these interviews,
tweet me your questions or leave them in a comment below.
Since it's Halloween, I'm more for treats instead of tricks so let's watch some great clips to get us all ready for this epic event.
This one you have to watch! LEGO Thor: The Dark World premiere is just too adorable.
"Where Were You?"
"I've Got This Under Control"
Awesome, right? Well, for one more superhero candy, here's the newest Captain America trailer!
Trick or Treat!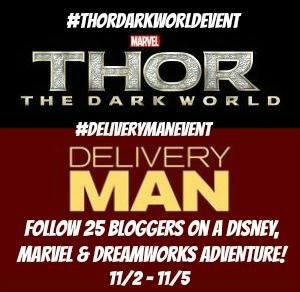 Follow along with the fun Nov 2nd to 5th, 2013 with the hashtags #ThorDarkWorldEvent, #DeliveryManEvent, and #DisneyPlanesBloggers.
Check out all our current and upcoming posts on the
#DeliveryManEvent
,
#ThorDarkWorldEvent
,
#DisneyPlanesBloggers
press event!
Stay connected with Thor: The Dark World:
Facebook
||
Twitter
||
Site
Stay connected with Delivery Man:
Facebook
||
Twitter
||
Pinterest
||
Instagram
Stay connected with Disney Planes:
Facebook
||
Twitter
, #DisneyPlanes ||
Site
Stay connected with Loews Hollywood Hotel:
Facebook
||
Twitter
, #LoewsHollywood ||
Site
Stay connected with Tropicana Bar:
Facebook
||
Twitter
, #TropicanaBar ||
Site
Stay connected with Disneyland:
Facebook
||
Twitter
, #Disneyland ||
Site
Stay connected with El Capitan Theater:
Facebook
||
Twitter
, #ElCapitan ||
Site
Stay connected with Hard Rock Cafe:
Facebook
||
Twitter
, #HardRockCafe ||
Site
Stay connected with The Neighbors:
Facebook
||
Twitter
, #TheNeighbors ||
Pinterest
||
Site
Stay connected with Trophy Wife:
Facebook
||
Twitter
, #TrophyWife ||
Pinterest
||
Site
Stay connected with Captain America:
Facebook
||
Twitter
, #CaptainAmerica
Follow WOS:
Google+
||
GFC
||
@CinnyBBS
||
WOS on facebook
||
Pinterest
||
Blog Frog
Until next time,