Disclaimer
: The Kelly Jacket mentioned below have been provided for the purposes of this review. No other form of compensation was received. Opinions expressed belong to Whirlwind of Surprises and are NOT influenced in any way. Please view my full
disclosure, TOS, and privacy policy
. Please take the time to enter my other
giveaways
while you're here.
I tend to be a minimalist when I travel. I try not to pack too much, in fact, I pack less than my husband. How many of you can say that? ;) It's probably something I've inherited from my parents, although I'm not nearly as good as them. When they travel, no matter how far or long they're going for, they pretty much stick to their 2 carry-on's each and they're good.
My back up plan always resides within my jacket. When I get in trouble at customs and they complain about too much in my bag, I inevitably find room to fit them into my coat pockets. Let's face it, without a multi-pocket jacket, I'd be lost. While you've seen my
Scottvest Trench coat
, that wouldn't have worked on my latest trip where it was easily 30's C/85+ F every day!
But I had my the newest addition to my travel gear in the form of
Scottvest Kelly Jacket
! Available in 2 different colors, the Kelly jacket is a sporty, versatile look that flips from long sleeved to sleeveless in seconds. The sleeves literally rip off without you having to take the time to unzip the sleeves off. The magical power of magnets! One of my concerns was that since there's not a complete seal around the sleeves, would there be a draft? The answer is no, no draft whatsoever.
The jacket further features a comfy nylon/spandex blend with 4-way stretch and 10 sweet streamlined pockets. Compared to my prior trench coat, it has less pockets and I wondered how I would fit everything, however it all worked out. Some of these pockets include their usual travel ID and documents pockets. Of course, you're thinking, where can I put my iPad, kindle, etc? They made a pocket on the back that fits it.
Unfortunately, my trip wasn't filled with all sunshine, it rained a few days too. Teehee, lucky for me, my jacket was Teflon coated so it was water repellant. Plus if anything happened, it was a quick and easy clean, which is a MUST for any travel clothing.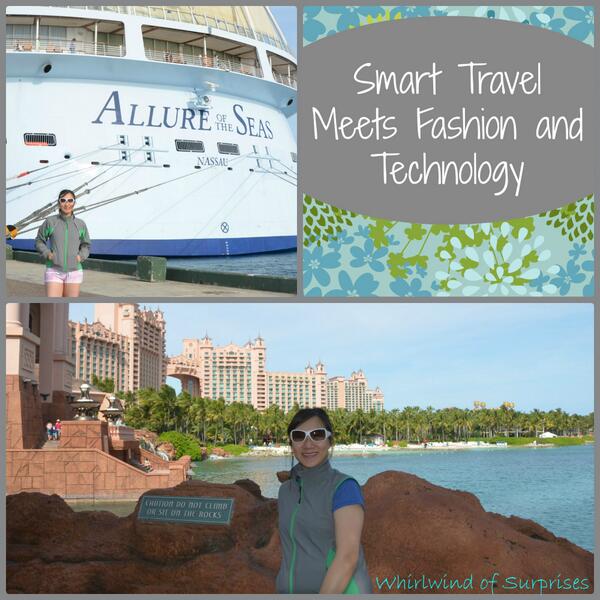 The material is fairly thin and perfect for warm weather travel, mostly for late spring, summer, and early fall wear. Like all their other jackets, it comes equipped with the TEC, their patented system of keeping wires organized in clothing. In simple terms, there's simple holes and pockets to make sure your cords and devices stay organized. My only shortcoming of this jacket was some of the piping. I wore it every day of my 8 days travelling and some of the piping started to show minimal signs of wear.
In summary though, how could I not love it? You know, my grandparents love their vests with the multiple pockets because of the amount of stuff they can carry. I love them to death, but my style isn't the same as theirs and I wouldn't want to wear what they wear. Scottvest gives me a solution where I have my pockets and a style that suits me. Travel safe and assured with multifunctional Scottvest wear.
Facebook
||
Twitter
||
Site
Follow WOS:
Google+
||
GFC
||
@CinnyBBS
||
WOS on facebook
||
Pinterest
||
Instagram
Until next time,