Disclaimer
: This is a Fashionista Events opportunity. Opinions expressed belong to Whirlwind of Surprises and are NOT influenced in any way. Please view my full
disclosure, TOS, and privacy policy
. Please take the time to enter my other
giveaways
while you're here.
I've always been a huge fan of roller coasters and my blogger friends are well aware. We went on space mountain 3 times in a half hour! Back to back to back...haha, this love comes from early childhood. I have an awesome grandma who would always do roller coasters with me. There's something about the thrill and joy of speed!
These are the favorite ones I'e been on and some of the up and coming roller coasters!
Space Mountain
, now called Ghost Galaxy, at DisneyLand
It was a childhood favorite and perhaps that's why this 2 min and 48 second ride is so awesome. With a track length of 3 459 feet and a speed of 32mph or 51.5 km/hr, this will always be a favorite of mine.
Superman: Escape from Krypton, (originally known as Superman: The Escape)
at Six Flags Magic Mountain in Valencia, California was also one of my favorites. At the time I went on it, it was the tallest and joint fastest roller coaster in the world. Today, it stands as the 3rd tallest roller coaster in the world. This 28 second ride is short but fast at 100mph! At one point in time, it held the record for both the tallest and fastest roller coaster in the world, which makes it a classic in my books. You got to hand it to Six Flags, they always have a ton of great rides.
I would love to visit all of them including the one in Missouri this summer. Missouri offers a slew of adventure and fun for everyone, just check out the video below.
Sounds like I need to start planning now!
We've hit some of my old time favorite coasters, are you ready for the crazy new ones to come this year?
The classic wooden roller coaster in Coney Island, NY is about to have a friend. The
Thunderbolt 2.0
is a new $10 million steel roller coaster set to open this May in Luna Park. It'll even be on the same site the old Thunderbolt was on from the 1920's-80's. It features a 90-degree vertical drop opening, alright, get over that first because that's the craziest thing I've heard in awhile! This 2 233 feet track has max speeds of 55mph and a height of 115 feet.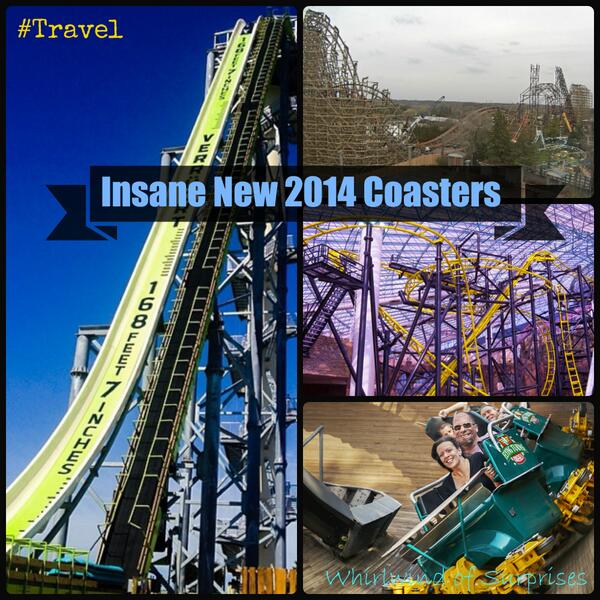 Diehard fans will definitely need to make a visit to
Goliath
at the Six Flags Great America in Gurnee, Illinois May 24th. This new wooden coaster will be soaring through 3 world records with the longest and steepest drop (180 feet at 85 degrees into an underground tunnel) any wooden coaster has ever seen and it's got speed. With a height of 165 feet, length of 3100 feet and speeds of 72mph, this has added itself onto my bucket list.
Verruckt
, in Schlitterbahn Kansas City, KS, is a new water slide that breaks the records of tallest, fastest and steepest water slide in the world! taller than the Niagara Falls, riders should expect a 17-story drop and speeds of 65mph. It takes a minimum of 4 riders at a time.
The Adventuredome at Circus Circus, Las Vegas is where I spent a lot of my summers as a child and I was no stranger to the coaster. It's got a new one that I'm going to have to go back for. The
El Loco
is a 72 second ride that has a 45 degree banked turn, which happens pretty much never in the roller coaster world.
Last but not least is an interesting new ride by the name of
Flying Turns
in Knoebels Amusement Resort, Elysburg, Pennsylvania. The world's largest free admission park. This is just too cool! It literally is a wooden tube, no tracks, rollercoaster that spans 1 200 feet and goes at 24 mph. Sure, it's not as quick as other coasters but you might as well be doing the skeleton luge in this!! At $3/ride, I do!
What are you looking forward to the most?
Follow WOS:
Google+
||
GFC
||
@CinnyBBS
||
WOS on facebook
||
Pinterest
||
Instagram
Until next time,