Disclaimer
: The Pro X2 mentioned below have been provided for the purposes of this review. No other form of compensation was received. Opinions expressed belong to Whirlwind of Surprises and are NOT influenced in any way. Please view my full
disclosure, TOS, and privacy policy
. Please take the time to enter my other
giveaways
while you're here.
Cooler and cooler tech items come out all the time but this is one of my new finds. The EyeFi Pro X2, a magical SD memory card that can have it's own WiFi network and allow you to transmit pics from your camera (any camera that uses a SD memory card) to your cell or laptop instantaneously. EyeFi actually has the Mobi and Pro X2 and I had chosen the Pro X2 because it had the capability to transfer to your computer, which the Mobi didn't use to have but now does. However, the Pro X2 still has a feature the Mobi does not.
Armed with 8GB of
EyeFi's Pro X2
, I was ready for my adventures. The set up was rumored to be difficult but wasn't as hard as people made it seem, however it has to be done on a computer. During the set up, there's even a live demo from which you can take a picture and watch it instantly upload to your computer.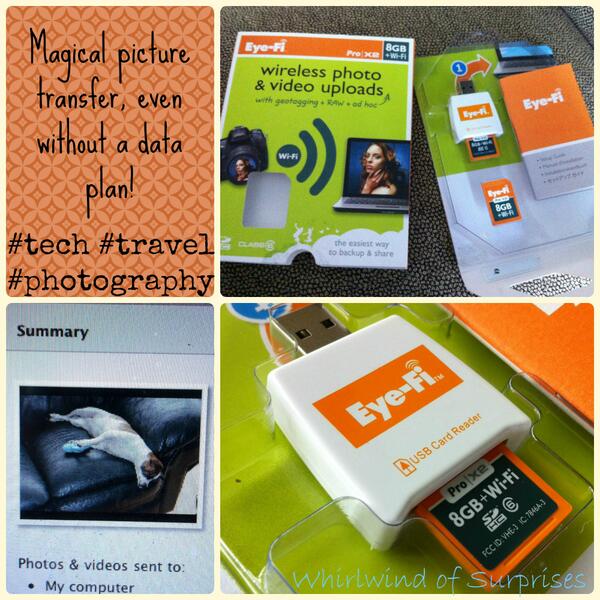 The Pro X2 differs from the Mobi in that you can connect using your home WiFi. So, when there's personal WiFi available, the SD card's built in WiFi will not work. I was actually getting frustrated at the built-in WiFi and wondering why it wasn't working so I turned off my home internet and lo and behold, the built in WiFi finally showed up.
The Pro X2 features the ability to detects new pictures when you take them and activating WiFi when there are pictures to transfer. I love the ability to transfer pictures no matter where I am. I am a still a little in awe that my SD card can create it's own WiFi network.
I've been asked how far away can I be before the transfers stop working. Their data says up to 90ft outdoors and 45ft indoors with your own wireless network. When I'm travelling though, I'm not going to be that far away from all my tech gadgets. The farthest I was away was probably when the hubby was holding my cell with me taking picture about a 1/4 of a block away, so it was a bit difficult to gauge.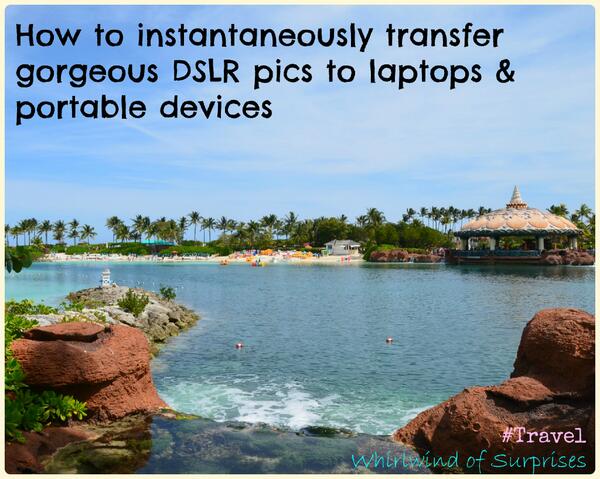 Thanks to the EyeFi Pro X2, I am about to transfer my gorgeous DSLR pics to my computer faster or when I'm out, to my cell so that I can share them immediately. That was a HUGE plus. The downside is that if I shut off my camera, the transfers immediately stop. So I would have to keep the camera on until the pictures finished transferring, using up my precious battery source. Another thing to consider is that everything new and nothing gets transferred. If there was a way to pick and choose what could be transferred, EyeFi would reach all new levels of awesomeness.
Of course, since it's still a SD card, you can still stick it in a SD card reader and plug it into your USB drive to directly transfer pictures anyways. My only beef with that was that it didn't always want to read, it'd eject itself or say there was an error. I'm not sure if it was just my card reader that was faulty? I'd safely eject it but the red light would never turn off, so my safe eject didn't really safely eject it. On the screen, the drive would be ejected but on the adapter, it didn't sense the ejection.
In short, the EyeFi Pro X2 is a great item for those who want to travel and immediately transfer pictures for viewing and sharing on their cellphones or laptops and still has some room for improvement. Hey, and if you don't keep your pics after transferring them, you don't need even need spare memory cards, you can instantly transfer your pics, empty the SD card and keep going.
Facebook
||
Twitter
||
Site
Follow WOS:
Google+
||
GFC
||
@CinnyBBS
||
WOS on facebook
||
Pinterest
||
Instagram
Until next time,