Disclaimer
: The SanDisk Connect Wireless Media Drive mentioned below have been provided for the purposes of this review. No other form of compensation was received. Opinions expressed belong to Whirlwind of Surprises and are NOT influenced in any way. Please view my full
disclosure, TOS, and privacy policy
. Please take the time to enter my other
giveaways
while you're here.
Techie geeking out! There's no new toys techies love more than new tech items. The newest release from SanDisk showcases a mobile storage device available from 16GB up to 64GB ($99.99) that can wirelessly save and transmit data. WireLESSly!
When I first got the box for the SanDisk Connect Wireless Flash Drive, I thought, "Jeez, this thing is bigger than I thought it'd be." Once I opened it up, it was fairly small measuring 0.5" x 1" x 3.1" and weighing 1 ounce. It's around the size of the 2-bar KitKat bars.
It works as an easy way to wirelessly store and stream movies, videos, and music on up to 8 tablet and smartphone connections. Wireless transfer occurs either via an app or connecting on your browser once connected to the device's WiFi. If you have the app downloaded, you can set the settings so that you can be on your home WiFi and still wirelessly access the data stored on the drive. For a 262mb file (about 1/4 of a gb), it took about 3 minutes to transfer.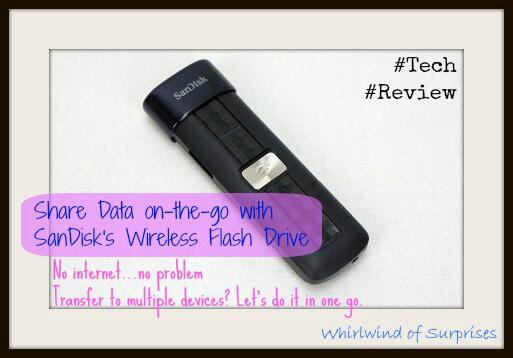 This little device can handle 3 separate simultaneous streams. A single charge provides up to 4 hours of continuous streaming, all on it's own created WiFi network. When you run out of steam, it's easy to plug it into any device's USB port to continue watching and recharge (full charge takes up to 2 hours).
Imagine being able to let your different aged kids watch the movies they want to on their own tablet. Sweet concept, isn't it? No fighting over who wants to watch what or when. They can just stream their preferred movie on separate devices. They don't even need to be side by side, the device is touted to be accessible up to 150 feet away.
There's a slidable protection for the USB insertion point, however that seems to always slide open to expose the USB connect, even when it's in my pockets. I enjoyed finding the micro SD slot, where the 64GB memory resides, meaning you can switch out microSD cards at any time for added convenience. Or if your camera utilizes a microSD card, this means you can share your camera's pictures faster with multiple people.
I've read that there's a 1 Lithium ion battery embedded somewhere on this memory stick. Not sure where it's hiding but the manual says only to be replaced by SanDisk pros.
Stay connected with SanDisk:
Facebook
||
Twitter
||
Site
Follow WOS:
Google+
||
GFC
||
@CinnyBBS
||
WOS on facebook
||
Pinterest
||
Instagram
Until next time,