Disclaimer
: No form of compensation was received. Opinions expressed belong to Whirlwind of Surprises and are NOT influenced in any way. Please view my full
disclosure, TOS, and privacy policy
. Please take the time to enter my other
giveaways
while you're here.
You all know how much I love my Marvel movies. Something about righteousness and good defeating evil and superpowers always guarantees a good time. Captain America: The Winter Soldier is already in theaters and it is not a film to miss. The hubby and I especially made time out of our busy schedule to see this. Mmmhmm, since the hubby knows how much I love these movies.
In Captain America: The Winter Soldier, we find the captain adjusting to modern life when things become complicated, an important member of S.H.I.E.L.D. is attacked. A new, or rather old enemy, in the form of the Winter Soldier appears. Who can you truly trust when there's an enemy at every turn. Call it my superhero instincts but I sensed I knew who the Winter Soldier was, and the hubby told me to stop predicting things. Regardless, it was an adventure-packed movie that opened up all sorts of conspiracies and made for a great time.
The tag team of Black Widow, Falcon, and Captain America made for an intriguing team and I really did enjoy Black Widow's constant attempts at setting Captain America up with a woman.
Although, you also wonder what is to come. Be sure to stick around and watch the bonus after the credits and you'll see exactly what I mean.
Make it a Cap'n America day, click the image below to download free Captain America printables including 27 pages of activity and coloring sheets!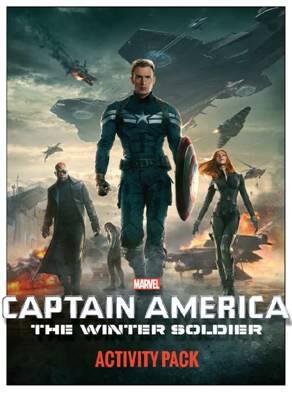 Facebook
||
Twitter
||
Site
Photo Credit: Marvel
Follow WOS:
Google+
||
GFC
||
@CinnyBBS
||
WOS on facebook
||
Pinterest
||
Instagram
Until next time,