Disclaimer
: Opinions expressed belong to Whirlwind of Surprises and are NOT influenced in any way. Please view my full
disclosure, TOS, and privacy policy
. Please take the time to enter my other
giveaways
while you're here.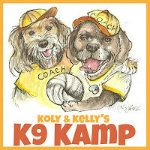 JR & BabyPom
: It's that time of year again. Mommy says we've put on some weight and it's probably true. We get spoiled with grandpa and grandma. She always says being chubby is no good for our subluxating patellas, so we're all signed up for K9 Kamp again, hosted by our buddies
Peggy's Pet Place
and
Kol's Notes
. This year's challenge is a simple one, up your activities by 30 minutes 3-4 times a week.
JR
: Plus with Super Buddies coming out on Blu-Ray DVD August 27th, we need to train too before the buddies capture all of mommy's love and attention again. We're training hard to be super heroes too!
BabyPom
: I don't know...JR, my face is pretty hard to beat!
JR & BabyPom
: So we're working hard on our training. It's probably been easier now that we've moved to the land of 10 000 lakes. There's a huge park nearby and pretty much parks everywhere! We rarely take the elevators and mom likes walking the several flights of stairs with us.
BabyPom
: Check out our pedometers, I'm the top one in all of the pics. Mom recorded how well we're doing. In a day, I walked 6.260mi/10.247km and JR beat me at 6.775mi/11.085km. I was beating her earlier in the day too! She must've caught up during our time in the park.
JR & BabyPom
: We both ended up burning around 400 calories. Not bad, not bad! Did you know mom snuck some shots of us in the park? What do you think? I think we could be Super Buddies too!
JR & BabyPom
: What's that? You want to learn
how to train to become a Super Buddy
?
JR & BabyPom
: Okay, fine, here's our training regimen:
1) Always take the stairs, that builds our stamina and strength.
2) Practice running as fast as you can.
3) Practice being stealthy. A good super hero needs to be able to sneak up on the villains.
4) Practice pouncing on things. We like to pounce on a good toy or even mommy and daddy sometimes. How else will we practice catching bad guys?
5) Most importantly, have fun while training. If you don't like it, you won't want to do it!
BabyPom
: Actually, JR likes to practice all of these by hunting me like I'm the bad guy and then I chase her back! Back to training!
How are you keeping your four-legged friends healthy?
Paws out,
JR and Baby Pom
Follow WOS:
Google+
||
GFC
||
@CinnyBBS
||
WOS on facebook
||
Pinterest
||
Instagram
Until next time,