Disclaimer
: The product/s mentioned below have been provided for the purposes of this review. No other form of compensation was received. Opinions expressed belong to Whirlwind of Surprises and are NOT influenced in any way. Please view my full
disclosure, TOS, and privacy policy
. Please take the time to enter my other
giveaways
while you're here.
Having had the pups for close to 5 years, I've long wanted a
car seat cover
for my car. The pups shed fur all the time and my seats are covered in fur and dirt. It's worse when it's raining or snowing out and they track everything onto my leather seats. Yes, we were long over due for a seat cover. How do you choose a seat cover though? There's so many out there with all sorts of different options. I wanted the perfect one. Luckily Kurgo has quite the selection and these tips will be sure to help you choose one that's best fit for you.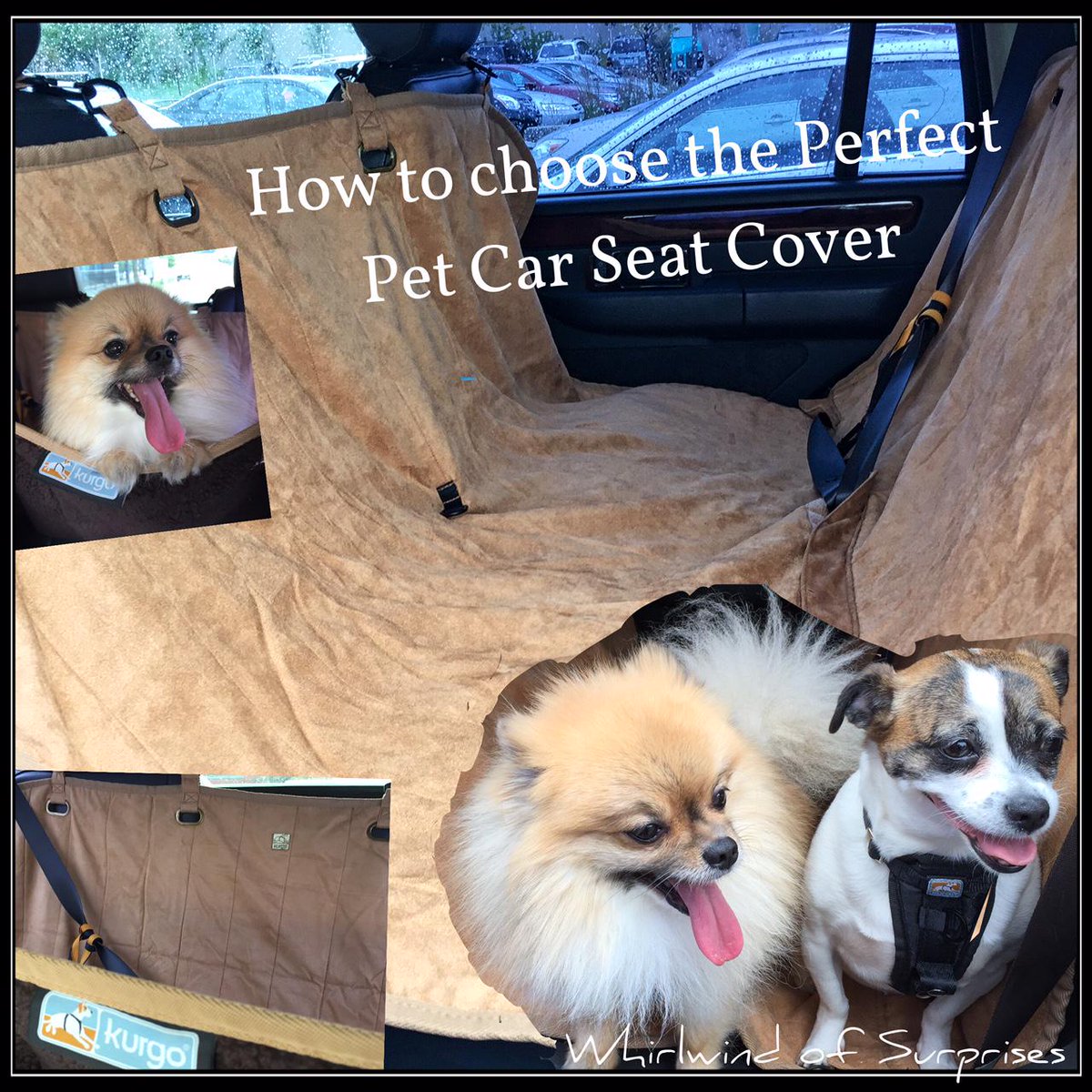 5 Tips on How to Choose a Pet Car Seat Cover
1) Budget
-How much are you looking to spend? Seat covers vary in price range and you can all sorts of different covers. Kurt offers covers starting from $28.
2) Type of Cover
-There are all sorts of covers available: bench seat covers, bucket seat covers, hammocks, or just door protectors. Do you know if you're intending to cover your front seat or the back seat? Do you typically have a lot of passengers? If so, you may benefit from a plain bench seat cover or a hammock that has unzips to allow passengers. For me, I chose a hammock because the pups tend to jump to the front seat from the back, so I chose a hammock type seat cover to prevent them from doing so. Plus, when I place my work bag on the seat now, it doesn't fall forward into the foot well and empty out my bag.
3) Material
-I think the most important feature of a car seat cover is the material it's made of. Ideally, you want something waterproof, stain-resistant, and washable for all the possible messes that pups can bring into or create in the car. The Stowe Hammock we reviewed from Kurgo is one of many that are not only stain-resistant and waterproof but machine washable. However, the comfort of the dura-suede sold me on the Stowe Hammock because I wanted something comfortable that the pups could relax on.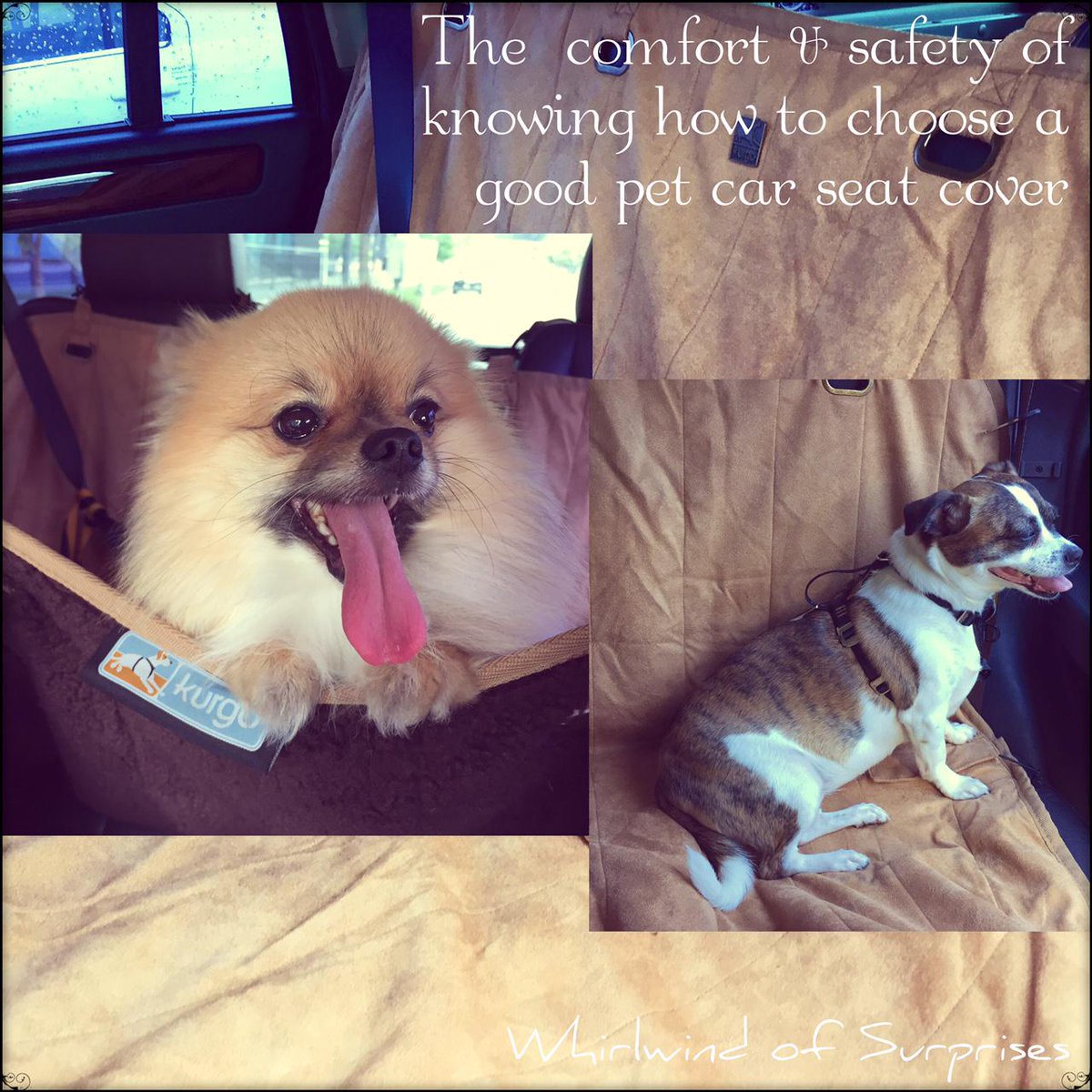 4) Convenience
-I think of a few things when I think of convenience. Will it fit in different cars? Will it attach easy yet hold sturdy? The Kurgo Stowe Hammock (55" wide x 56" long) features 6 attachment points to keep the hammock in place in a variety of cars. 4 easily adjustable loops hook onto the headrests and a wire loops under the seat, minimizing shifting. It further has openings that allow for seat belt and child car seat access. I love the hammock because of the way it lies and allows the pup to nest, yet I can undo the front loops to turn it into a car seat cover if there's more passengers.
5) Care
-As with anything that you expect your pups or anyone to get dirty, the best accessories are the easiest to care for. The Kurgo Stowe Hammock nicely emphasizes this point. Despite the apparent luxurious and thick feel, the hammock itself is rather light and is easy cared for through a cold water machine wash cycle and hang dry.
Do you own a pet car seat cover? Do you find these tips helpful?
Stay connected with Kurgo:
Facebook
||
Twitter
||
Site
Follow WOS:
Google+
||
GFC
||
@CinnyBBS
||
WOS on facebook
||
Pinterest
||
Instagram
Until next time,