Disclaimer
: The product/s mentioned below have been provided for the purposes of this review. No other form of compensation was received. Opinions expressed belong to Whirlwind of Surprises and are NOT influenced in any way. Please view my full
disclosure, TOS, and privacy policy
. Please take the time to enter my other
giveaways
while you're here.
The beauty and grace of yoga is something that I've always admired from far. However, a few months ago, I finally decided to do something for myself and focus on my health and well-being. I somehow settled on hot yoga at a local studio and found the joys of sweating buckets on an almost daily basis and revealing in the stronger me that's developed from the outside in. My core has never been stronger, my endurance better and best of all, my inner stresses just melt off on the mat. It's more than about pushing your body to the limits, it's also about finding inner peace.
The commitment to it has led me in the search for yoga wear that not only flexes with me but also has the ability to keep me as cool as possible and dry quickly. As the fashionista that I am, clearly style is important as well. When Balini Sports approached me, it couldn't have been a better time.
Through these strangely gruelling yet strangely satisfying sessions, I've discovered there are some essential items I need to have with me when going to a yoga session other than an obvious yoga mat and self.
5 Essential Things to Have During a Hot Yoga Session
1)
Water
-Staying hydrated is a must. In some of the hot yoga sessions, the temperature is set to 100F and with focused breathing and purposeful movements, it's surprising how much you actually sweat. It's very important to stay hydrated during these sessions.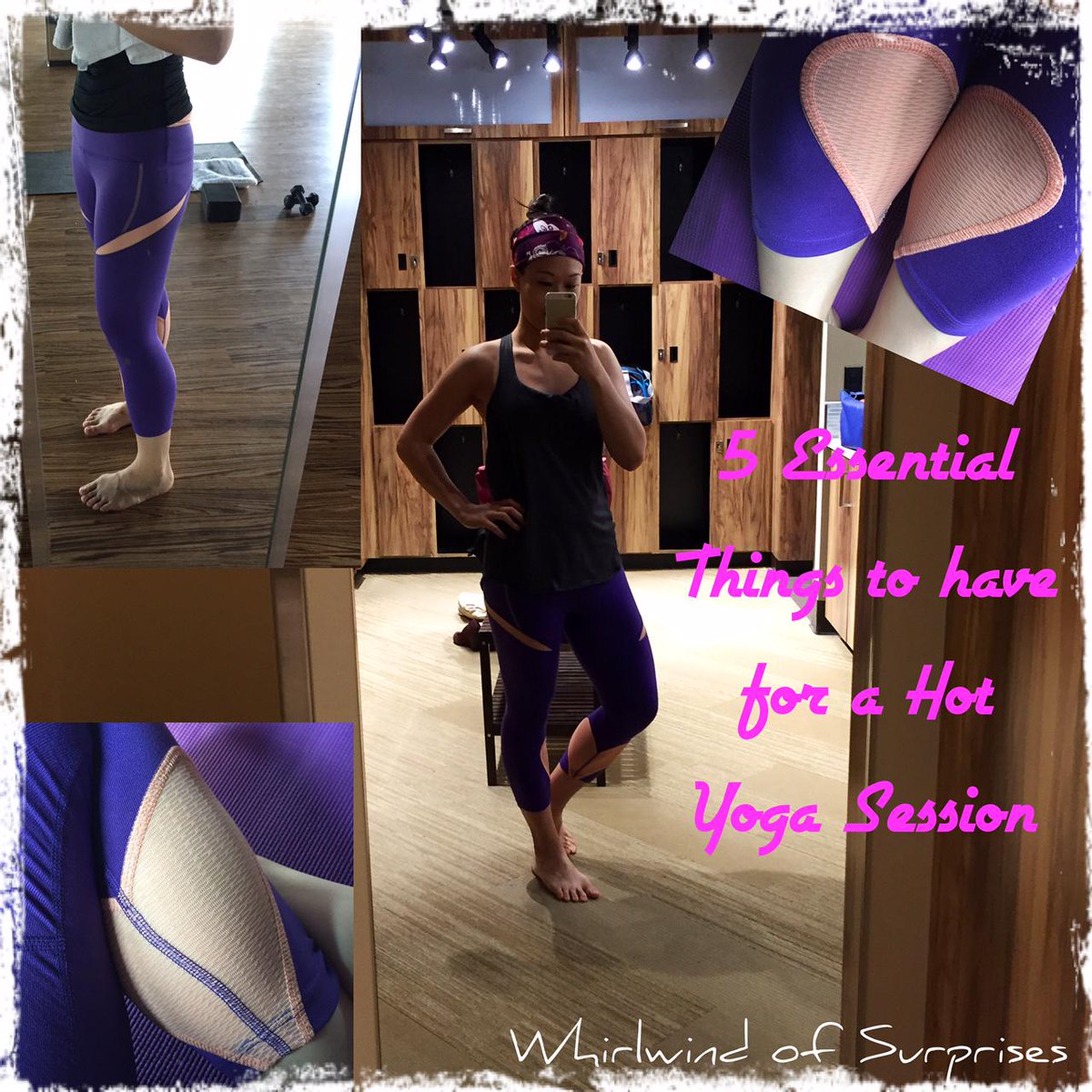 2)
Yoga Gear
-Believe it or not, what you wear does matter. I was in a rush in one of my earlier sessions and wore a tee and full sweats. It was craziness. I've never felt more like being cooked alive. You sweat a ton and there's a lot of flow in the movements. I've learnt my lesson. Balini Sports has an adorable line of yoga clothing that isn't just good for their looks. The
Love Within Capris
from their new Gemini Collection are super comfortable and flexible yoga capris that let you breathe and move. The pop of color and the adorable heart design inside the calves makes it unique and great to wear in the studio or out. It's one of the few yoga bottoms that I can wear through my long classes without feeling like I'm dripping sweat everywhere afterwards and still rock it leaving the studio. Simply put, I love them! It makes me want to grab them in all four color combinations (Black and Lemon, Ocean and Mint, Stone and Raspberry, Indigo and Peach)!
3)
Hair Ties/Head Band
-Hair ties and a good head band are definitely valuable accessories to have in a hot yoga class. When that sweat comes dripping down your hair and face and you're trying to maintain inner zen, it makes things that much harder to control. Yes, try to keep breathing and holding a posture as sweat pours down your face and into your eyes. The simple solution? Tie up your hair and throw on a head band. Ideally, the perfect headband holds fast, absorbs well and doesn't shift.
4)
Towel
-Simple basics is your towel. I typically bring a normal size bath towel with me for my breaks to wipe the sweat off my face and body. Some prefer to shower right after their session so the towel comes in handy as well.
5)
Yoga Mat Towel
-This is such an useful item that I discovered over the last few months. It's essentially a towel that's the size of a yoga mat. The ones I like have grip on the bottom as to prevent shifting over your yoga mat. They work wonders at protecting and maintaining the life of your yoga mat. When you drip sweat, it lands on this towel and then you just throw it in the wash every once in awhile!
What are your must haves when you do hot yoga?
Stay connected with Balini Sports:
Facebook
||
Twitter
||
Site
Follow WOS:
Google+
||
GFC
||
@CinnyBBS
||
WOS on facebook
||
Pinterest
||
Instagram
Until next time,