Disclaimer
: I attended a screening of Ant-Man. No other form of compensation was received. Opinions expressed belong to Whirlwind of Surprises and are NOT influenced in any way. Please view my full
disclosure, TOS, and privacy policy
. Please take the time to enter my other
giveaways
while you're here.
Like any Marvel fan, I was looking forward to Ant-Man. Who doesn't love a good super hero movie, right? Well even if you're not, here's 5 Reasons Why You should Watch Ant-Man, plus some awesome FREE activity and colouring sheets you can download by clicking the image below for a funner, family movie night!
5 Reasons You Should Watch Ant-man
1)
It is hilarious!
-I loved how funny the cast was. Michael Pena surprisingly picked up the win for me. His goofy character or maybe it was the way he portrayed it or got sidetracked all the time kept me constantly amused. He was undoubtedly both my husband's and my favourite character in the movie.
2)
It packs a great message
- Big things can come from small packages too. Don't judge a book by it's cover.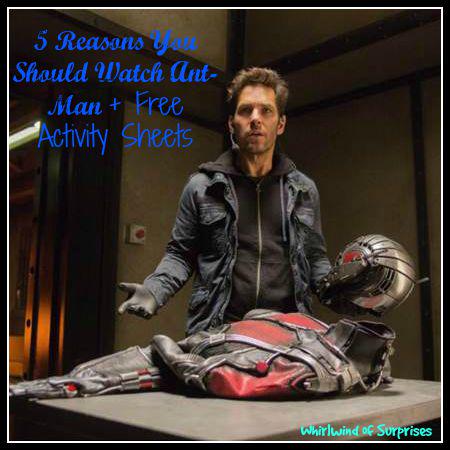 Photo Credit: Marvel
Click the image above to download FREE #AntMan activities & colouring sheets.
3)
Second Chances
-This is a theme we see in many movies. It is never a theme that I get sick of so obviously, I love how Paul Rudd's character (Scott) got a chance to do something for the good and turn his life around.
4)
Strong Female Leads
-This isn't a spoiler because I've seen it in the trailers! Evangeline Lily as Hope can throw a strong punch. I loved that though she wasn't the hero of the movie per say, she was still a lean, mean fighting machine. She had the looks, the brains, and the muscle.
5)
Surprise Cameos
-Okay, I will admit, I didn't pick them all up but I definitely noticed some of them. I find it ingenious how Marvel sneaks it all in there. Some are more obvious and some may only be noticeable for the diehard fans! I will avoid spilling the beans here. Go watch and tell me how many you find!
Overall, the movie was pretty good and I loved the various aspects of it. The comedic punch lines were timed perfectly. Ant-Man is a good Marvel film good for all ages. Simply put, Ant-Man, though perhaps not as well known as it's other Marvel counterparts, still makes for a good action-adventure film.
Stay connected:
Facebook
||
Twitter
||
Site
Follow WOS:
Google+
||
GFC
||
@CinnyBBS
||
WOS on facebook
||
Pinterest
||
Instagram
Until next time,