Disclaimer
: The product/s mentioned below have been provided by #ATTMinnesota for the purposes of this review. No other form of compensation was received. Opinions expressed belong to Whirlwind of Surprises and are NOT influenced in any way. Please view my full
disclosure, TOS, and privacy policy
. Please take the time to enter my other
giveaways
while you're here.
Tech is a mainstay in my life. Believe it or not, my husband is far from techie. Haha, he barely even knows what a #hashtag is. The only smart watch he knew of was the Apple iWatch. However, Samsung has been out with Smart Watches for a longer period of time and already has several different generations. One in particular, the Samsung Gear 2 Neo that AT&T sent me to review is thought to offer a full range of features yet being one of the most affordable smart watches.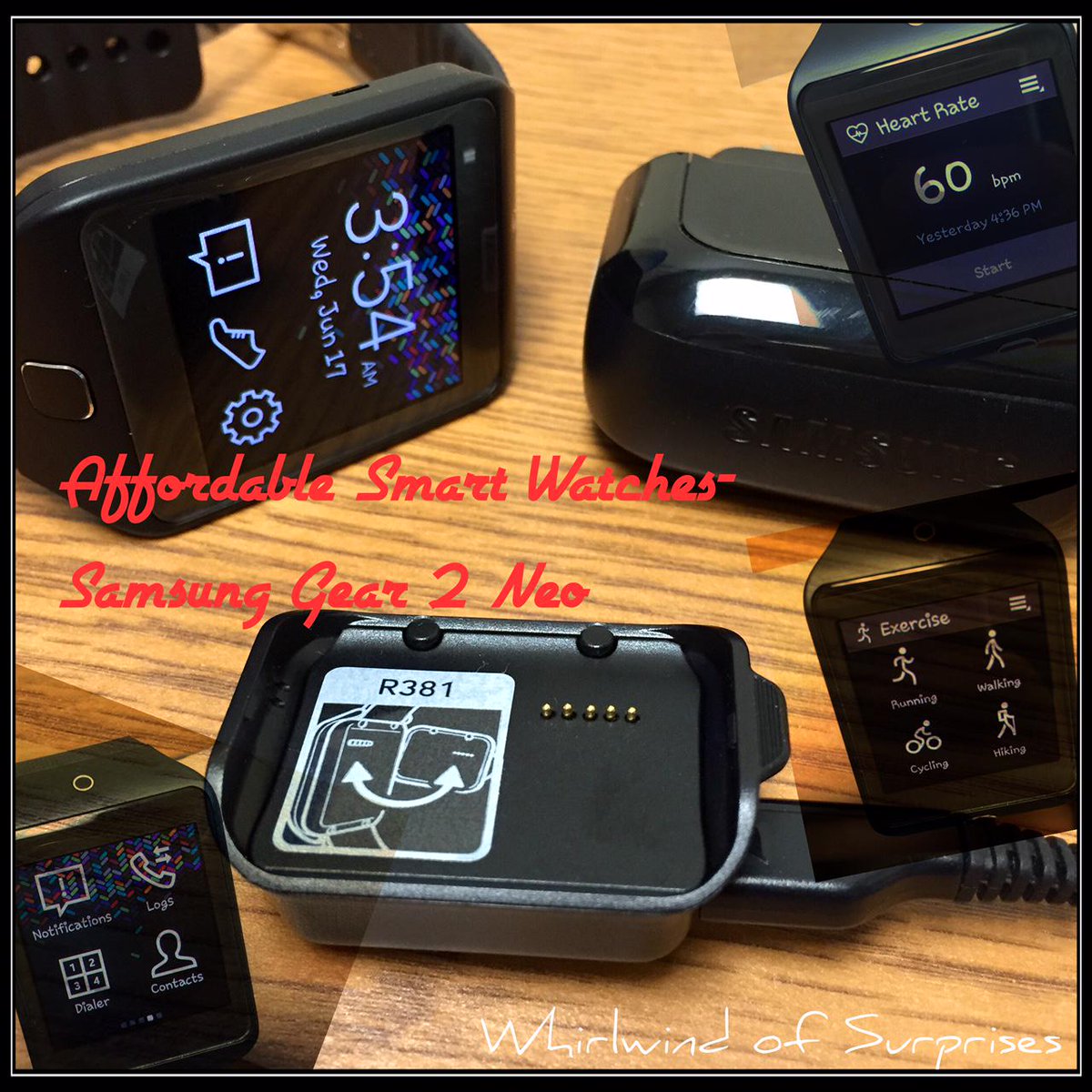 Design
: Personally, I ended up liking the look of the rectangular shape on my wrist more than I thought I would given my slender wrists. The screen itself is 3 x 3 cm and looks sleek and smooth. The display is sAMOLED, which is a fancy term for the touch screen being integrated into the display rather than as a separate layer above the pixels. Fitting the Samsung Gear 2 Neo is rather easy. The band is easily adjustable to wrists of all sizes via simple shifting. The screen background is also customizable providing an unique background that suits you. The device is user friendly and easy to flip through and explore. It didn't take long to become accustomed to the Gear 2 Neo.
Notifications
: This was really neat. You can customize what apps you want to receive notifications on from on the smart watch. Further, the Samsung Gear 2 Neo allows you to receive/make calls and receive texts making communication safer and smoother. You can respond to texts as well from the Gear 2 Neo, though there are a limited number of preset basic messages to respond with like: Yes, Ok, No, I'll call you later. With the Gear Manager app, you can also create your own preset messages.
Apps:
Some basic apps that I find useful include the Voice memo, Sleep, WatchON Remote, and Find My Device. The voice memo can record directly from your Gear 2 Neo and then transfers a copy to your smart phone. If you delete the memo on the Neo, it does not delete from the phone.
The sleep app is fantastic for keeping track of my sleep. It's fairly basic in the sense that you have to remember to go in to click record and stop. I'd love it if it automatically sensed sleep like one of my old activity monitors. However, it measures your duration of motionless sleep.
There are also neat apps like setting up your remote access for your TV and such. I set this up so that I could secretly turn off the TV on my husband. Plus, he always leaves it on and I can't find where he's misplaced the remote so this was a life saver!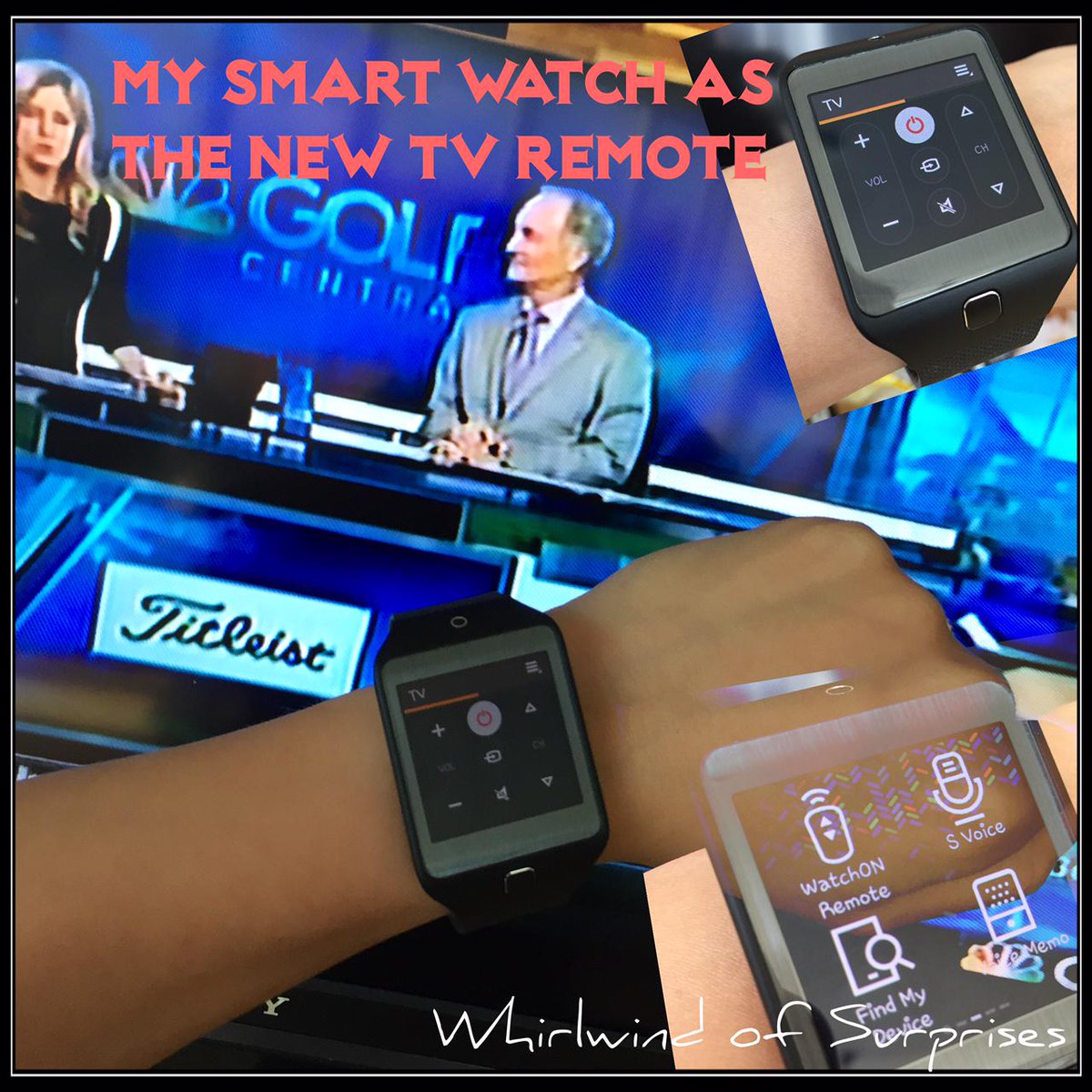 Find My Device is great when it's close enough. By close enough, I mean within the confines of my bluetooth, which surprisingly has a greater radius that I'd expect. There are often times when I'm coming back from walking the dogs and the watch connects even before I reach my apartment. Anyhow, activating this app causes the smart phone to vibrate to make locating it that much easier. It works the opposite way from the smart phone as well.
Health:
Ah, the fitness buff in me loves the health features in the Gear 2 Neo and the
Samsung Galaxy S6
, which we'll talk about later on. The built-in heart rate sensor is something I use almost daily to keep track of myself. The pedometer is also a built in function that works with S Health on your phone to monitor your progress. There is an Exercise App that allows you to choose between running, walking, cycling and hiking as methods of exercise to monitor. I like the variety but it also doesn't account for many of the exercise modalities that I do. However, I love the water resistant (submersion up to 1 meter for up to 30 minutes) properties of the device as I feel comfortable wearing it during hot yoga when everything gets drenched!
Pros
:
-Affordable in price ranging from $149.99 to 199.99 compared to other Smart Watches.
-There are many features and apps that are both useful in mundane life and those that make your typical techie squeal in delight.
-There are a variety of customizable features from the screen to the general appearance of the Gear 2 Neo.
-A flick of the wrist turns your display on.
-Goes from 3-4% to full charge in a matter of a few hours.
Limitations
:
-The battery life is about 2-3 days with medium use before I find myself needing to charge it again.
-I was surprised that it required a dock to recharge since the module itself is a good 1cm thick so I would've thought it could fit a plug in.
-Gear 2 Neo is only compatible with Samsung devices meaning that you'd have to buy into the Samsung line if this is truly the smart watch that you want. Check out our in-depth
review of the Samsung Galaxy S6
.
Have you ever owned or wanted to own a Smart Watch? What do you think of the Samsung Gear 2 Neo?
Follow WOS:
Google+
||
GFC
||
@CinnyBBS
||
WOS on facebook
||
Pinterest
||
Instagram
Until next time,