Disclaimer
: The product/s mentioned below have been provided for the purposes of this review. No other form of compensation was received. Opinions expressed belong to Whirlwind of Surprises and are NOT influenced in any way. Please view my full
disclosure, TOS, and privacy policy
. Please take the time to enter my other
giveaways
while you're here.
The Man From U.N.C.L.E. arrived in theatres this week and I had the pleasure of watching it during a screening early last month. My husband and I went to the screening after watching the preview, not really sure what to expect. We went in thinking it might be alright, however came out completely surprised.
The synopsis follows CIA agent Napoleon Solo and KGB operative Illya Kuryakin in the early 1960's as they join forces in a joint mission against a mysterious criminal organization, which is working to proliferate nuclear weapons. Directed by Guy Ritchie and featuring a cast that includes Henry Cavill, Armie Hammer, Alicia Vikander, and Hugh Grant, I had wondered why I hadn't heard of the film earlier. Some may remember a TV Series on NBC that aired in the 1960's that this movie was adapted from.
Regardless, the movie turned out to be truly fun and entertaining. As the film opened, I was worried that the vintage era look was going to be a little too much for me. However, it instead became charming and characteristic, giving the movie a classic feel. Overall, we quite enjoyed The Man from U.N.C.L.E. and here are 5 reasons why I think it's worth watching.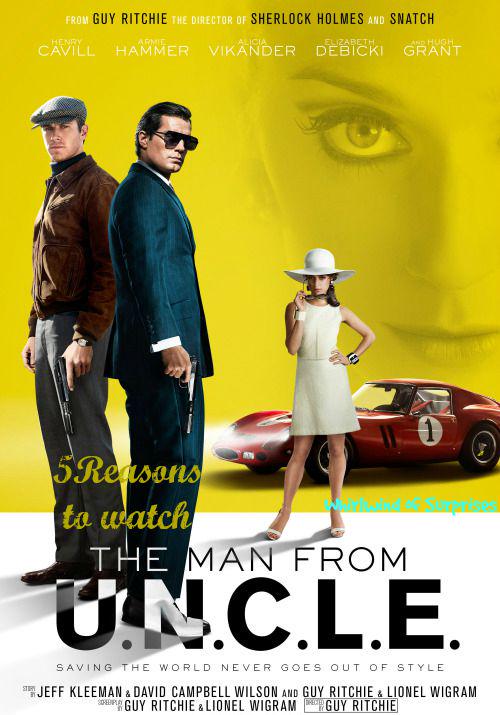 Photo Credit: Warner Brothers
5 Reasons Why You should Watch The Man From U.N.C.L.E.
1) Guy Ritchie
- Just because it is a Guy Ritchie film, I expected an action packed movie that got my adrenaline running and it definitely made the mark there. There were lots of action packed scenes that kept the audience riveted to their seats and looking for more. Not to mention, an equal proportion of strong female leads amongst the males always makes me happy too.
2) Witty Humor
-I never thought we'd be laughing as much as we did. The humour was clever and actually funny.
3) Sexy
-Hmm, is that the right word for it, I wonder... You know when you watch the spy/detective movies, there's always an allure that sucks you into it. Maybe it's just be but I think a spy agent is totally sexy.
4) It's different...
in a good way. It's not the typical summer movies we've been watching this summer and though it's still an action movie, it's taken a different outlook.
5) Style
-As a fashionista who loves a good outfit, the stylist did well to dress everyone. There were great icon pieces yet they were classic enough that you could pull the look off in the modern world.
The verdict? Watch it, it is a great action comedy perfect for a summer's night out and may I suggest, date night?
Have you watched it? What do you think? Did you ever watch the TV series back in the 60's?
Follow WOS:
Google+
||
GFC
||
@CinnyBBS
||
WOS on facebook
||
Pinterest
||
Instagram
Until next time,