Disclaimer
: The product/s mentioned below have been provided for the purposes of this review by #ATTMinnesota. No other form of compensation was received. Opinions expressed belong to Whirlwind of Surprises and are NOT influenced in any way. Please view my full
disclosure, TOS, and privacy policy
. Please take the time to enter my other
giveaways
while you're here.
ATT always has the newest technology for techies and families alike, like the
Samsung Gear 2 Neo
, an affordable smart watch with many great features. The smart watch though must be paired with a Samsung smart phone, which brings up our current topic. The newest and latest, Samsung Galaxy S6 is one that many have drooled over.
Design
: The sleek modern look of the Samsung Galaxy S6 is a sight to behold. Of course, mine came in silver/white, which would be my color choice anyways and makes me like it even more. Made of Corning Gorilla Glass 4 as the back panel, it has somewhat been likened to the klutz's best friend. In other words, I need it. I have no clue how I am so klutzy but things tend to drop. Having that added security protects my phone and piece of mind. I wish the edges were also made of Gorilla Glass! Like my Gear 2 Neo, the AMOLED touch screen is fantastically gorgeous and bright. The graphics (1440 x 2560 pixels) are just beautiful in it's full glory of 5.1 inches of screen dimension yet lightweight at 138g. The screen makes up ~71% of the body (5.65" x 2.78" x 0.27").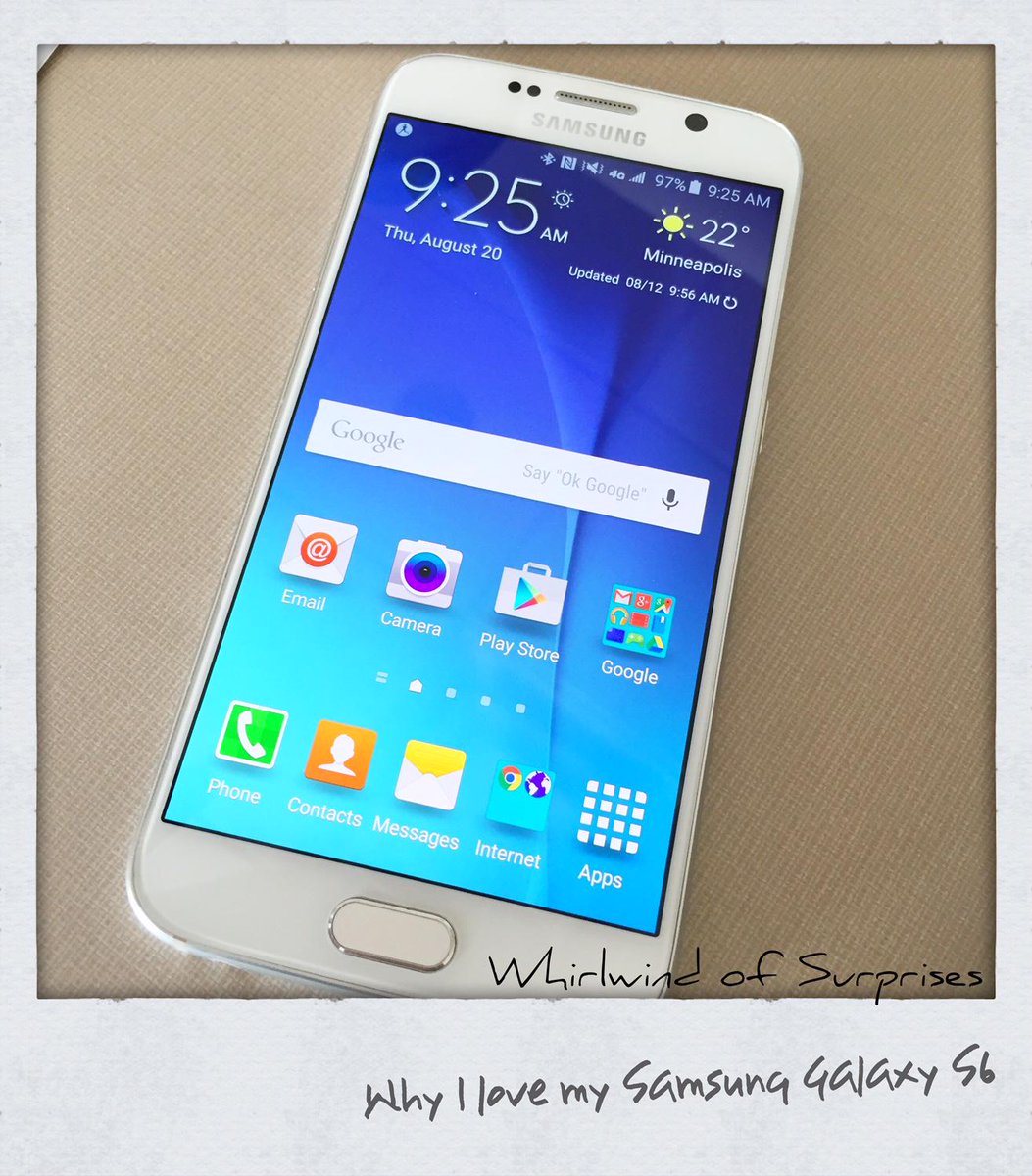 Functionality
: As a blogger, the S6 was heaven. I was in love with the back button. It simply made my life so much easier. I'm also going to say something that you'll have to erase from your mind immediately afterwards. I love my iPhone but Siri is never interpreting what I say correctly!! FYI, I do not have an accent. When I speak with Google, it more often and more accurately picks up what I accurately and quickly. The OS worked quickly and efficiently and I loved how easy it was to use. However, having base internal memory is important in S6's as there are no places to insert a memory card.
Camera
: With any smart phone, a huge feature for me is the camera. How good is the quality of not only the front camera but also the back camera. You know we all love our selfies and goofy pictures! The primary camera is a 16MP, 2988 x 5312 pixels rivals many high quality cameras and to be honest, is most likely better than most of our usual household cameras. It isn't quite near DSLR quality, however it does get darn near close. Even the secondary camera is 5MP.
Apps for the Fitness Geek
: While I strive to be healthy and fit, certain things like the heart rate monitor, SpO2 (oxygen saturations), and the mood sensor are features that strangely draw me to the S6. I can't seem to stop myself from checking everything once in a while, whether for self satisfaction or to check-in on myself.
Battery Life
: The battery features a non-removable Li-Ion 2550 mAh battery that supposedly lasts up to 17 hours of talk time or music play up to 49 hours. However, when I'm using navigation, the battery life quickly depletes. With the combination of my Gear 2 Neo being connected on bluetooth and navigation, I typically wind up with about 30-50% of battery life at the end of the day. Speaking of which, there's a fantastic fast charger that the S6 comes with that is able to quickly recharge the S6 within a couple hours.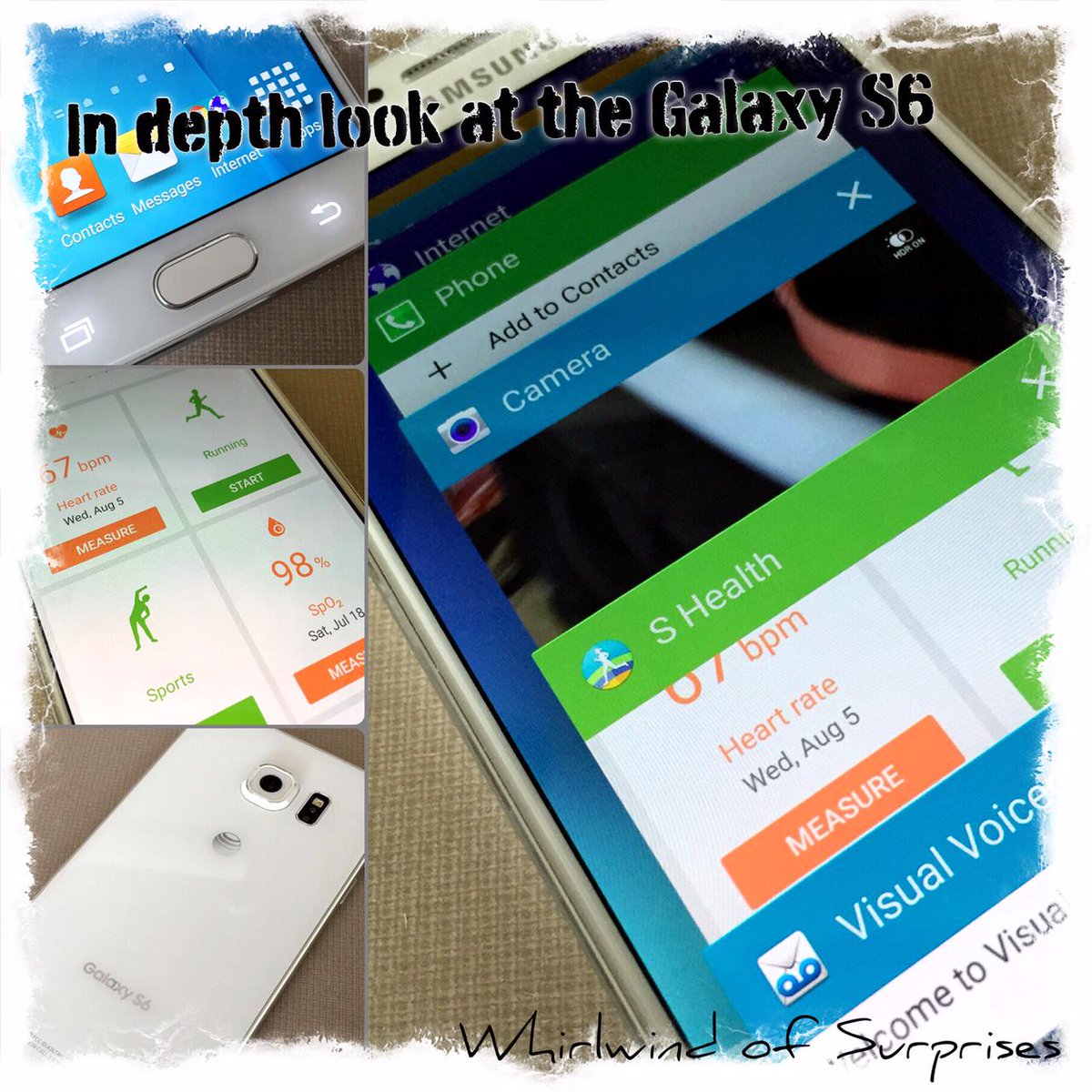 Speed and Connectivity
: The system is responsive and quickly flips from app to app without any signs of lagging. The S6 is able to keep up with many open apps at the same time and I love being able to flip through them. At one point, I had over 10 apps open and with windows for search and so on but the S6 continued to function on, without any sign of having troubles keeping up.
Network
: Well, AT&T is actually my network for my mobile devices and I certainly do love the coverage and the decent speeds I get. My biggest surprise though was that although the S6 and my iPhone6 were both on AT&T's networks, their reception strength wasn't the same everywhere I went. There were sometimes dead spots for the S6 where my iPhone would have 3-4 bars and vice versa.
DriveMode
: As with all AT&T mobiles or rather any phone, you can download DriveMode, which is a fantastic app that AT&T has come up with to decrease texting and driving! It can wait!
Pros
:
-Speed, new screen design, and layout is a must for any techie who loves clear graphics and a highly functional smartphone.
-Health functions are a definite plus.
-Quick charge option makes for great travel convenience.
-Gorilla Glass protects.
-Love the ease of "Ok Google" and the voice recognition compared to some other smart phones.
-High quality camera rivals that of most point and shoots if not better.
-Did I mention how awesome it pairs with my Samsung Gear 2 Neo? Read the
Samsung Gear 2 Neo review
.
Limitations
:
-The battery life for me can deplete fairly quickly but usually lasts throughout the day.
-The S6 heats up really easily, such as when using navigation. It doesn't burn you but is definitely an uncomfortable warm.
-Non-removeable battery means you have to bring it in to the dealer if it needs to be replaced.
-Edges of the phone aren't as durable as the Gorilla Glass that protects the back.
Have you ever owned or wanted to own a Samsung Galaxy series smart phones? Craving a S6? How do you think it would make your life better?

Follow WOS:
Google+ || GFC || @CinnyBBS || WOS on facebook || Pinterest || Instagram
Until next time,