Disclaimer
: No form of compensation was received. Opinions expressed belong to Whirlwind of Surprises and are NOT influenced in any way. Please view my full
disclosure, TOS, and privacy policy
. Please take the time to enter my other
giveaways
while you're here.
I am somewhat jealous that so many people got to go to D23 Expo in Anaheim, California. It is where any Disney, Pixar, Marvel, and Star Wars fan would crave and want to be. It is the place to be to find out all the goodies that are to come from Disney this upcoming year. There are so many secrets revealed and news to be excited about. Well, fortunately, for those of us who weren't able to be there...here's the scoop.
John Lasseter, chief creative officer of Walt Disney and Pixar Animation Studios, led the presentations (and I'm sure he most likely did it in one of his Hawaiian flavoured shirts).
The Good Dinosaur
-Nov 25, 2015
Director Peter Sohn and Producer Denise Ream shared sequences of clips including a never-before-seen footage of a trio of T-Rexes in action. Arlo, the main sheltered Apatosaurus, and his human friend, Spot, are on a journey through a "world that has been greatly inspired by the American Northwest" describes Sohn. Of course, as with any Disney movie, there's always a teaching point and for The Good Dinosaur, Arlo learns with the help of a very special family of T-Rexes what he's truly made of.
Episode VII, Star Wars: The Force Awakens
-Dec 18, 2015
No surprise that this was a huge hit at D23, not to mention a few bombshells that you'll see regarding the future of Star Wars as you scroll down the slate.
The Finest Hours
-Jan 29, 2016
This is a most see movie for 2016 for those who love a good based on true story movies. Chris Pine places Bernie Webber, the captain of the rescue boat, in the movie that depicts the true story of the most daring rescue mission in the history of the Coast Guard. Casey Affleck, Ben Foster, Holliday Grainger, John Ortiz and Eric Bana are some of the other cast members for this film.
Zootopia
-Mar 4, 2016
Can you feel the music in the air? Walt Disney Studios were able to grab an amazing woman for the voice of Gazelle, the biggest pop star...none other than international superstar Shakira. Another well-known voice in the film include Ginnifer Goodwin (ABC's "Once Upon a Time," "Something Borrowed," "Walk the Line") as the voice of the film's rookie rabbit officer Judy Hopps. Directors Byron Howard ("Tangled") and Rich Moore ("Wreck-It Ralph") along Producer Clark Spencer ("Wreck-It Ralph") were all present to share hilarious new scenes and a tease of the all-new original song, "Try Everything."
The Jungle Book
-Apr 15, 2016
In a similar fashion to Cinderella, we are seeing more Disney classics reproduced into live action films. Can you believe they went through thousands of candidates before they found who they wanted to play man-cub Mowgli? Newcomer Neel Sethi is the talented newcomer who got that role. The story follows that of Mowgli's adventure and journey of self-discovery when he's forced to abandon the only home he's ever known. Another fun fact, can you believe that Jungle Book originally came out in 1967?
Marvel's Captain America: Civil War
-May 6, 2016
Captain America returns in Civil War, picking up where "Avengers: Age of Ultron" left off. If you remember, it ended with Cap and Black Widow who picked dup a new team o Avengers in the fight to protect humanity. Chris Evans and Anthony Mackie appeared at D23 EXPO to help show off a few scenes. Excited? I think so too!
Alice through the Looking Glass
-May 27, 2016
I'll be interested in how Tim Burton, Joe Roth, Suzanne Todd and Jennifer Todd produce Alice though the looking glass. Revisiting the whimsical world Tim Burton created on screen in 2010 with "Alice in Wonderland," Alice (Wasikowska) returns to the whimsical world of Underland and travels back in time to save the Mad Hatter. The film brings back familiar characters and features Johnny Depp, Anne Hathaway, Helena Bonham Carter and the voices of Alan Rickman, Stephen Fry, Michael Sheen and Timothy Spall, as well as introduces several new characters : Zanik Hightopp (Rhys Ifans), the Mad Hatter's father, and Time himself (Sacha Baron Cohen), a peculiar creature who is part human, part clock.
Toy Story 4
-Jun 16, 2016
I'm so excited for this one!! Pixar is celebrating the 20th Anniversary of Toy Story this year and well, we're going to be seeing Toy Story 4. Gosh, has it really been 20 years?! The interesting thing that Lasseter finally saw was, "When we made the first three TOY STORY films, we didn't realize what we had done was to change the genre of each of the films' story." So for Toy Story 4, they consciously chose a new genre, wait for it...a love story between Woody and Bo Peep.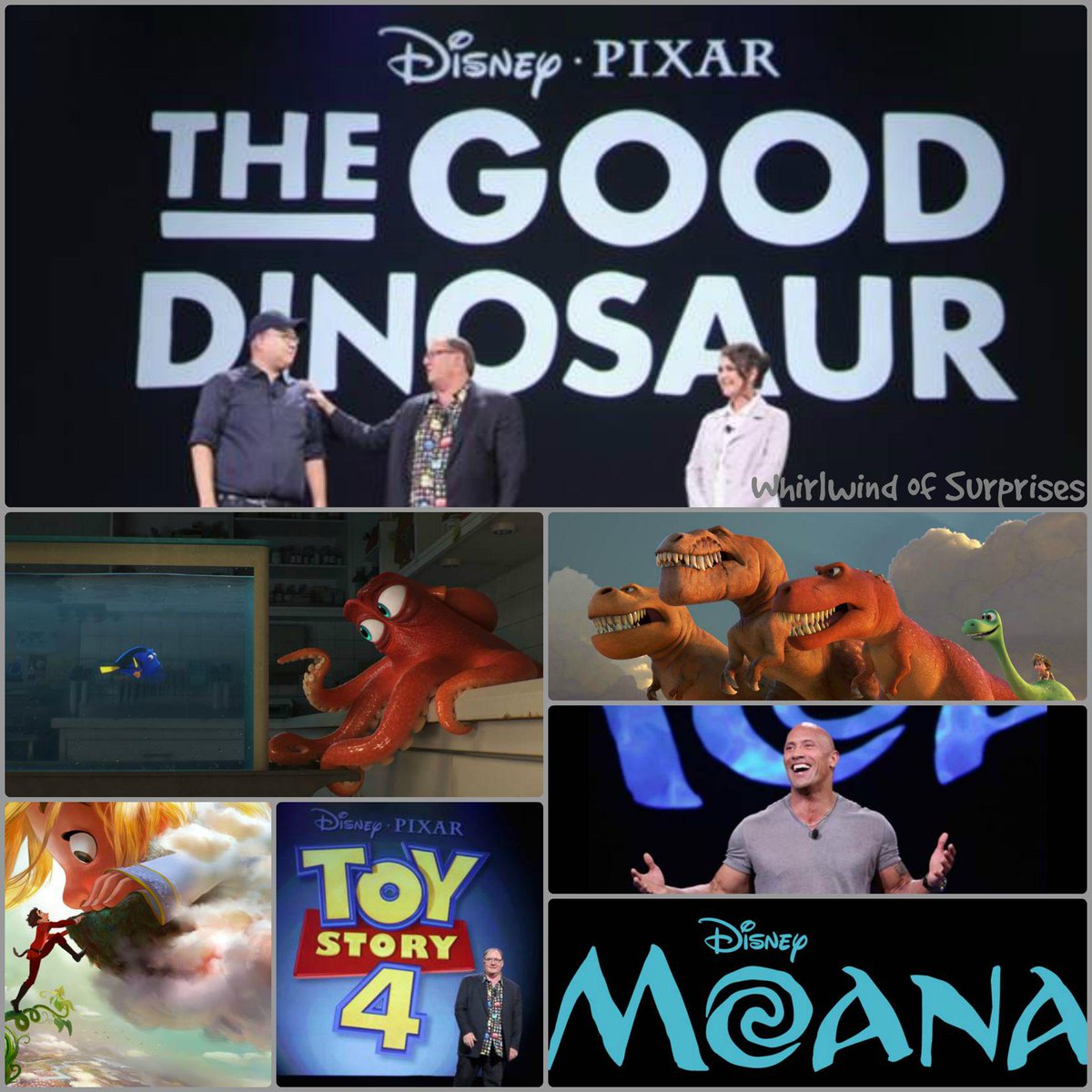 Photo Credit: Disney/Pixar
Finding Dory
-Jun 17, 2016
We all loved Finding Nemo and of course, the goofy and forgetful blue tang that was such an important character in the original film. Now she gets her own! Elle DeGeneres is the voice of Dory and she appeared at D23 with her fellow voice actors and surprisingly, many from Modern Family. Ed O'Neill voices Hank, a cantankerous octopus (Why am I not surprised?), Ty Burrell voices Bailey, a misguided beluga whale (Okay, also not surprised here. The voices suit them so well!). Dory's story reunites Dory with friends Nemo and Marlin on a search for answers about her past. We're going to be learning a lot about Dory!
Pete's Dragon
-Aug 12, 2016
Pete's Dragon is a reimagining of Disney's cherished family film about the adventure of an orphaned boy named Pete and his best friend/dragon Elliott.
Marvel's Doctor Strange
-Oct 26, 2016
Lovely, another Marvel movie in 2016 featuring Benedict Cumberbatch, who stars as the title character. I'm sure we'll be hearing more about this soon.
Moana
-Nov 23, 2016
Do you smell what the Rock is cooking? Mamma, Dwayne Johnson is in Moana as the voice of the mighty demi-god Maui. Renowned Directors John Musker and Ron Clements ("The Little Mermaid," "The Princess and the Frog," "Aladdin"), and Producer Osnat Shurer (Oscar®-nominated Pixar shorts "One Man Band," "Boundin'") revealed early test footage and plans for the film's inspired music and the extraordinary team behind it. Look forward to South Pacific influenced music to help tell the tale of a spirited teenager who sets out on a mission to fulfill her ancestors' unfinished quest.
Beauty and the Beast
-Mar 17, 2017
They're filming in London right now! Another classic that Disney is converting into a musical featuring Emma Watson, Josh Gad and Luke Evans. There's a huge cast involved and some big names as well. I can't wait to hear the score for this film.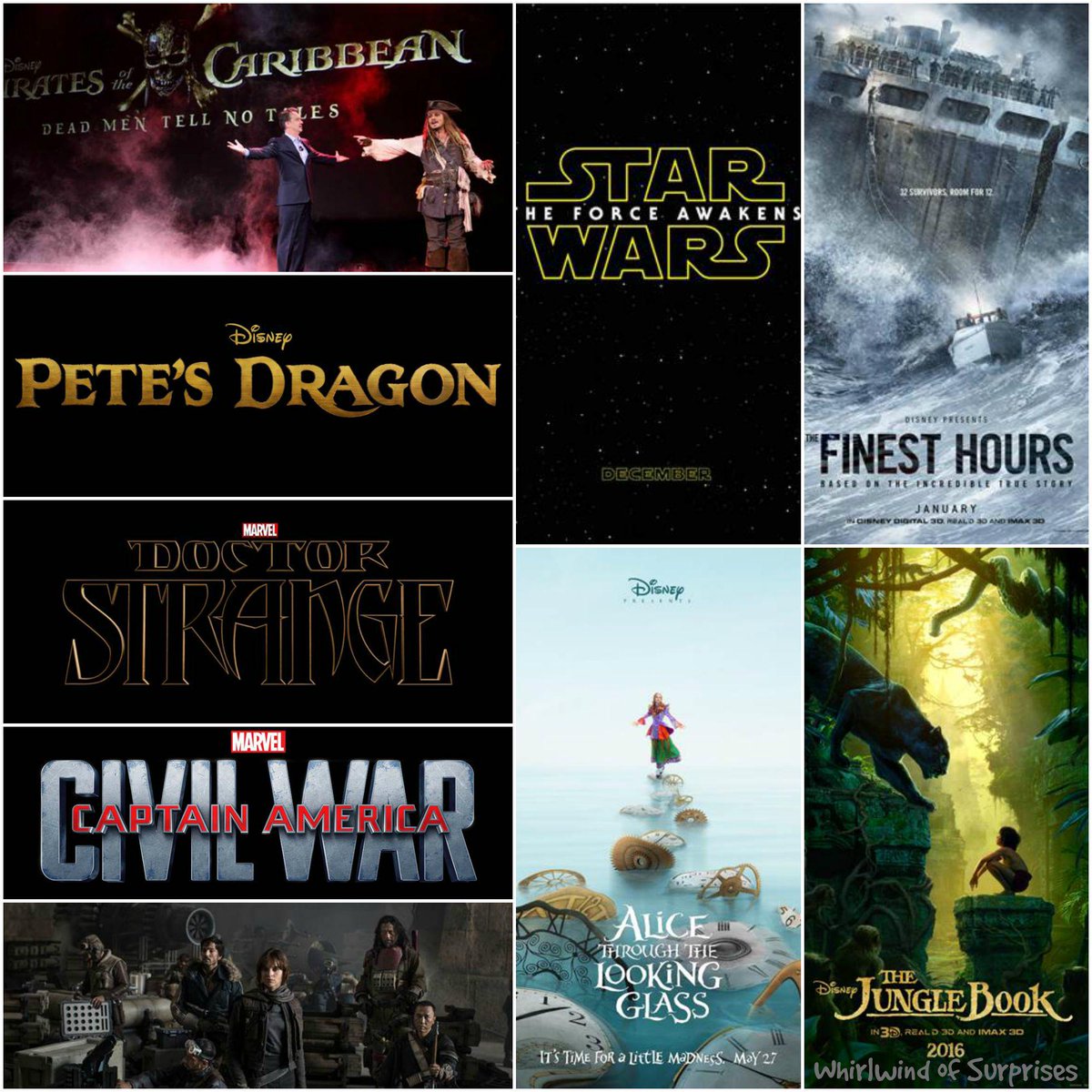 Photo Credit: Disney/Pixar/Marvel
Episode VIII, Star Wars -Rogue One
-May 26, 2017
Rian Johnson will be directing this film. ROGUE ONE tells the story of resistance fighters united to steal plans to the dreaded Death Star. And yes, there is more Star Wars coming...keep scrolling!
Pirates of the Caribbean, Dead Men Tell no Tales
-Jul 7, 2017
As one of Disney's most successful franchise, Pirates of the Caribbean return with Dead Men Tell No Tales. Johnny Depp is one busy man, yet he took the time to show up on stage at D23 as Captain Jack Sparrow. The latest arch of this epic adventure has Captain Jack Sparrow facing one of his old enemies, Captain Salazar (Javier Bardem) leading a not surprisingly, scary crew of dead pirates out to destroy any and all pirates. Their only chance at survival depends on Sparrow searching for the legendary Trident of Poseidon, for total control over the seas.
Untitled Han Solo
-May 25, 2018
This stand-alone film is yet another Star Wars movie to look forward to that will be a separate story from the episodes. Directed by Christopher Miller and Phil Lord, it will certainly be a film to look forward to.
Gigantic
-2018
A gigantic beanstalk? Well, Walt Disney Animation Studios is going to take an unique angle on "Jack and the Beanstalk" in Gigantic. Jack discovers the land of giants as in the age old fairy tale, however what we didn't expect is Jack meeting and befriending a 60' tall 11-year-old girl and helping her find her way home. Isn't that just adventure waiting to happen?
Coco
-2018
Disney·Pixar's COCO revels in culture and family. Producers were drawn to Dia de los Muertos, a Mexican cultural festival, yet carries themes that transcends to all cultures and families.
Queen of Katwe
If this isn't girl power and empowerment of feminism, then I don't know what is. The awe inspiring story of Queen of Katwe is based on the inspirational true story of a girl from the slums of rural Uganda who dreams of becoming a champion chess player.
Episode IX, Star Wars
-2019
Colin Trevorrow ("Jurassic World") has signed on to direct STAR WARS: EPISODE IX!
Follow WOS:
Google+
||
GFC
||
@CinnyBBS
||
WOS on facebook
||
Pinterest
||
Instagram
Until next time,