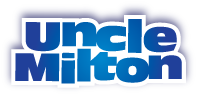 Ah, the joys of the Toy Fair are still following me! Woohoo, check out these new Nat Geo Wild Toys from
Uncle Milton
. How wicked cool are they? He may just be my favorite uncle yet. ;)
Aren't they awesome? Let's start with the Chameleon Vision Goggles ($25 as part of a 2 pack with Bug Eye Vision Goggles) for kids aged 5+. They allow you to see in different directions by rotating the eye sockets and to see behind you, just like a real chameleon. The adjustable elastic strap allows fitting for different sizes. It's pretty cool to be able to see all sorts of angles. Created with a sturdy plastic, it'll hold up well in play. I can definitely see the kids at the Pediatrics Hematology/Oncology playing with this non-stop as it will be donated to them.
Nat Geo Wild has some pretty cool and educational toys, right? It's a neat way to teach kids science, while intriguing them with the fun. The next item teaches too. It'll teach me what my dogs are always sniffing and looking at! The Pet's Eye View Camera ($39.99) will answer that persisting question in my mind.
This clip-on digital camera for dogs and cats features auto-interval settings (1, 5, and 15 min) and a memory capacity of 40 photos at 640 x 480 resolution for 4"x6" prints. The awesome thing is that it is compatible with both PC's and MACs. You transfer photos via a typical USB cord, which is included.
2 AAA batteries (not included) are needed to power the cam and you basically attach it to flat nylon-webbing or leather belt collars at least 3/8" wide. They recommend this for ages 8+ and with adult assistance but um, this is totally in my range of interest!
The camera itself is a bit smaller than my palm and is likely a tad too big for BabyPom to wear. It's okay sized on JR. The camera feels fairly light to me but I'm not sure how she'll like it. Here goes! Maybe she'll love photography just like her mama.
So, maybe she's not that good at photography yet. One out of 3 pictures were of her chin! Haha, but there were several that turned out great. I'd say she's more of an artist with her photography. Here's a few raw images...no editing, no filters. As a mom though, I had to put a frame on it.
Well, I'm in love with the pet cam and sincerely hope JR will be too! It does drag on the ground and whatever she sniffs at times but it seems to hold up fairly well. She doesn't try to rub it off like when she has clothes on. It bounces quite a bit when she's walking so many of the pictures turn out blurry. Luckily, there are still some decent pics. I can't wait to see all of her future adventures. Tech for dogs, I'm all for it!
Buy It
:
Shop online
or in stores for Uncle Milton and Nat Geo Wild toys.
Stay connected:
Facebook
||
Twitter
Disclaimer
: The product/s mentioned above have been provided for the purposes of this review. No other form of compensation was received. Opinions expressed belong to Whirlwind of Surprises and are NOT influenced in any way. Please view my full
disclosure, TOS, and privacy policy
. Please take the time to enter my other
giveaways
while you're here.
Follow WOS:
Google+
||
GFC
||
@CinnyBBS
||
WOS on facebook
||
Pinterest
||
Instagram
Until next time,