Want a good read? Here's a suggestion to take a look at and while you're here, you can enter to win a $50 Amazon GC too!
Pretty Crooked by Elisa Ludwig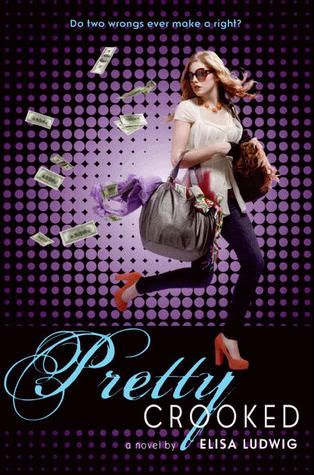 Book Summary:
Willa's secret plan seems all too simple. Take from the rich kids at valley prep and give to the poor ones. Yet Willa's turn as Robin Hood at her new high school is anything but. Bilking her "friends"—known to everyone as the Glitterati—without them suspecting a thing is far from easy. Learning how to break into lockers and Beemers is as hard as she'd thought it would be. Delivering care packages to the scholarship girls, who are bullied just for being different, is more fun than she'd expected. The complication Willa didn't expect, though, is Aidan Murphy, VP's most notorious ace-degenerate. His mere existence is distracting Willa from what matters most to her—evening the social playing field between the haves and have-nots. There's no time for flirting, especially with conceited trust-funders like Aidan. But when the cops start investigating the string of thefts at Valley Prep and the Glitterati begin to seek revenge, could Aidan wind up being the person that Willa trusts most?
Elisa Ludwig's Pretty Crooked is the first book in an adventurous teen caper series filled with mystery, humor, and heart.
Praise for Pretty Crooked:
"This should be an easy sell to fans of Sara Shepard's Pretty Little Liars books."
—Booklist
"This debut keeps readers zooming along as a formerly poor girl plays Robin Hood when she strikes it rich…. A solid debut."
—Kirkus
Visit
Elisa Ludwig
.
Find
Pretty Crooked on Good Reads
. Follow
@ElisaLudwigYA
. "Like"
ElisaLudwigYA
.
Enter on the Rafflecopter form below. Please take the time to check out my other
giveaways
.
a Rafflecopter giveaway
Disclaimer
: Please view my full
disclosure
.
Like what you see? Follow me on
Google+
,
GFC
and
twitter (@CinnyBBS)
to get the latest updates. Like us on
facebook
or join us through
Network Blogs
. Leave me a comment if you'd like me to follow back on any of these.
Until next time,