Disclaimer
: The RestOn sleep monitor mentioned below have been provided for the purposes of this review. No other form of compensation was received. Opinions expressed belong to Whirlwind of Surprises and are NOT influenced in any way. Please view my full
disclosure, TOS, and privacy policy
.
How well do you sleep? Since my life revolves around shifts, my sleep schedule isn't always the best. However, that's especially why it's even important to make the most of the time that I do sleep. Sleep is where our body's heal, rejuvenate, consolidate memory, and on the most basic level, what is supposed to leave us well and refreshed for battling another day. Like everyone else, I have some better nights and some worse nights. The nights where the dogs need to be let out multiple times are one of those bad nights. What about you? I'm sure you can think of a few nights. Here's the good news, you can learn how to make the most of your sleep.
Learn How To Make the Most of Your Sleep
1) Try a Sleep Monitor
-Sleepace recently developed RestOn, a non-wearable device, that monitors, tracks and analyzes your sleep quality. RestOn utilizes professional medical-grade sensors and patented structure to accurately measure sleep time, heart rate, respiratory rate, body movement and sleep cycles. This is pretty neat since the measuring device is really a thin microfiber strap that you install on your mattress and clip via a magnetic closure/on-off switch to the bed sheets. Everything syncs automatically through your smartphone's bluetooth connection.
Specs
:
-Battery life: Up to 30 days -So far, it's been holding up but I haven't quite had it a month yet so it's hard to tell.
-Works with Apple iOS 7 and later and Android 4.3 and later compatible devices via free Sleepace app that syncs with belt via Bluetooth.
-MSRP $149.99
-Size: Device 4.1 x 3.5 x 0.4 inches, Sensor Band 34.6 x 2.6 x 0.08 inches
-Weight: 0.33lb
-Battery: 1500mAh Lithium-ion Polymer Battery
-Wireless Range: 33ft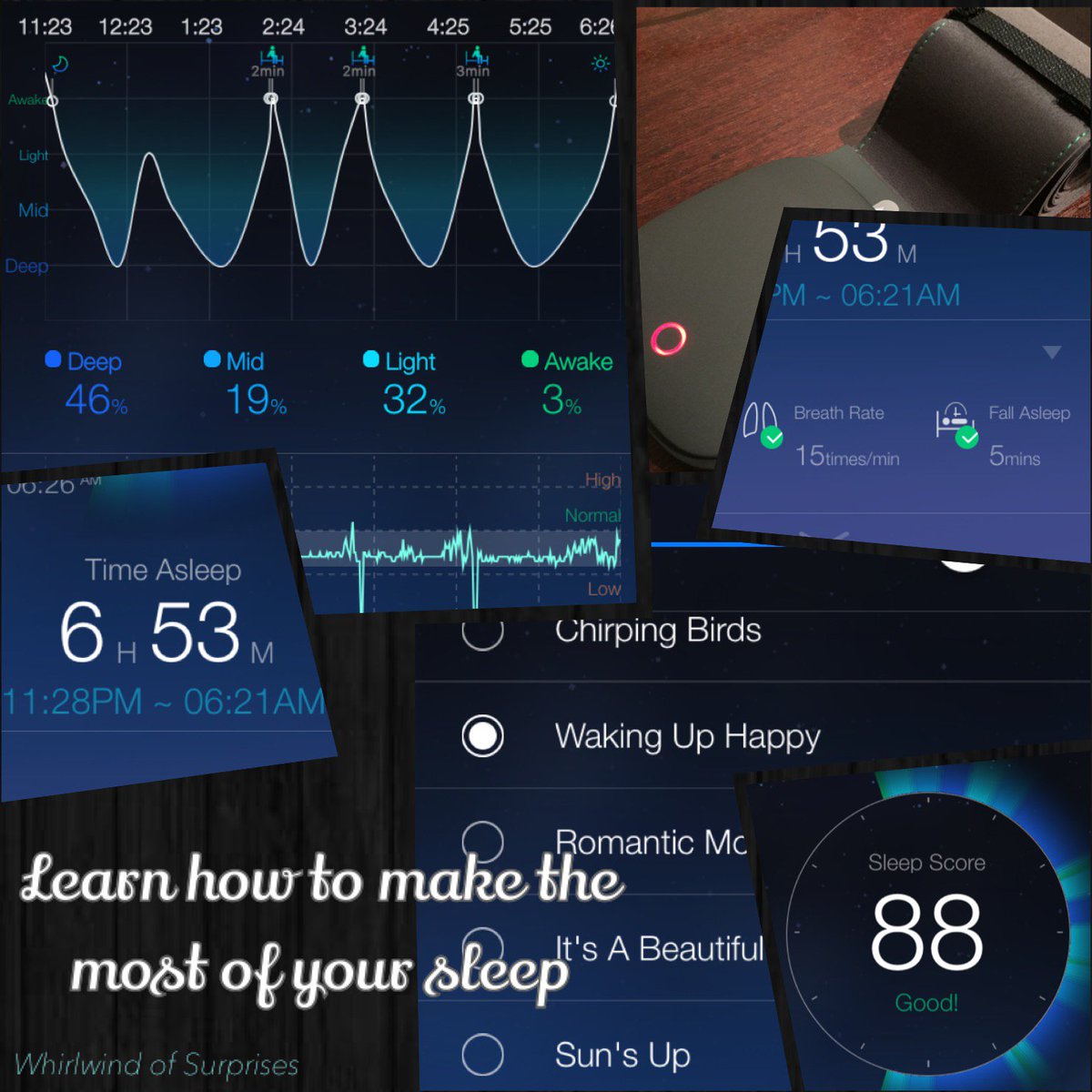 Pros
:
-Once you set up the monitor belt between the mattress and the sheets, it shifts minimally. RestOn is easy and straightforward to set up with the guidance of the app.
-Sleep music that automatically turns off when the sensor belt detects that you've fallen asleep.
-The sensor belt is long enough for a variety of body sizes.
-The ability to download different sleep/wake music tracks.
-Monitoring -I loved that it could tell me how long it took me to fall asleep, my heart rate, respiratory rate and how much of my sleep was deep sleep versus light sleep. It even gave me a sleep score and why it wasn't great, such as getting up too many times at night.
-Smart Alarm -This feature is pretty awesome. You can set your alarm and the Sleepace app will wake you when you're in the lightest sleep within the wake time that you set (anywhere from 0-45min). The thought behind this is that you wake up feeling refreshed out of light sleep instead of groggy out of deep sleep.
-Charges via an USB cable
-Easy to check battery status when device connected via app.
-The app does have fairly accurate measurements.
Cons
:
-You need somewhat of a deeper mattress since the belt is designed to set up rest with the magnetic device on the edge of the mattress.
-Smart Alarm -The counter part to the smart alarm is if you have a partner or significant other. My husband did not enjoy being woken up 15-20 minutes prior to our set alarm time because he may not necessarily be waking up in the lightest portion of this sleep. This could be something that could be improved on for future models. However, I did trial a few days without the smart alarm and found that I was usually waking up in the lighter parts of my sleep cycle anyways. I'll have to test it out longer to see if it makes a difference.
-It doesn't necessarily record the depth of your sleep if your sleep isn't long enough. For example, I was asleep for about an hour and got up for a bit before going back to bed. During that time frame, my heart rate and respiratory rate was recorded but the sleep cycle was not.
-Does not come with an adapter to charge with, only an USB cable.
-However, the vital signs that are picked up can sometimes be from someone else on the belt (i.e. my husband, the dogs).
This is truly innovative way to obtain greater insight into your sleep. Utilizing the information gleamed from the app, you can work on things affect your sleep and sleep better, every night.
2) Sleep disorders
-Sleep disorders are relatively common and many of us don't realize it. They impact the quality of our sleep if not treated. Have you ever thought about this?
3) Better Sleep Hygiene
-We all have terrible bad habits, many of which actually prevent us from having a good night's sleep. Check out our post -
5 Tips on Better Sleep Hygiene
to easily find and correct some of these bad habits.
Need more? We have another post with
General Tips for Better Sleep
that you can read for a better night of rest.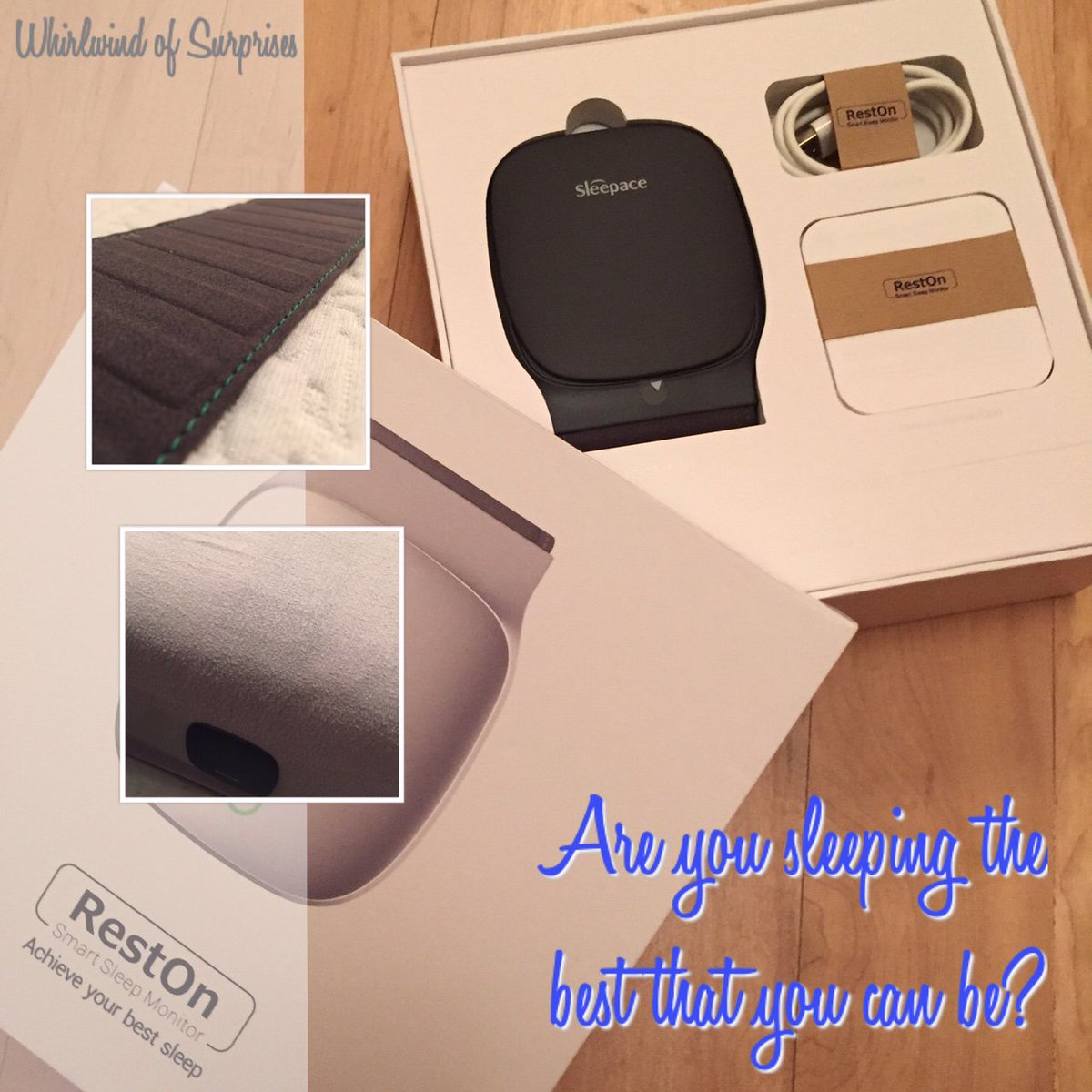 Sleepace RestOn retails for $149.99, this week, use the Mother's Day Coupon Code, "
HAPPYMOM
" for
35% off RestOn
. Valid through Thursday, May 5th with free shipping and guaranteed delivery by Mother's Day. Sleepace has been generous enough to offer a Whirlwind of Surprises reader a RestOn monitor. Enter on the Gleam form below until May 27, 2016 11:59PM EST. Open to US & Canada, 18+. Good luck! Please take the time to enter my other
giveaways
while you're here.
Sleepace RestOn Monitor ($149.99)
Stay connected:
Facebook
||
Twitter
||
Site
Follow WOS:
Google+
||
GFC
||
@CinnyBBS
||
WOS on facebook
||
Pinterest
||
Instagram
Until next time,