Disclaimer
: The product/s mentioned below have been provided for the purposes of this review. No other form of compensation was received. Opinions expressed belong to Whirlwind of Surprises and are NOT influenced in any way. Please view my full
disclosure, TOS, and privacy policy
. Please take the time to enter my other
giveaways
while you're here.
With a chill in the air these days, how are you staying warm? Well, if you're in the south, I'm not sure if I even want to talk to you since you still have the beautiful sun and gorgeous shorts/skirts/dress weather. Here in the midwest, we get snow and it gets cold. We bundle up. It doesn't mean we don't dress up anymore though. Rather we go towards the fun and comfy accessories to add to our warmth and style.
My style can fluctuate from downright slob to casual to dressy to formal depending on the day and the function. To suit this lifestyle, I choose accessories that can best adapt and be flexible. Schalero® is one of these articles. Suitable for all ages, the Schalero® is a versatile scarf that easily changes it's style quickly to your whim. The basic design of the Schlaero® features either 2 snap buttons or eyelet buttons that you slip through a hole.
Wear the scarf without the buttons as a normal scarf or shawl. Use the buttons to change it into a bolero. It's amazingly easy to do and best of all, it comes in a variety of fabrics and materials! It made for a difficult decision but I finally picked the Summeresque Shalero® in XS and Le Femme Schalero® in XS. Yes, these scarves have sizes, so you can even tailor it to your size!
I thoroughly liked how I could pack one scarf and change the look when I felt like it. The simple scarf wear worked great for day to day. When I converted it to the bolero mode or shawl mode, the feel become more formal. It was fairly easy to adjust and change.
The Summeresque and Le Femme Schalero® were both made of gorgeous though thinner fabrics so would probably be more suited for spring, summer, and fall. However, the thin material also means it rolls up small enough to fit into a small purse so that it can be carried for a night out and pulled out when you need it. Convenience, fashion, style and versatility wrapped in the tiny bundle that is Schalero®.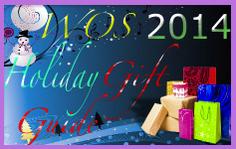 Stay connected:
Facebook
||
Twitter
Follow WOS:
Google+
||
GFC
||
@CinnyBBS
||
WOS on facebook
||
Pinterest
||
Instagram
Until next time,