Disclaimer
: The product/s mentioned below have been provided for the purposes of this review. No other form of compensation was received. Opinions expressed belong to Whirlwind of Surprises and are NOT influenced in any way. Please view my full
disclosure, TOS, and privacy policy
. Please take the time to enter my other
giveaways
while you're here.
Did you know exercise is a great way to calm a hyper dog? If you've ever watched Cesar Milan, he's a huge fan of getting the dogs to swim and then training them afterwards. I think it's a fantastic idea getting the pups active and tiring them out so that they'll focus more on training. It's good for their health and body. JR is scared of the water so we'll work on her eventually, however BabyPom has energy like no other. He can go for an hour long walk and still have crazy energy. Swimming may just be the best solution for him. Of course, we aren't just going to toss him in the water! This is where the Kurgo Surf n Turf Coat comes in.
The
Kurgo Surf n Turf Coat
is a life vest and a coat. The life vest is made possible via a flotation layer (made of closed cell foam) embedded into the coat, which can be easily removed via a zipper at the end. Remove the flotation device and you have a waterproof shell. Kurgo also offers an additional insert via the Kurgo Wander Coat that can be used as more insulation during the colder seasons.
I personally loved the ergonomic features of this coat. The two transverse handles were great for holding BabyPom easily so that I could help control where he was paddling and well, easily pull him up from the water as well.
Other features include:
-two metal d-rings for leash connections
-high contrast color with reflective trim
-use as a life vest, rain coat, or three season coat
-Rugged rip-stop polyester
-Machine Washable
The buckles and velcros made the life vest not only look great but also feel sturdy and safe. It made me feel comfortable allowing BabyPom to start learning to swim even in our tub since the lakes are frozen at this time of the year here.
The Surf n Turf coat ($40, on sale for $24) comes in a variety of sizes from XS-XL. I measured both JR and BabyPom and they were both in the XS size. The coat was easily adjustable using the buckles and velcro so that eventually, both JR and BabyPom can learn to swim. Caring for the coat is as easy as wiping it down with a damp sponge or rinsing in a tub with mild soap prior to hanging it to dry.
Overall, the Kurgo Surf n Turf is a awesome safety aid if you plan on your pups learning to swim. Dogs have that stigma where they all seem to love water. Let me tell you, both my pups aren't fans but BabyPom is learning to be and he's learning safely with the help of the Surf n Turf coat. Kurgo has a Hassle Free Lifetime Warranty on all of their products so if anything goes wrong, just contact them. There's no better worry-free way to buy high quality products for the dogs and keep them healthy and safe.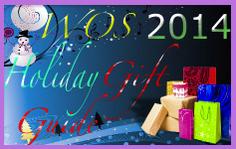 Stay connected:
Facebook
||
Twitter
||
Site
Follow WOS:
Google+
||
GFC
||
@CinnyBBS
||
WOS on facebook
||
Pinterest
||
Instagram
Until next time,