Disclaimer
: No form of compensation was received. Opinions expressed belong to Whirlwind of Surprises and are NOT influenced in any way. Please view my full
disclosure, TOS, and privacy policy
. Please take the time to enter my other
giveaways
while you're here.
These following two movies have me pumped this summer and for completely different reasons! I can't believe the amazingness that comes out in August.
DreamWorks Pictures THE HUNDRED-FOOT JOURNEY starring Helen Mirren is one of those bound to be delicious movies that I can't wait to see. Watching this special featurette that has Steven Spielberg, Oprah Winfrey and Helen Mirren was really eye opening. Steven Spielberg sure has a way with words and I particularly liked a specific line he said:
You have to walk a distance to achieve something of value for yourself.
How true...what can you achieve if you don't try? People aren't just going to hand you opportunities. At the same time though, I suspect we'll see the Hundred Foot Journey teaching us about life and acceptance of others, while tantalizing us with warm emotions and teasing us with the look of delicious food.
Speaking of food, there are new #100FootJourney inspired recipes courtesy of DreamWorks! Click the image below to download 5 new recipes.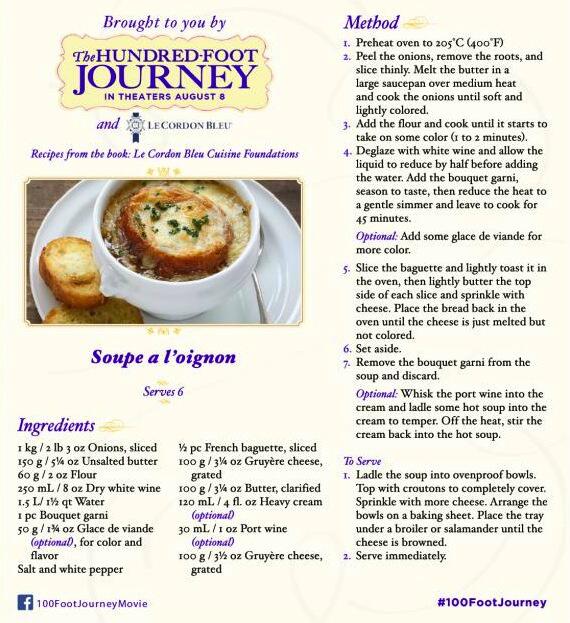 The HUNDRED-FOOT JOURNEY is in theaters August 8th!
Stay connected:
Facebook
||
Twitter
||
Site
My other must-watch summer movie is Marvel's GUARDIANS OF THE GALAXY! I love love love my superhero movies through and through and particularly love Marvel! This special extended look at Guardians of the Galaxy not only pumped me up with the music, made me wait in anticipation, and cracked me up!
Chris Pratt aka Peter Quill is hilarious, "I have a plan, part of a plan."
Drax aka Batista, "What percentage of a plan?"
Pratt, " I don't know, 12% of a plan."
Hilarity ensues...you'd have to watch it to see what I mean.
GUARDIANS OF THE GALAXY is in theaters August 1st!
Stay connected:
Facebook
||
Twitter
||
Site
Follow WOS:
Google+
||
GFC
||
@CinnyBBS
||
WOS on facebook
||
Pinterest
||
Instagram
Until next time,