Disclaimer
: The Torus mentioned below have been provided for the purposes of this review. No other form of compensation was received. Opinions expressed belong to Whirlwind of Surprises and are NOT influenced in any way. Please view my full
disclosure, TOS, and privacy policy
. Please take the time to enter my other
giveaways
while you're here.
The pampered pooches return with their newest accessory, and no, we're not talking about the clothing that BabyPom loves so much! Their latest must-have at-home and travel accessory for pets comes from Heyrex. Torus created by Heyrex is a smart and easy way to keep the pups happy, with something ever so basic...fresh water!
Honestly, although we refill their water bowl all the time, it gets to be tedious and sometimes it takes a little bit of a reminder from the pups. JR develops a particular persistence when her water bowl is empty; she'll paw at it and "magically" water will reappear. The Torus saves me this hassle.
Torus is a patented 2 liter auto-replenishing water bowl, weighing 2.5 lbs. It's not your normal auto-refill water bowl, it even has an internally activated carbon filter. This mans the pups will get fresh and clean water all the time. It only releases about 1cm of water and automatically replenishes as the pups drink.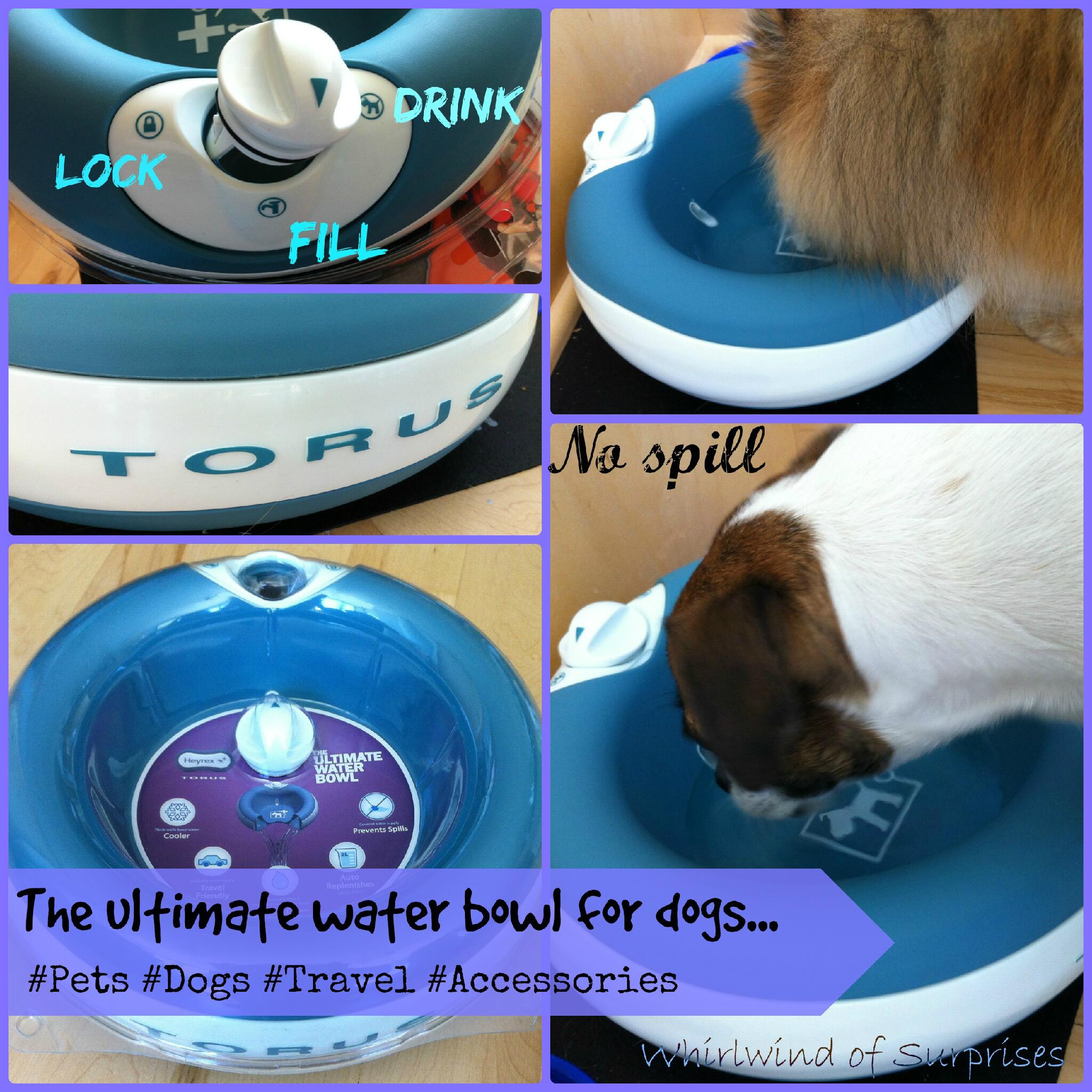 Things I like about the Torus:
-I love the look of the bowl, it's sturdy and portable.
-It carries up to 2L of water, minimizing number of refills and limiting my forgetful moments. It can last ~2 days for most dogs but for my pups certainly lasts longer since they're so small.
-No spills since only ~1cm of water comes out at a time.
-Insulated walls allow water to stay cooler for longer.
-Food grade polypropylene plastic is not harmful to pets.
-Easy to use: Turn of the cap to change from filling mode to dispensing mode or lock mode.
Things I don't like as much about the Torus:
-The no-spill concept rests mostly in the fact that 1cm of water is let out in the 2-3" deep bowl.
The Torus requires an initial investment of $59.95 and then subsequently requires filter replacements. A 5 pack of filters costs $14.95, approximately $3/filter and is fairly reasonable. Each filter will last about 1 month.
Overall, the Torus makes for the ultimate water bowl, whether at home or on-the-go. It certainly has made our lives easier but more importantly, it always provides fresh, filtered water for the pups!
For the newest pet accessory for techie lovers to geek out over, our
Heyrex
review is coming soon.
Stay connected:
Facebook
||
Twitter
||
Site
||
Buy Torus
Follow WOS:
Google+
||
GFC
||
@CinnyBBS
||
WOS on facebook
||
Pinterest
||
Instagram
Until next time,