Disclaimer
: Today's discussion is brought to you by Midnight Velvet. This is a Fashionista Event. The product/s mentioned below have been provided for the purposes of this review. No other form of compensation was received. Opinions expressed belong to Whirlwind of Surprises and are NOT influenced in any way. Please view my full
disclosure, TOS, and privacy policy
. Please take the time to enter my other
giveaways
while you're here.
We moved in a year ago now and we've been using old, white sheets that were comfy but just didn't seem to be us. My hubby and I love our room and we've even upgraded our bed, however, it looked ever so plain. With the summer season here, I felt we needed to redesign our room. With my busy schedule though, I desperately needed something doable but gorgeous! And so, I present to you
Tips to update your Bedroom Decor and incorporate a classy, summery look in a timely fashion
.
My hubby is a fan of simple elegance, which is what I strove to obtain, infused with my love of colors.
5 Tips to Update Your Bedroom Decor with a classy, Summery Look
1) Don't go overboard. You want simple looks that look and feel great. Clutter does not do it.
2) Clean the room. Mmmhmm, with all the junk that was previously on our night stands, it was a disgusting mess.
3) Change up your comforter. I chose a brand new
Handstitched Cotton Voile Lightweight Comforter from Midnight Velvet
. That was a huge part in transformer the room. I chose a lightweight comforter that's perfect for the season and had colors that would freshen up the room. You can sign up for
Midnight Violet's free catalog
for all their styles. Best of all, the hand-stitched look gave a homey and welcoming feel.
4) Sometimes, the simple things go a long way. I chose very simple but classy designs that would contribute to the homey feel of the room. I wanted the room to be relaxing and warm, so I added matching fragrance oil/reed diffusers to both of our night stands. It gave off relaxing scents and added to the look of the room.
5) Good curtains are a must; curtains that look good are a bonus. I chose a heavier material that would provide good coverage when it was time for bed but still could be opened to let in the sunshine during the day. The silver, velvety material again had a homey and warm feel to it and matched well with our wall color and overall theme of the room.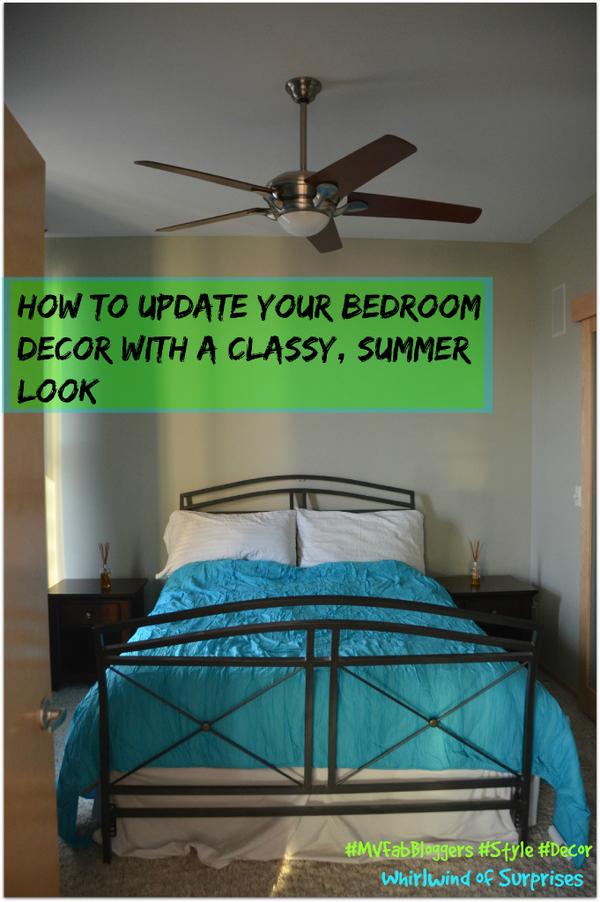 This was the overall look, beautiful, isn't it? And quite inviting if I might say so myself. The vertical rows of voile "crinkle" punctuated with hand-stitched pintucks really gave the comforter a homely, welcoming feel. The underside is soft and light against the skin and a must in the hot summer weather. This particular comforter is cotton with polyester fill and is awesome because it can be machine washed! Available colors include Aqua, Pink, and Tangerine. I certainly love my pop of colors, however I don't think the hubby would've appreciated a pink comforter!
Midnight Velvet has a beautiful assortment of comforters that can easily change the ambience of a room. In fact, there were a few that I was in love with because of the possibilities of how a room could drastically change with minimal changes. How would you love to change your bedroom decor with a new comforter from Midnight Velvet?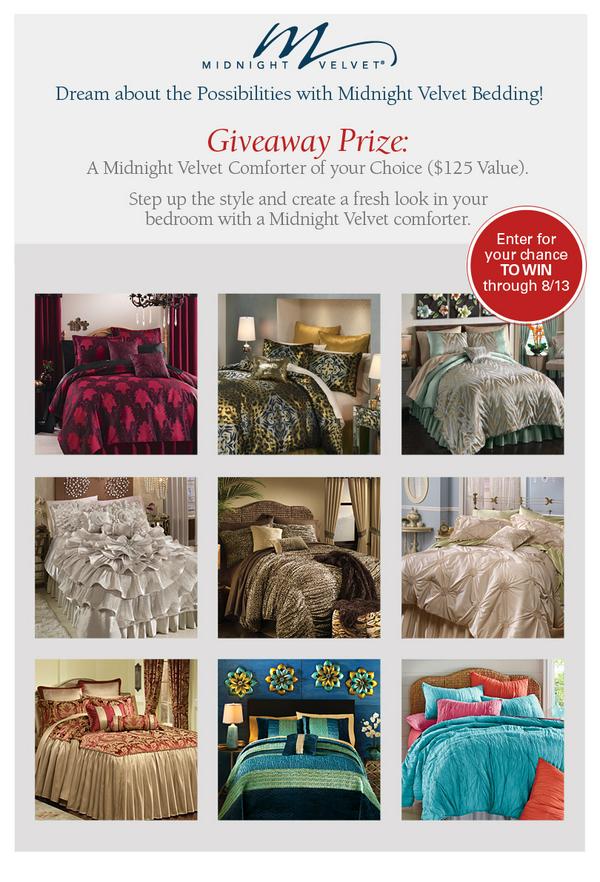 One lucky winner will get to do just that. Midnight Velvet has offered one of a reader their choice of a comforter from Midnight Velvet ($125 max value). Enter on the Giveaway Tools form below from July 30 12:01AM to August 13 11:50PM EST. Open to US, 18+. Good luck! Then use the linky below to head to 10 other blogs who are also hosting their own Midnight Velvet Giveaway.
Stay connected:
Facebook
||
Twitter
||
Site
Follow WOS:
Google+
||
GFC
||
@CinnyBBS
||
WOS on facebook
||
Pinterest
||
Instagram
Until next time,