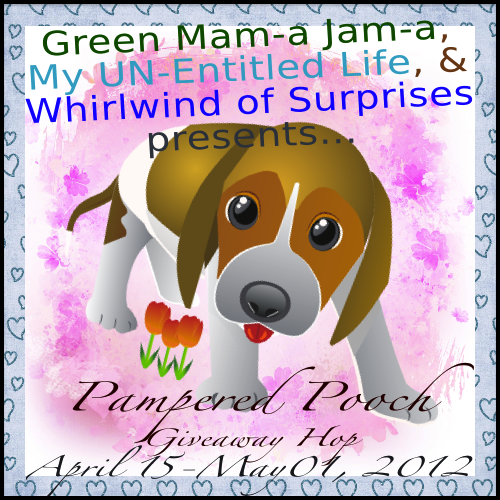 April 15-May 1, 2012
Pampered Pooch Giveaway Hop
HOSTED BY: Green Mam-a Jam-a, My UN-Entitled Life, & Whirlwind of Surprises
We all love our pets so let's have some fun and win some sweet products to pamper those cuties in our lives. If you're a reader, mark your calendar! This is going to be a sweet event coming up!
Bloggers, to sign up, please follow the instructions below.
Each blogger agrees to post a giveaway with a minimum of $20 sponsored or self-sponsored prize, from April 15, 2012 at 12:01Am to May 01, 2012 11:59PM, including the button above, the host and co-host name/link, and the final linky code provided shortly before the giveaway hop begins. A sample post will be provided but bloggers are allowed to word their own post if desired. If you agree to these guidelines, we invite you to sign up.
-All links not up by 9AM April 15 will be marked with NO GIVEAWAY and then deleted 11 AM EST
-To join choose one of the following options:
1) Send $5 (via Paypal AS A GIFT) admin fee to whirlwindofsurprises@yahoo.ca OR write a post announcing the event signups linking back to this post (FREE Sign-Up) and include the following text:
Love your pets? Join us April 15-May 1, 2012 for the Pampered Pooch Giveaway Hop hosted by Green Mam-a Jam-a, My UN-Entitled Life, & Whirlwind of Surprises. Sign ups are now open!
2) After you post OR send the paypal admin fee, fill out this
form
and put your name on the linky below.
3) Joining the
Facebook group
is optional, however, this is the best way to get the event information.
4) Please post the event button on your blog.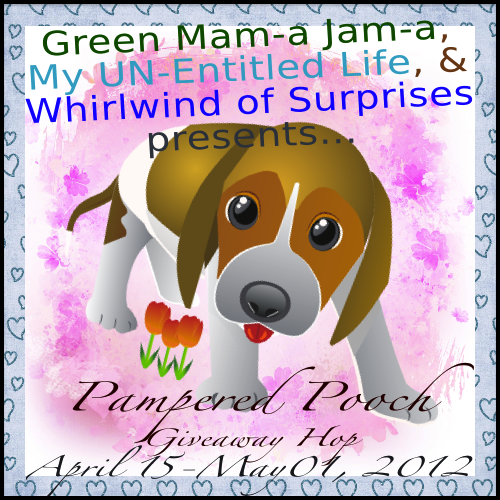 5) Let's just enjoy ourselves and have some fun!
6) Make sure you add your blog to the linky below after you completed the above steps.
Like what you see? Follow me on
Google+
,
GFC
and
twitter (@CinnyBBS)
to get the latest updates. Like us on
facebook
or join us through
Network Blogs
. Leave me a comment if you'd like me to follow back on any of these.
Until next time,