Disclaimer
: The product/s mentioned below have been provided for the purposes of this review. No other form of compensation was received. Opinions expressed belong to Whirlwind of Surprises and are NOT influenced in any way. Please view my full
disclosure, TOS, and privacy policy
. Please take the time to enter my other
giveaways
while you're here.
Have I ever mentioned how much we LOVE STEM learning in our home? Well, any learning in general, but for sure, STEM learning! Only probably a couple hundred or thousand times...right? Well, you get the drift -here we go again!
Our friends at Nat Geo Kids love learning probably as much if not more than we do and they're celebrating National STEM Day on November 8th with some fantastic new releases. Check them out below.
Inside our Nat Geo STEM Collection, there is:
Brain Games: Experiments
(ages 8-12, paperback) - This book is based on the Nat Geo TV show Brain Games! Test your hearing, sight, smell and have fun learning with kid-friendly experiments. This creates hours of activities and fun while testing your brain!
Just Joking Science
(ages 8-12, paperback) -Just Joking Science is pretty cute. It's a little advanced for my preschooler but it made me giggle a bit. It has science-themed jokes but also has little tidbits of learning. This series of books is perfectly-sized for stocking stuffers or even as a travel book.
Can't Get Enough Space Stuff
(ages 7-10, paperback) -Got a space enthusiast at home? Can't Get Enough Space Stuff will be perfect for them this holiday season! There are all sorts of fabulous information abut space food, space volcanoes, and so much more. There are even fun hands-on activities to try out at home or better yet, for science fair projects!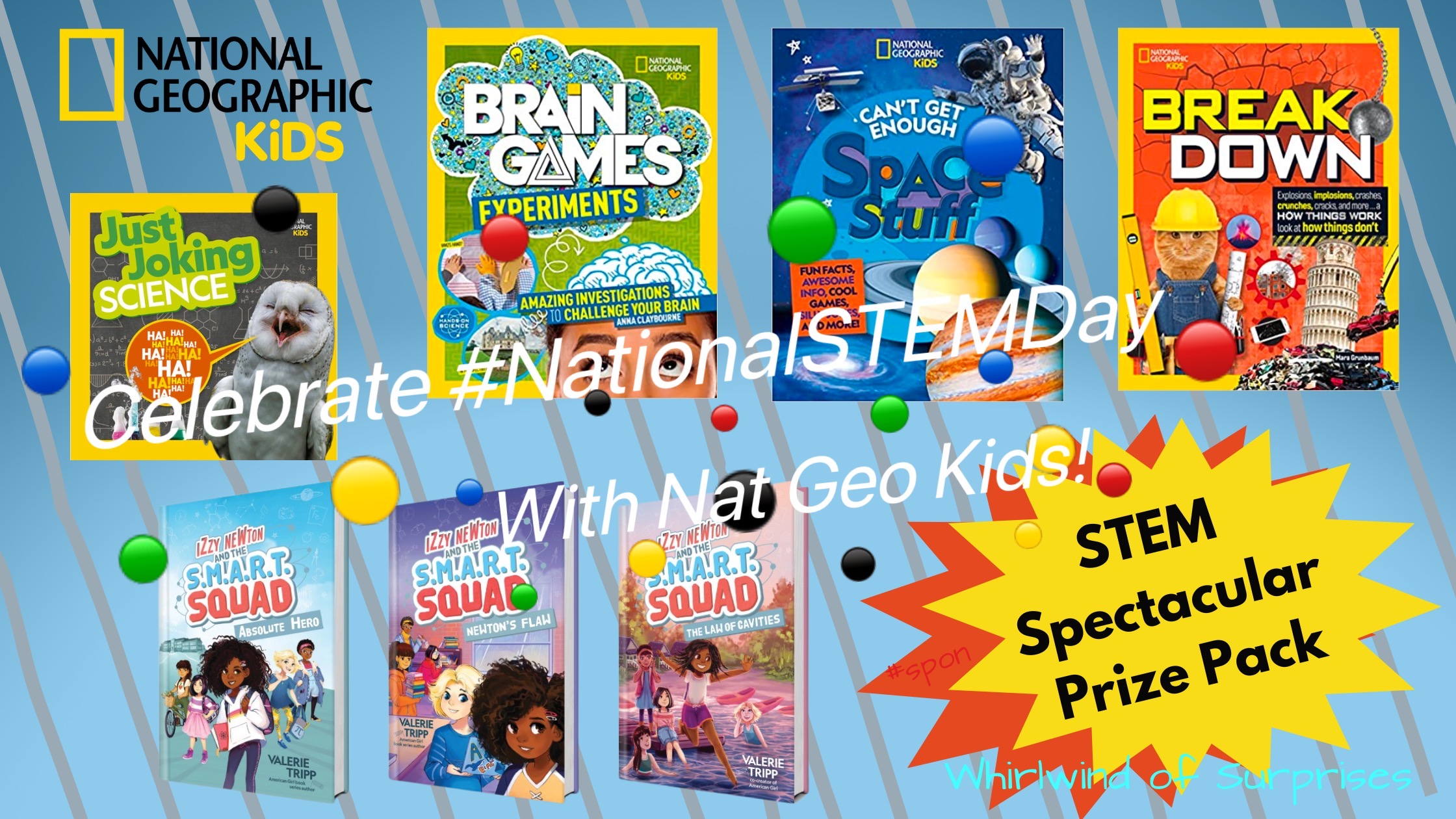 Break Down: Explosions, Implosions, Crashes, Crunches, Cracks, and More ... a How Things Work Look at How Things Break
(ages 8-12, hardcover) -This is such a fun book, not just for the kids but also for the adults. Who doesn't want to know how things break down, crash and explode. Heck, we'd never do any of these at home but it's fun to check it out when it's not our own stuff that's being broken. If you do want to try breaking some stuff at home, there are even hands-on activities for your kids' own experiements in destruction.
 Izzy Newtown and the S.M.A.R.T Squad Series by Valerie Tripp
(ages 8-12, hardcover) -This series of books follows Izzy Newton and her five smart friends in a 3-book fiction series that focuses on science and tech. My preschooler is a boy, however, I am all for strong women and as a female in the STEM world as well, I always enjoy seeing girls get encouraged to pursue the STEM field. Plus, we always enjoy a good chapter book on our car rides. The S.M.A.R.T. (Solving Mysteries And Revealing Truths) Squad is transitioning from elementary to middle school and are using their friendship plus the power of science to solve situations. Book 3 was just recently released!
Book 1: Izzy Newtown and the S.M.A.R.T. Squad: Absolute Hero
Book 2: Izzy Newtown and the S.M.A.R.T. Squad: Newton's Flaw
Book 3: Izzy Newtown and the S.M.A.R.T. Squad: The Law of Cavities
Check out the characters and the
first chapter of Book 1
. Get ready for #NationalSTEMDay with #NatGeoKidsBooks and this fantastic collection of reading material that's bound to make everyone in the household giddy this holiday season! We love our #STEM/#STEAM learning and Nat Geo Kids never disappoints with their collections.
Our friends at National Geographic Kids have offered up a #NationalSTEMDay Prize Pack Giveaway (ARV $96) to one of our WOS readers which includes the 7 titles. Open to the US, 18+. Ends 11:59PM EST on Nov 23, 2022. Good luck! Winners have 48 hours to respond before a new winner is chosen.
Nat Geo Kids #NationalSTEMDay Prize Pack Giveaway (ARV $96) 11/23
Stay connected:
Facebook
||
Twitter
||
Site
Follow WOS:
@CinnyBBS
||
WOS on facebook
||
Pinterest
||
Instagram
Until next time,