Disclaimer
: The product/s mentioned below have been provided for the purposes of this review. No other form of compensation was received. Opinions expressed belong to Whirlwind of Surprises and are NOT influenced in any way. Please view my full
disclosure, TOS, and privacy policy
. Please take the time to enter my other
giveaways
while you're here.
We do enjoy quite the variety of books and sometimes, they're more meaningful than they seem by the cover or the title. I find that diffrent depths of books encourages learning and exploration. Questioning the unknown...and broadening horizons, if that makes sense.
The Tiltersmith
by Amy Herrick (Hardcover $17.95, Ages 8-12, 320 pages). -Does your preteen need an interesting book this winter to cuddle up to read? This fantasy adventure is perfect for any reader who loves adventure.
Synopsis:
Spring has arrived in Brooklyn, New York, but winter refuses to let go. Sleet, snow, and even a tornado batter the city. Mr. Ross, the science teacher, believes climate change is the cause, but classmates Edward, Feenix, Danton, and Brigit suspect older, magical forces are at work. When a peculiar character calling himself Superintendent Tiltersmith appears with a keen interest in the foursome, their suspicions are confirmed, and they're swept up in a battle of wits and courage.

The friends must protect a set of mysterious tools belonging to the Lady of Spring. If they can free her from her underground prison, winter will end. But if the Tiltersmith steals the tools, he will keep the Lady in his power and upset the balance of nature forever.
This is quite the interesting chapter book that features topics relevant to our world in recent years. Climate change is unfortunately real. We get longer and stronger storms every year. The seasons that we get storms in are getting prolonged as well...it's time we open our eyes and try to slow things down before it's too late. The Tiltersmith is a nice combination of fantasy and science which is sure to entertain readers!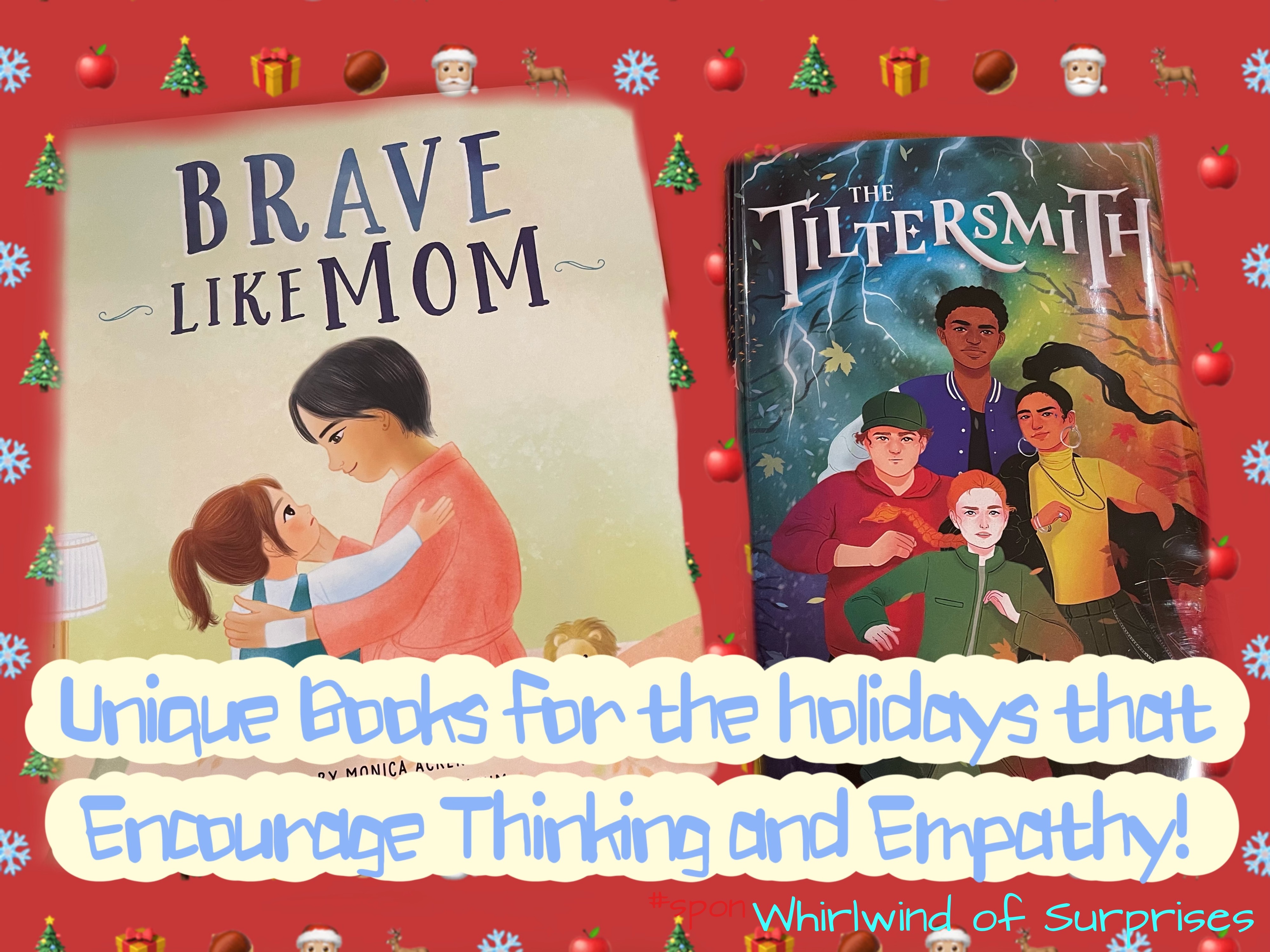 Our other interesting book that we've come across as of late is seriously deep. I think it's important though to read some of these books sometimes even if it honestly makes me tear up!
Brave Like Mom
by Monica Acker and illustrated by Paran Kim (Hardcover $17.99; Ages 4-8; 32 pages).
Synopsis:
As one girl watches her mom battle illness, she sees Mom being strong, brave, and fierce on both good days and bad ones. Mom is fierce as she catches and wrestles a fish and brave as she endures needles from the doctor. The girl wants to be brave like Mom! As she worries about her mom's health, the girl realizes that bravery comes in many forms and that she can be brave too.
Brave Like Mom touches the heart because it is so embedded with important values and emotions for our children to learn -courage, empathy, compassion, and female strength and endurance. Chronic illness can be a part of every day life and kids learn that being brave doesn't mean that you can't be scared at the same time.
This holiday season brings with it unique books that encourage thinking and empathy! I think The Tiltersmith and Brave Like Mom are both great additions to any avid reader's collection this season.
Follow WOS:
@CinnyBBS
||
WOS on facebook
||
Pinterest
||
Instagram
Until next time,