Disclaimer
: The product/s mentioned below have been provided for the purposes of this review. No other form of compensation was received. Opinions expressed belong to Whirlwind of Surprises and are NOT influenced in any way. Please view my full
disclosure, TOS, and privacy policy
. Please take the time to enter my other
giveaways
while you're here.
I'm really partial to learning toys and gifts because learning can be fun and encourage growth! So, we love sharing the National Geographic Kids Collection that are fabulous gift ideas this holiday season! There's something for kids of all ages and even adults that are still young at heart.
There are a ton of holiday gift ideas and options but I have to say, our preschooler is as much of a fan of Nat Geo Kids books as I am. He gets pretty psyched out every time we get new National Geographic Kids Books.
Inside our National Geographic Kids Holiday Picks Collection, there is:
National Geographic Kids Dinosaur Atlas
(Hardcover, ages 7-10, $24.99)- This book is perfect for dinosaur lovers! There are over 75 featured prehistoric features and you learn about what the planet looked like at what stage in the past and what types of dinosaurs lived in that era. There's also various information about the habitat they lived in. As a mom of a preschooler who knows more dinosaur names than most kids (courtesy of Nat Geo), it was really interesting to go over the various continents and watch him start to understand how the continents formed and changed over time.
5,000 Awesome Facts (About Animals)
(Hardcover, ages 8-12, $19.99) -This is a must for the animal lover... let's face it, who's not an animal lover?! Did you know rhinos make a certain sound when they're happy? I never knew that! This book is full of interesting little facts and tidbits that just pull at your natural curiousity.
Zeus the Mighty: The Epic Escape from the Underworld
(Hardcover, ages 8-,12, $12.99) - Zeus the Mighty is a really fun series based on a pet shop and Greek mythology and is a great fit for fans of Rick Riordan's Percy Jackson Series. We've read 3 of this series of books and my preschooler loves hearing about Zeus and his friends' adventures. He's currently a fan of the chicken, Hermes, in the 3rd book in the series. Each book is an adventure on it's own!
Big Book of W.O.W. (Wonders of Our World)
(Hardcover, ages 8-12, $19.99) - This is so wonderful for those of us who absolutely love to travel, whether you're an armchair traveler or one who loves to go! We used to travel before our preschooler came into our lives and I do miss those days. COVID also made it hard to travel but we love reading about the natural beatufy of the world and the awe-inspiring places that we're putting on our list of places to travel to when he gets a bit older!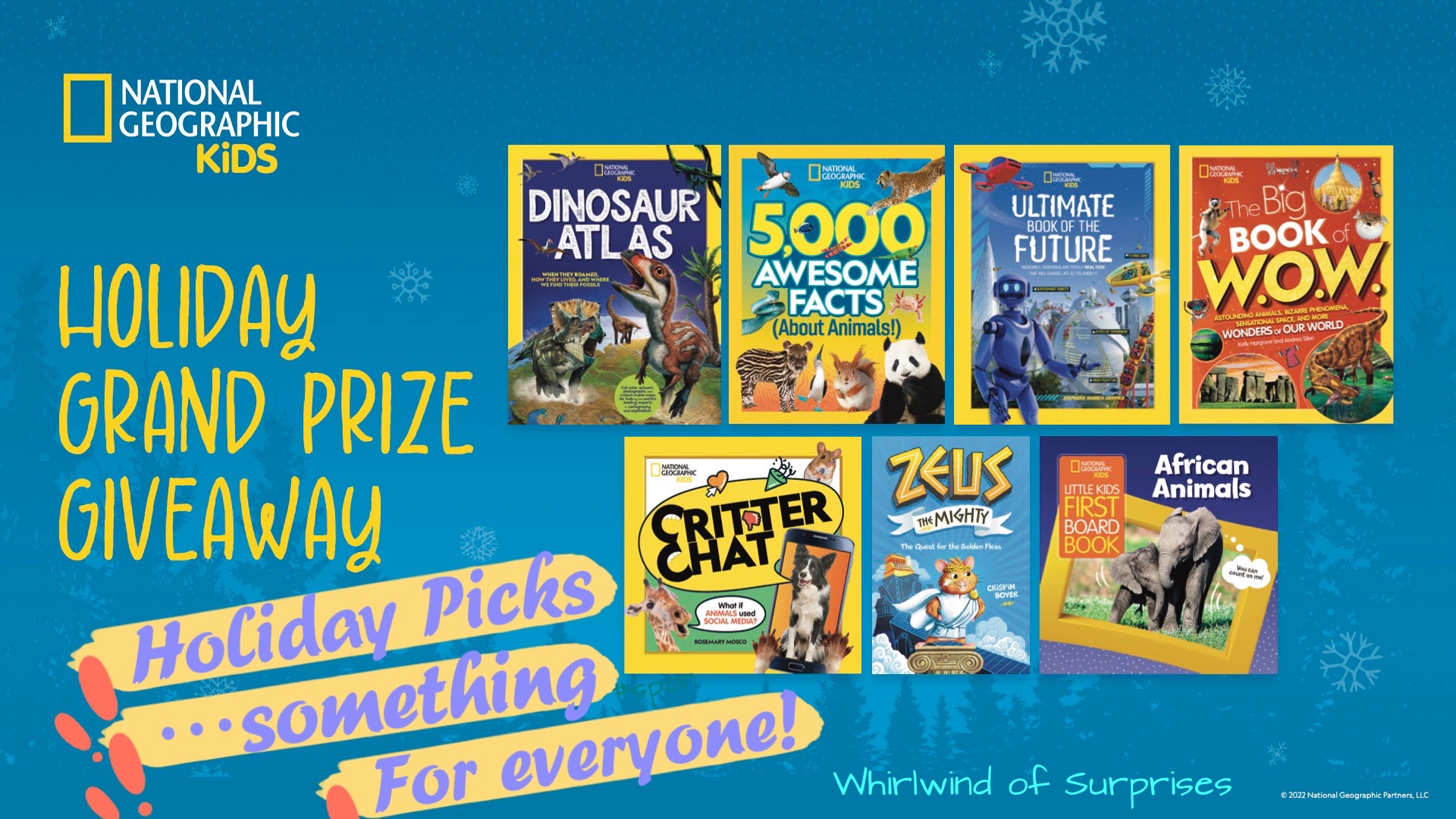 Ultimate Book of the Future
(Hardcover, ages 8-12, $19.99) - For the dreamers and those who look to the future, this is a fun book that brings upon us some science realties that may soon become a part of everyday life. There is some of thenewest and coolest tech and information on space travel, future cities and so forth. There are even fun parts in the book dedicated to "Future Fail!" which are things we thought would happen by now but haven't.
Critter Chat
(Paperback, ages 8-12, $9.99) - This book is formatted for the tech-savvy kid. It's goofy and fun with facts presented in ways that kids these days can't help but feel comfortable with. It's essentially like animals on social media presenting fun information and jokes in group chat, "Dophinstagram", shopping on "Llamazon" and more. Simply a goofy stocking stuffer that we could all get a laugh from and at a great price point!
Little Kids First Board Book: African Animals
(Board Book, ages 0-2, $7.99) - We love these Little Kids First Board Book series for all sorts of reason. They're simple book that are easy to read. They're great for kids learning to count for the first time but for us, it's a nice intro for our preschooler to start reading on his own! Yes, it's a counting book which is perfect for toddlers, but preschoolers can use it to learn to read wors on their own. There are little tidbits of facts which was so fun. I had even my husband guessing about some of the facts such has what a group of meerkats is called.
This holiday season, browse through the wonderful collection that National Geographic Kids has and there is such a great variety for kids of all ages. The prices are great and even if you don't get the whole collection, there's definitely something for everyone!
Our friends at National Geographic Kids have offered up a National Geographic Kids Holiday Grand Prize Pack Giveaway (ARV $116) to one of our WOS readers which includes the 7 titles. Open to the US, 18+. Ends 11:59PM EST on Dec 18, 2022. Good luck! Winners have 48 hours to respond before a new winner is chosen.
Nat Geo Kids Holiday Grand Prize Pack Giveaway (ARV $116) 12/18
Facebook
||
Twitter
||
Site
Follow WOS:
@CinnyBBS
||
WOS on facebook
||
Pinterest
||
Instagram
Until next time,