Disclaimer
: The product/s mentioned below have been provided for the purposes of this review. No other form of compensation was received. Opinions expressed belong to Whirlwind of Surprises and are NOT influenced in any way. Please view my full
disclosure, TOS, and privacy policy
. Please take the time to enter my other
giveaways
while you're here.
Dance your way into Thanksgiving and the holidays with an adventure with Blue! Blue's Big City Adventure is coming to Paramount+ on November 18th! This spectacular musical movie is guaranteed to make your little ones sing and dance!
Synopsis:
BLUE'S BIG CITY ADVENTURE follows Josh (Josh Dela Cruz), who gets the opportunity of a lifetime to audition for Rainbow Puppy's (Brianna Bryan) Broadway musical, and Blue (Traci Paige Johnson) as they skidoo to New York City where they meet new friends and discover the magic of music, dance and following one's dreams. The entire "Blue's Clues" crew is reunited for this special movie event, with the beloved animated friends and all three hosts – Josh, Steve (Steve Burns) and Joe (Donovan Patton) – together for the first time in the Big Apple.
The cool thing about Blue's Big City Adventure is that it also reunites the prior hosts Steve and Joe with Josh on an epic new adventure. It's so much fun to watch my preschooler interact with Josh and Blue, pointing out the clues!
Check out the trailer:
The movie was filled with silliness and music...great music. It wasn't you know, the little kid music, that you could get sick of listening to. The movie had fantastic songs that were great on the ears, even for an adult. My preschooler literally was singing, bouncing, dancing and riveted to the screen for the entire movie. This in itself is a feat because he doesn't always sit still for movies or he gets distracted and runs off.
This cast stars of course Josh Dela Cruz as "Josh" and the prior 2 hosts as mentioned above. However, we were also pleasantly surprised to see other special star appearances by BD Wong, Ali Stroker, Taboo, Alex Winter, Phillipa Soo and Steven Pasquale.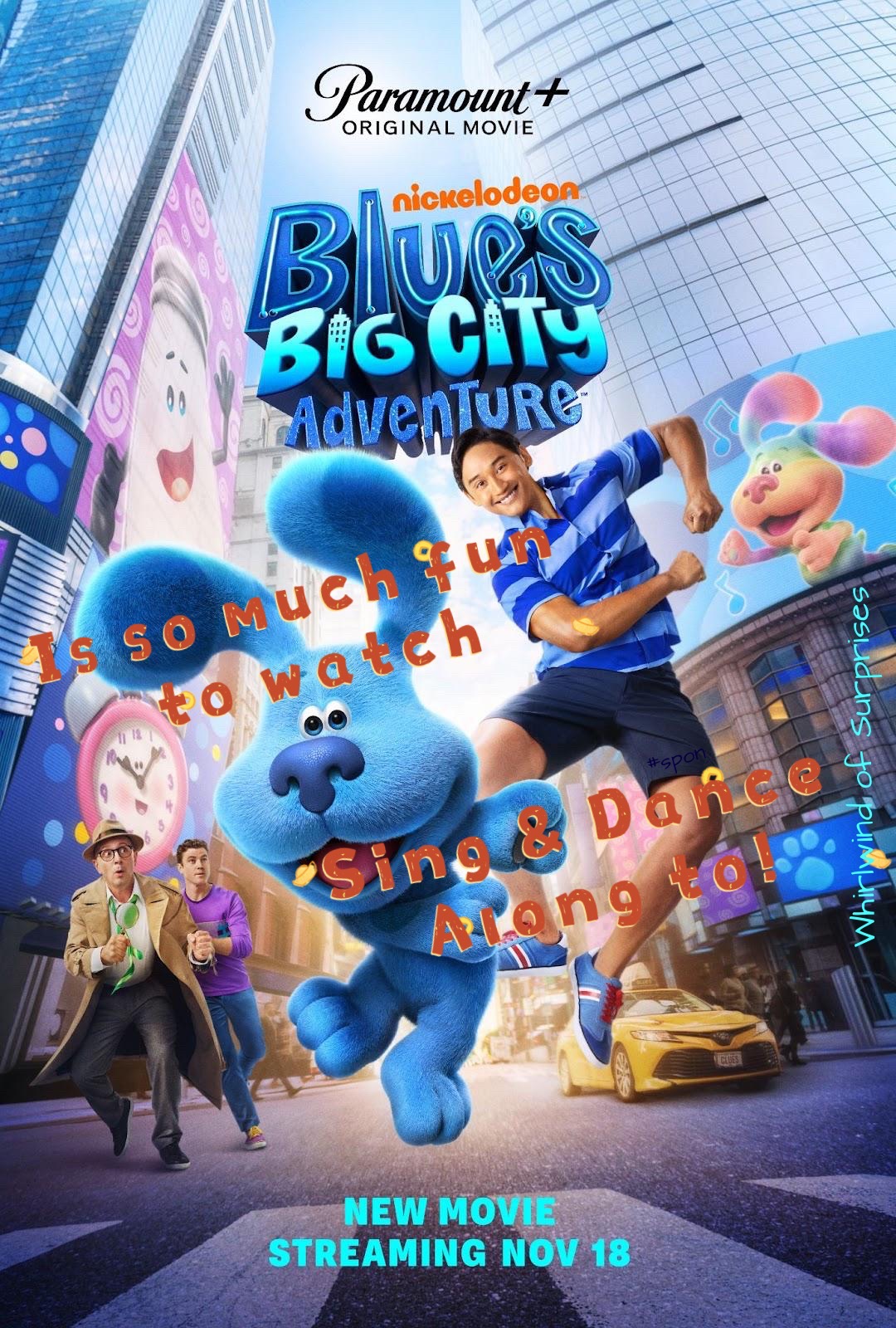 This was a thoroughly enjoyable movie to cuddle up with the little ones and watch. I also enjoyed how they included kids of different ethnicities and sometimes with disabilities which really promoted diversity and inclusion, which is ever so important these days! Blue's Big City Adventure will be available for streaming on #ParamountPlus on November 18th! Totally worth checking out Blue's newest adventure in #BlueYorkCity.
Feature Run Time: 114 Minutes
Rating: TV -G
Facebook
||
Twitter
Follow WOS:
@CinnyBBS
||
WOS on facebook
||
Pinterest
||
Instagram
Until next time,