Disclaimer
: The product/s mentioned below have been provided for the purposes of this review. No other form of compensation was received. Opinions expressed belong to Whirlwind of Surprises and are NOT influenced in any way. Please view my full
disclosure, TOS, and privacy policy
. Please take the time to enter my other
giveaways
while you're here.
The scorching heat, the longer days, the beautiful greenery -Summer time is official here and we love it. My family and I used to love to take part in the summer reading programs. It was a fantastic way to get out of the house, go to the library and maybe win a prize or two. Plus, it was such a nice escape sometimes from the humid heat. Read on for tips to make summer safe and fun for all the kiddos!
Tips to Keep Kids Safe During their Summer Adventures
1) Sun Protection - Sunscreen is always at the top of my list. I want my child to enjoy his time outdoors but I don't want him be sunburnt or in pain. I also love the UPF Clothing out there because not only do they protect our kids from harmful UV rays, they also dry easily which makes water play such much easier and fun!
2) Swim areas -While it's all fun and games in a toddler pool, it's a little different if you live by a lake or you have a bigger pool. Make sure those areas are fenced off and safe so that a curious toddler does not wander into danger.
3) Fire pits -The same goes for fire pits. Kids and adults have been known to accidentally fall/step into a fire pit, even if it was recently put out. Take steps to ensure that toddlers are not playing near fire pits and that fires are properly put out.
4) Adventure Indoors -There's nothing more fun to a toddler than using their imagination. That's why we love adventure books! Even at almost 2 and a half, my toddler loves to read and will enact parts of books and match his animals to the animals he sees in books. Through books, he's learned so many words and has started reading some of these books aloud based on what he remembers.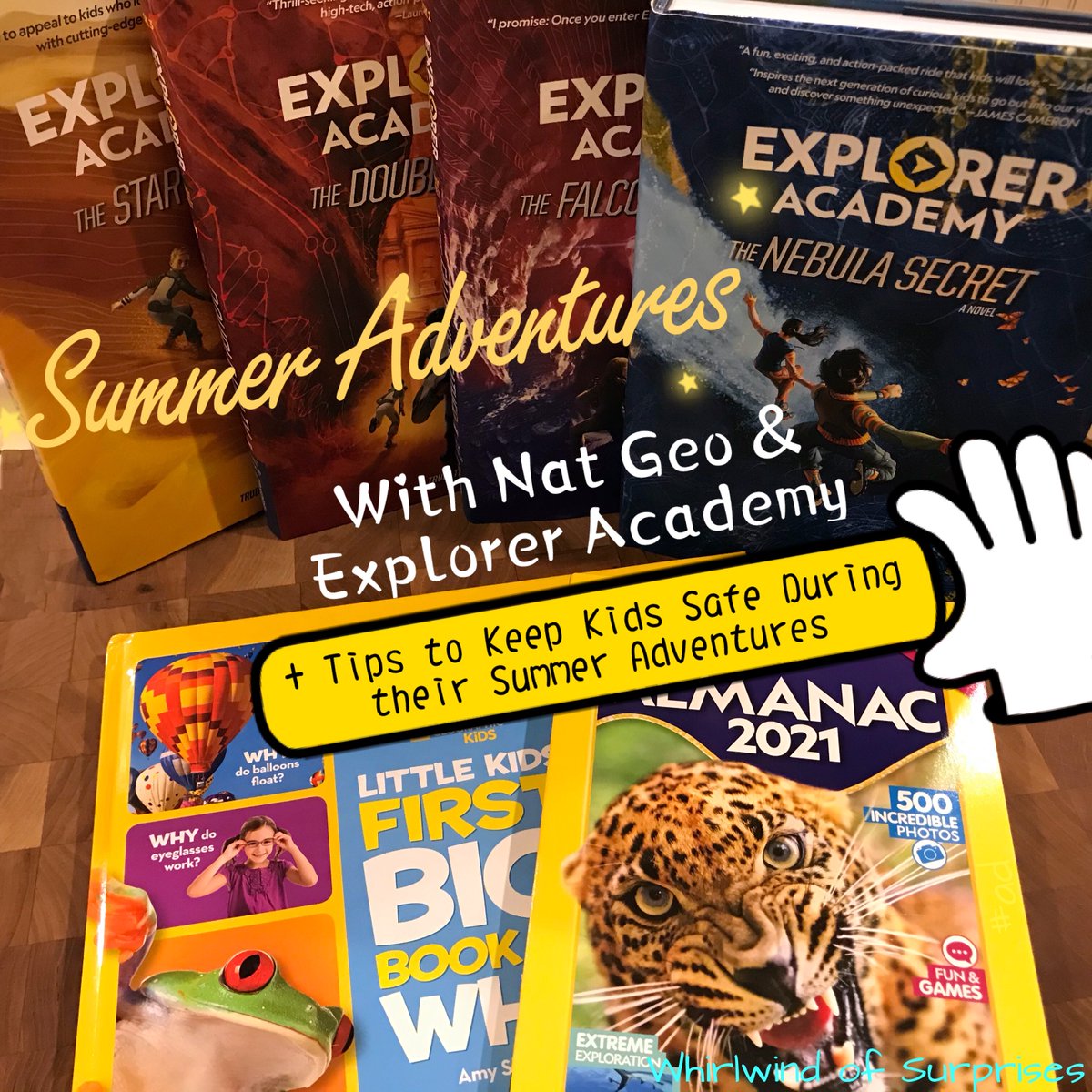 We in particular love our National Geographic books and Trudi Trueit's Explorer Academy Series. These books are always packed with fats and fun adventures. Especially this summer, with limited places open...and truthfully, I'd just as soon prefer not to expose Mac child or family, having a great set of books is a necessity.
-National Geographic Little Kids Big Book of Why (ages 3-7, $15) - What makes a car go? Why do we have to eat vegetables? Why do donuts have holes? This book literally answers a ton of questions -some silly and some practical. You can never be prepared for all the random questions a child may ask. It's interesting and educational. The Big Book of Why encourages kids to ask questions, explore the world in a safe way, and learn.
-National Geographic Kids Almanac 2021 (ages 8-12, $15) - The New York Times best-selling almanac for 2021 features new and updated information about the world that's bound to keep a child, or even an adult, engaged. Who wouldn't want to know who top 21 cutest animals are for 2021? It's no wonder that the Nat Geo Kids Almanacs are best sellers! It matters not that my child is a 2 year old; he won't let me put the book down because he loves looking at the pictures and learning random facts! I giggled at this one too: "Why couldn't the teddy bear eat his dessert?" Scroll to the bottom of the post to get the answer.
-The
Explorer Academy Series
by Trudi Trueit (ages 8-12, $17 each) — These books are seriously hard to put down. Cruz Coronado and 23 other kids from around the globe get to train with the world's leading scientists to become the next elite explorers through Explorer Academy. I typically read these to him in chapters and when we're on long car rides. The 1st book is about Cruz's entry into the school and sets the background. His mother was also a renowned explorer who passed away too early but not all is as it seems, for she's left Cruz a mission. In typical adventure and danger stories, someone is out to stop him and he must find out who before it's too late. The series also incorporates information and knowledge inspired by the real adventures and explorations of the National Geographic Society. Mind you, I had just as much fun learning the new big words and about the different cultures, places, and cool tech that was featured. At the end of the books, they even have a section that explains some of the inspiration behind parts of the books. This series of 4 and it's two companion nonfiction activity books along with hours of videos, games, and info on real-life explorers at
ExplorerAcademy.com
makes this series a fantastic way to keep the kids engaged indoors when the temps get too warm outdoors. Check out the first chapter from book 4:
The Star Dunes
.
5) Adventure Outdoors -Create an adventure around your home so that like the explorers, your toddlers can try to find items in your yard, kind of like an Easter egg hunt.
What are your summer plans?
Our friends at National Geographic are offering our readers a National Geographic Kids Books Summer Reading Pack consisting of all the titles above (ARV $98). Open to the US, 18+. Good luck! Ends Aug 07, 2020 at 11:59PM EST. Winners have 24 hours to respond before a new winner is chosen.
Nat Geo Summer Prize Pack $98
Keep in touch with National Geographic:
Facebook
||
Twitter
||
Site
Answer: He was stuffed.
Follow WOS:
@CinnyBBS
||
WOS on facebook
||
Pinterest
||
Instagram
Until next time,