Disclaimer
: The product/s mentioned below have been provided for the purposes of this review. No other form of compensation was received. Opinions expressed belong to Whirlwind of Surprises and are NOT influenced in any way. Please view my full
disclosure, TOS, and privacy policy
. Please take the time to enter my other
giveaways
while you're here.
We've all heard of it, it covers the news outlets and medias day in and out. The pandemic has been hard on everyone. From lost jobs and income to loss of health and lives, our lives have completely changed. Not everyone understands the gravity of the situation; truth be told, there are many adults that have a hard time grasping the concepts, much less the children in our lives. A toddler doesn't understand why we're asking them not to play in a playground or hang out with their friends. However, a cooped up toddler who's lost their routine can spell trouble, more tantrums, and headaches for parents who are doing their best to provide for their families in these dark times. So, here are some great activities and tips that will help keep toddlers active and happy!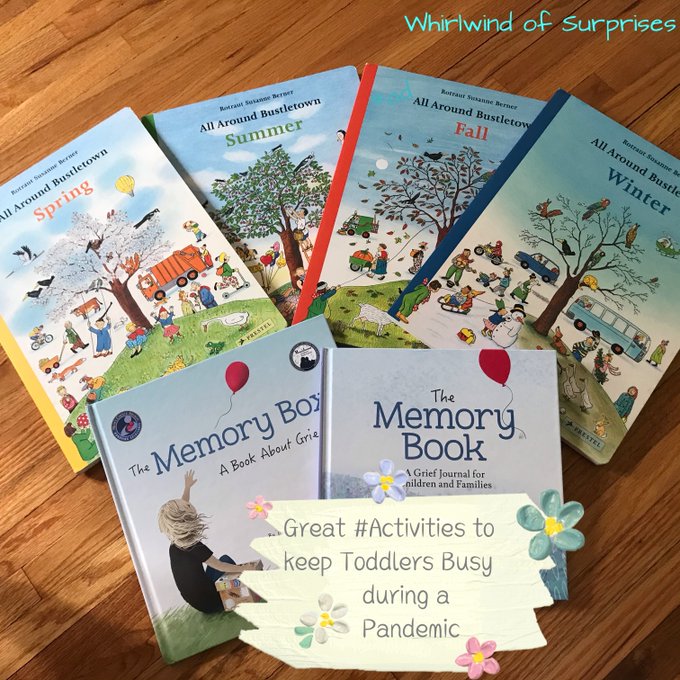 1) Reading -There has never been a better time to read to your children. For those staying home from daycare, it's a great way to pass the time without screen time. It encourages imagination, promotes reading skills and is interactive and fun. I personally love the new books we got and I'm not the only one.
"All Around Bustletown"
are these gargantuan board books that feature the seasons: Spring, Summer, Fall and Winter with the same scenarios. They are created by Rotraut Susanne Berner, who is one of Germany's most loved children's authors. The "All Around Bustletown" series (MRSP $12.95 each) are the perfect books to spark conversation and our toddler spends time searching for the dogs, fish, etc. It's a great activity that keeps us entertained for a good period of time. We read and we learn to count with search for the stars or fish. I also love how they are the same scenes depicted by different seasons because it allows for the comparison of the different seasons -the different layers of clothing one might wear in the winter instead of summer and so forth.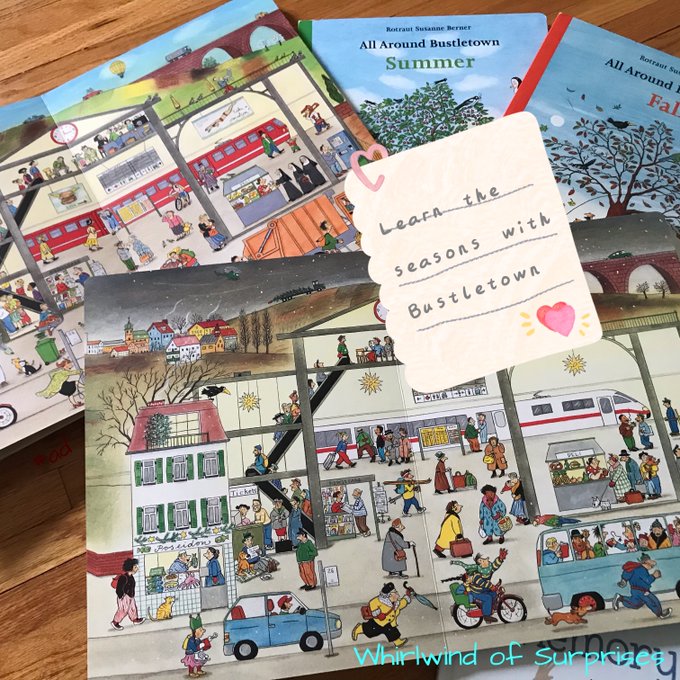 2) Playing outdoors -So there are stay-at-home orders in multiple states, however, that doesn't mean we can't play in the yard or go for walks. We are enjoying our daily walks with the pups and maintaining our social distance from other walkers. Avoid the stroller -have your toddler walk. They have fun pointing things out and learning about everything in the scenery. We get a lot of, "What is that?" on our walks and well, toddler speed means our usual 15 minute stroll ends up being more like 30-40 minutes. Don't forget to wash your hands when you return indoors as kids tend to touch everything!
3) Window Art -This can be enjoyed both indoor and out. On our walks, our toddler loves pointing out the shapes he sees such as hearts or the bears in the windows. At home though, be creative, kids love to participate and help. We love how it directs their energy towards making happiness for others and showing solidarity in the community.
4) Grief -Unfortunately, this is a darker side that we all learn and will deal with sometime in our lives. With the many lives affected by COVID-19, many have had their lives touched by a loved one passing. We recently dealt with death in the family related to cancer and though our toddler is too young to really comprehend yet, as he thinks great-grandma is just asleep; we think it is important for children to be able to process and learn how to work through grief.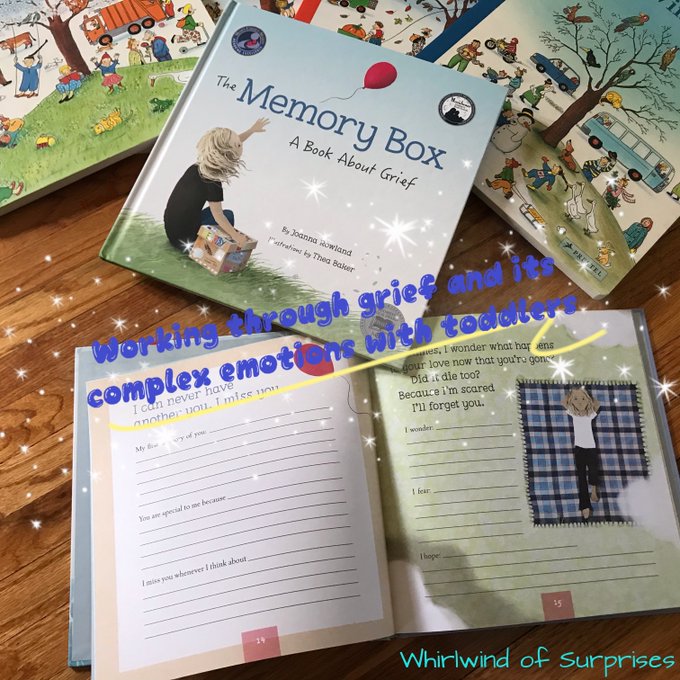 The Memory Box: A Book About Grief (ISBN: 978-1506426723; Hardcover $16.99; Ages 3-8) and The Memory Book: A grief Journal for Children and Families (Beaming Books; ISBN: 978-1506457819; Hardcover $17.99; Ages 3-8; 64 pages) by Joanna Rowland and illustrated by Thea Baker is a fantastic tool for this. The Memory Box is a book that helps to gently work through the concepts surrounding death and grief and The Memory Book is a Grief Journal for Children and Families which can ease and help a child and their family deal with grief by remembering their loved ones while creating a memory album of the lost one. The Memory Book then becomes a keepsake for families for years to come This set of books have been recommended by St. Jude Children's Research Hospital, EveryStep Grief & Loss Services' Amanda the Panda program, schools, hospitals, nursing homes, counselors, and more. .
5) Helping in the Kitchen -While our toddler is not allowed near the stovetop when it's home, he's fantastic with helping. Encouraging their help not only develops good habits but gives them a feeling of inclusion and accomplishment when they help out. Ours loves watching and helping us prepare food. Ours loves to help spin the salad spinner (since he can do that all by himself) and beat eggs with us.
Keep your kids on a routine. Continue to engage with them and share love, hope, and joy. This is what shines through on those dark days and is what will get not only our kids but also us through the pandemic.
How are you spending your time with your kids during this time?
Facebook
||
Twitter
||
Site
Follow WOS:
@CinnyBBS
||
WOS on facebook
||
Pinterest
||
Instagram
Until next time,