Disclaimer
: The product/s mentioned below have been provided for the purposes of this review. No other form of compensation was received. Opinions expressed belong to Whirlwind of Surprises and are NOT influenced in any way. Please view my full
disclosure, TOS, and privacy policy
. Please take the time to enter my other
giveaways
while you're here.
Well...if you know me, I am a huge WWE fan. I'm also a huge movie buff. Yes, I adore family friendly movies. Ask my husband, he makes fun of me for my loves for a living -at least from my perspective. Cena also happens to be one of my favorite wrestlers. Plus, Keegan-Michael Key is HILARIOUS. A fantastic combination to begin with already, you can only imagine the rest.
From Paramount Home Entertainment, the storyline follows firefighter Jake Carson (John Cena) and his team (Keegan-Michael Key and John Leguizamo) rescue 3 siblings in the path of a wildfire. They quickly realize that no amount of training would prepare them for babysitting children while searching for their parents. So it's no surprise when the station goes through all sorts of messes and at the end of the day, realize that kids can be wild and full of surprises as well.
The
Playing with Fire
Blu-Ray Combo and Digital features bonuses including:
-Storytime with John Cena
-Deleted Scenes
-Bloopers
-Lighting Up The Laughs
-The Director's Diaries: Read By Star Cast
-What It Means To Be A Family
-The Real Smokejumpers: This Is Their Story
The movie itself was pretty hilarious. We quite enjoyed it as family. I will, however, admit that some of the acting was a bit over-the-top in a kid-friendly way hence may seem a bit much for some adults watching the film. I don't mind a bit of corny humor myself from time-to-time so it really didn't bother me as much. I loved all of the characters, they each had their quirks and punch lines that made each character quite likable. Most of all, I enjoyed the moral of the story. Family and love can come in all shapes and sizes. Rated PG in the US and G in Canada, definitely worth a watch. Or if you're like our family, you make a family movie night out of
Playing with Fire
!
FAMILY MOVIE NIGHT -PLAYING WITH FIRE
Supplies:
-Jenga Kit
-Playing with Fire Movie
-Fire extinguisher-themed water bottles (These are pretty cute on
Amazon
)
-Popcorn
-Willing and goofy family members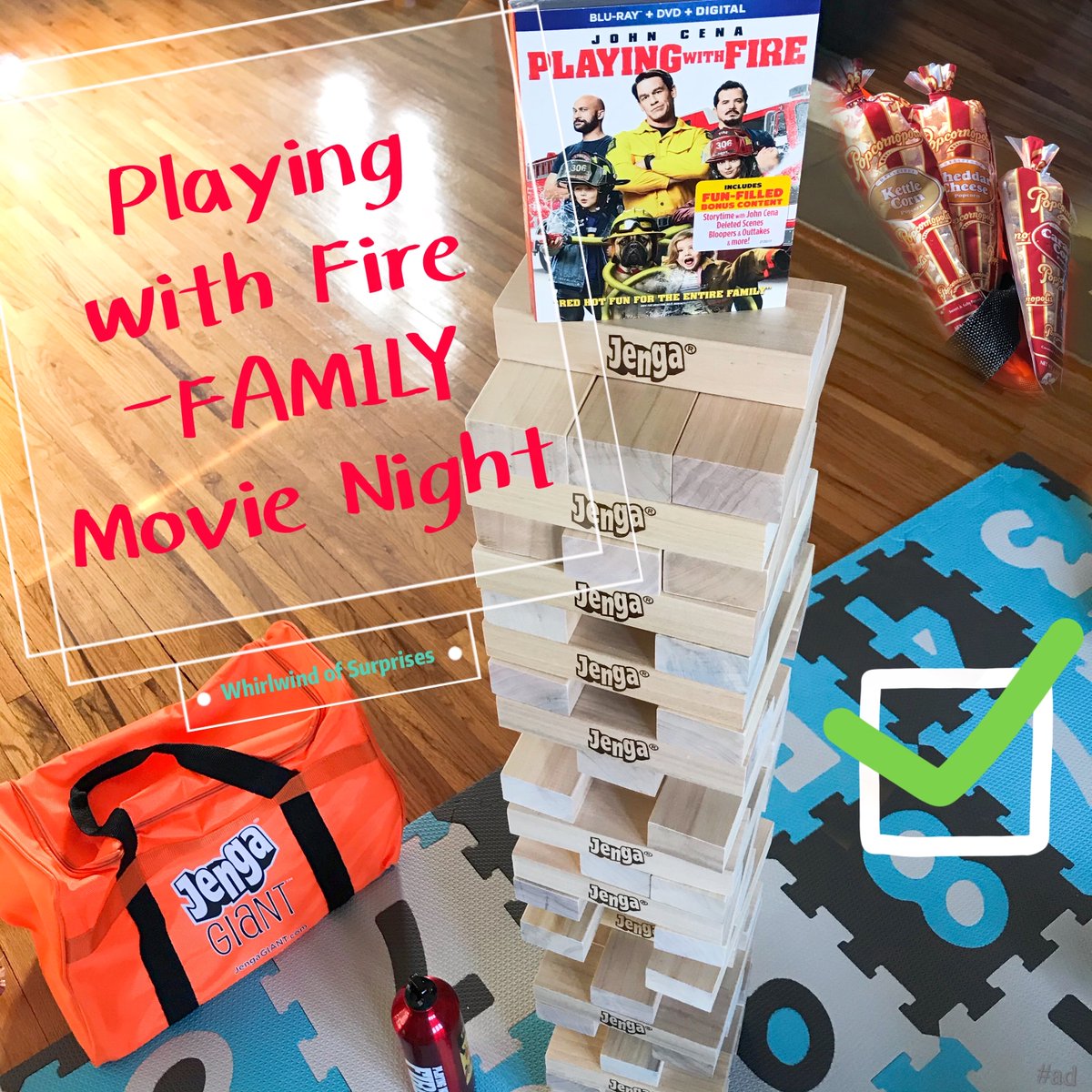 Truthfully, it's rather simple. Grab some awesome popcorn, whether it be a bowl full or individual portions. Snacks are always essential for movies! Hydrate with adorable fire extinguisher-themed water bottles.
Set up JENGA or any version of it...any size welcome and have a tournament play off prior to watching the movie! Preferably on a child's play mat or something soft so that when it comes crashing down, you can actually enjoy the moment rather than worry about your hardwood floors. Note of warning: Players probably will need to know how to play to participate in the family tournament.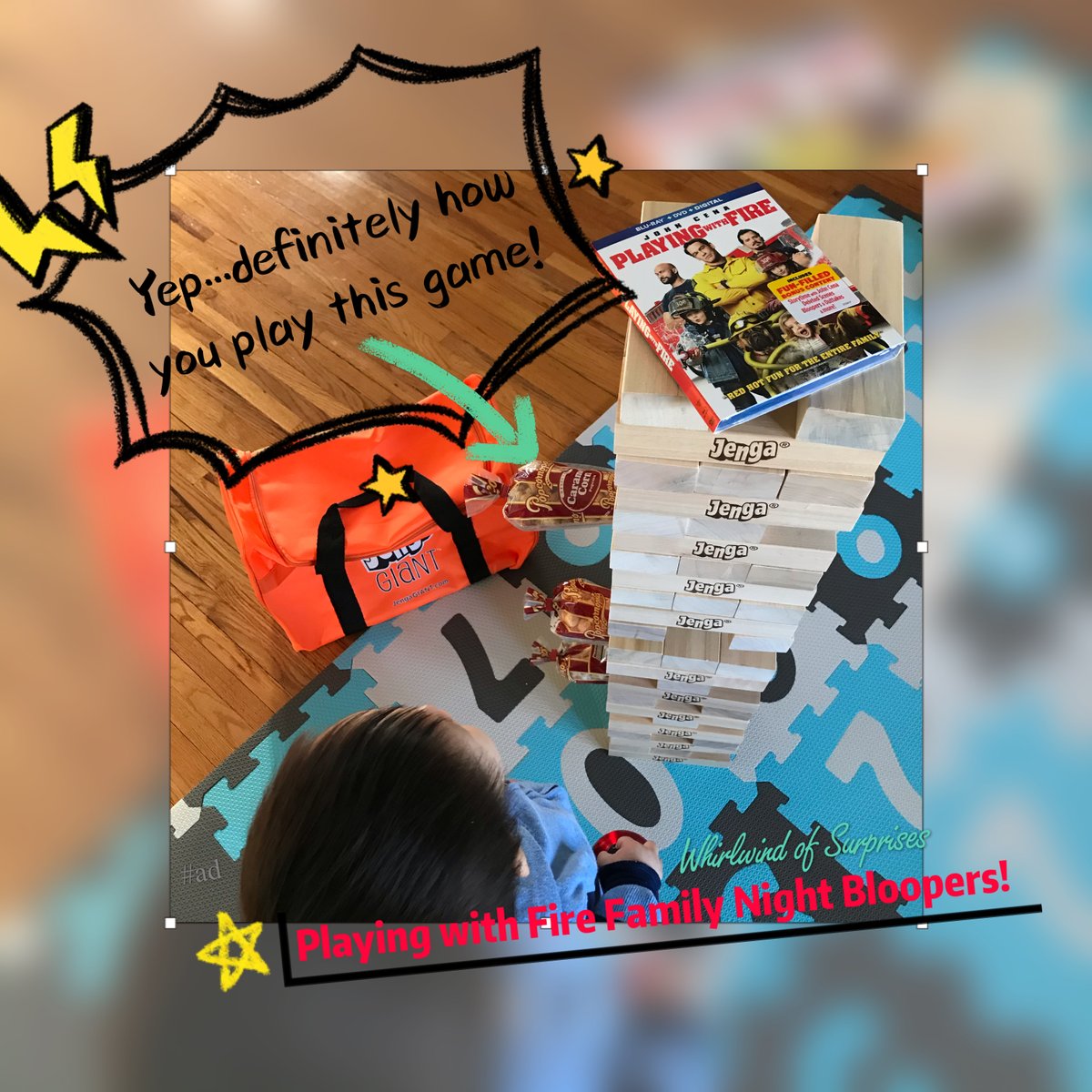 We just had some general fun with it. Our son was having a ton of fun, placing the popcorn where the holes were left behind from removed blocks. We had a fantastic time building our tower and attempting to play a game. Small spoiler but there is a similar larger version of Jenga that they play with during the movie hence the absolute appropriateness of it.
In short, Playing with Fire is a straight forward, feel good movie that's fun for parents and kids alike. Pick up a copy and check it out. Better yet, we can help kick start your Family Movie Night because we're giving away a copy of the Blu-ray.
Paramount Home Entertainment is kind enough to send one of our readers a Blu-ray copy of Playing with Fire. Enter below. Open to the US, 18+. Ends March 05, 2020 at 11:59PM EST. Winners will have 24 hours to respond before a new winner is chosen. Good luck!
Playing with Fire blu-ray Giveaway
Facebook
||
Twitter
||
Site
Follow WOS:
@CinnyBBS
||
WOS on facebook
||
Pinterest
||
Instagram
Until next time,