Disclaimer
: The product/s mentioned below have been provided for the purposes of this review. No other form of compensation was received. Opinions expressed belong to Whirlwind of Surprises and are NOT influenced in any way. Please view my full
disclosure, TOS, and privacy policy
. Please take the time to enter my other
giveaways
while you're here.
We love books in our household, particularly National Geographic books. They've always had such a great variety of facts and information that it doesn't even feel like learning when you're reading. Best of all, they make for fantastic gifts. They engage and promote the ability to sit still and focus their attention on something. Plus, they're absolutely fun picks. Take a look and you'll see.
The newest National Geographic titles are fantastic and FUN to read!
1) Nerd A to Z: Your Reference to Literally Figuratively Everything You've Always Wanted to Know (ages 8-12, $14.99)
-I love how Nerd A to Z doesn't even try to hide it's nerdiness. Our family has always loved the tidbits of fun facts that Nat Geo books bring. This though is a fun collection sorted alphabetically through A to Z and has more than just scientific information. It has dinosaurs, history, and even pop culture. Needless to say, it's full of goodies for a wide range of readers.
2) The Book of Bling: Ritzy Rocks, Extravagant Animals, Sparkling Science and More! (ages 8-12, $19.99)
-Who doesn't love a bit of bling? It adds some flare to the room, don't you think? The book of Bling isn't just sparkly on the outside, it also sparkles on the inside with all sorts of fascinating facts about all sorts of glittering rocks and animals.
3) Treasury of Bible Stories written by Donna Jo Napoli, illustrated by Christina Balit (ages 8-12, HC, $24.99)
-Treasury of Bible Stories is actually quite a fantastic addition to Nat Geo books. It introduces kids to bible stories, accompanied by vibrant colors and pictures. Though my son is still quite young, he loves to bring out this book to look at the animals and point them out. It is quite the book for those who believe. It features Noah's Ark, Moses, David and Goliath, the ten plagues, Daniel and the lions' den, Jonah and the giant fish, and many more, with 27 total stories.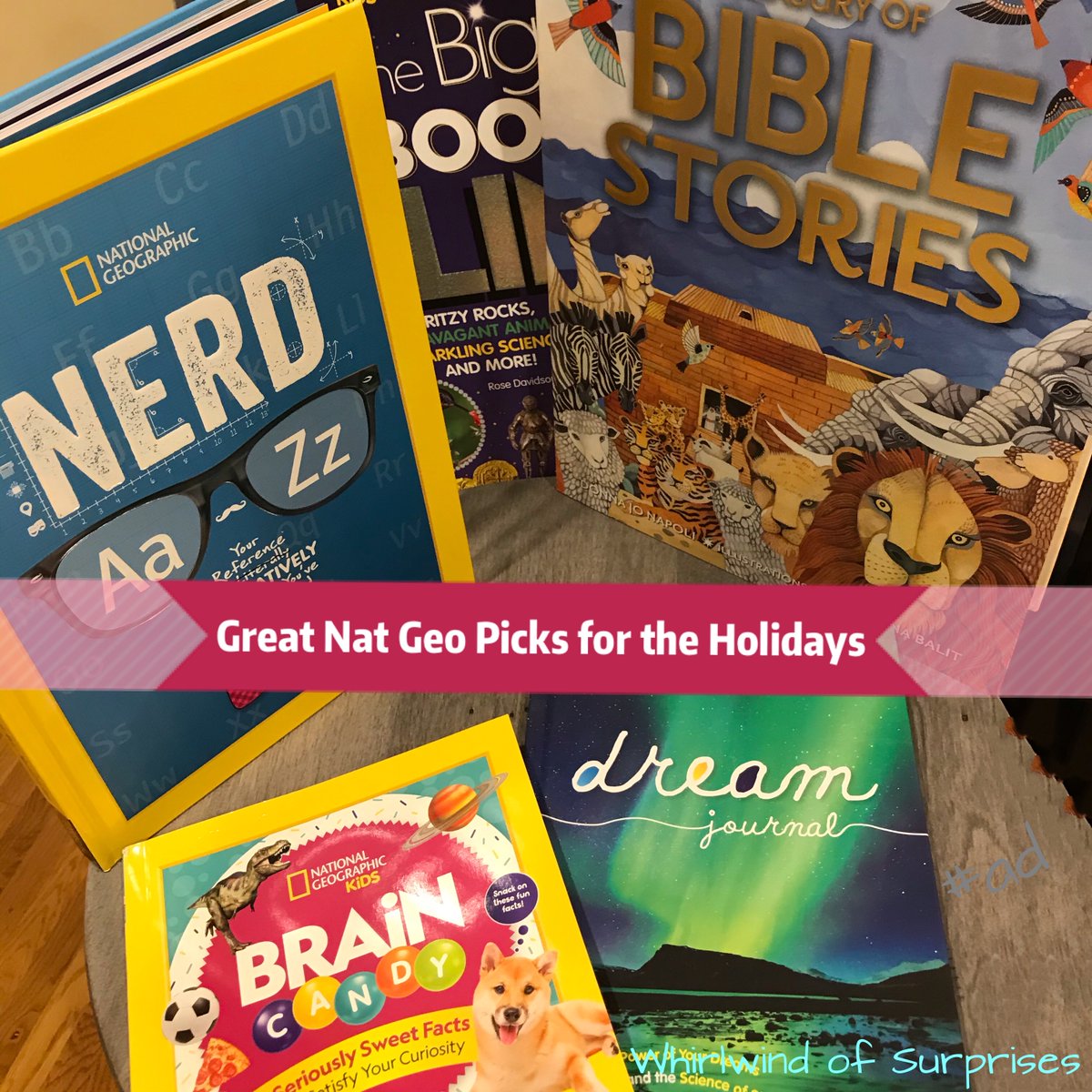 4) Dream Journal by Dr. Allan Peterkin (ages 8-12, $12.99 )
-Dreams are a window to our subconscious... or are they? This Dream Journal would be a fun addition to any preteen's bookshelf as Professor of Psychiatry Dr. Allan Peterkin helps readers discover the power of their dreams and understand the science of sleep.
5) Brain Candy: Seriously Sweet Facts to Satisfy Your Curiosity - (ages 8-12, $8.99)
-Brain Candy is sweetly satisfying. Brain Candy is a great size for a stocking stuffer and has lots of interesting facts about the world that keep my husband and I going back to the book to read with our son. He, on the other hand, loves all the vibrant colors and images that adorn each page. This is a hit for both kids and adults.
These are great new additions to the National Geographic library this year and a fantastic addition to anyone's bookshelves...including big kids! Our friends at National Geographic are offering our readers a National Geographic Kids Books Holiday Gift Pack consisting of all 5 titles above (ARV $82). Open to the US, 18+. Good luck! Ends Dec 20, 2019 at 11:59PM EST. Winners have 24 hours to respond before a new winner is chosen.
Nat Geo Holiday Prize Pack $82
Stay connected with National Geographic Kids:
Facebook
||
Twitter
||
Site
Follow WOS:
@CinnyBBS
||
WOS on facebook
||
Pinterest
||
Instagram
Until next time,