Disclaimer
: The product/s mentioned below have been provided for the purposes of this review. No other form of compensation was received. Opinions expressed belong to Whirlwind of Surprises and are NOT influenced in any way. Please view my full
disclosure, TOS, and privacy policy
. Please take the time to enter my other
giveaways
while you're here.
How are the summer activities going? Have you checked out our
Tips to Keep Kids Safe during their Summer Adventures
post with an awesome Nat Geo giveaway? Well, we're keeping it coming with another "Fin-tastic" series from National Geographic. Do you love sharks? Our toddler does! He loves all his animals!
This collection of Shark books is great for kids of all ages. Whether you have new readers or experienced readers, they'll all love it. Make a day of fun-filled shark activities out of it. Check out our tips below to have a Shark-themed day.
So Cool! Sharks (ages 3-7, hardcover, $6.99) - This is quite the adorable little book, written simple enough and formatted for young readers. It even made me chuckle a time or two.
Little Kids First Big Book of the Ocean (ages 4-8, hardcover, $14.95 ) - This is a great book for young animal lovers. It references more than just sharks and has lots of information about many sea animals such as dolphins, sharks, sea otters, and penguins. It even has other lesser known animals that are bound to spark a child's curiosity.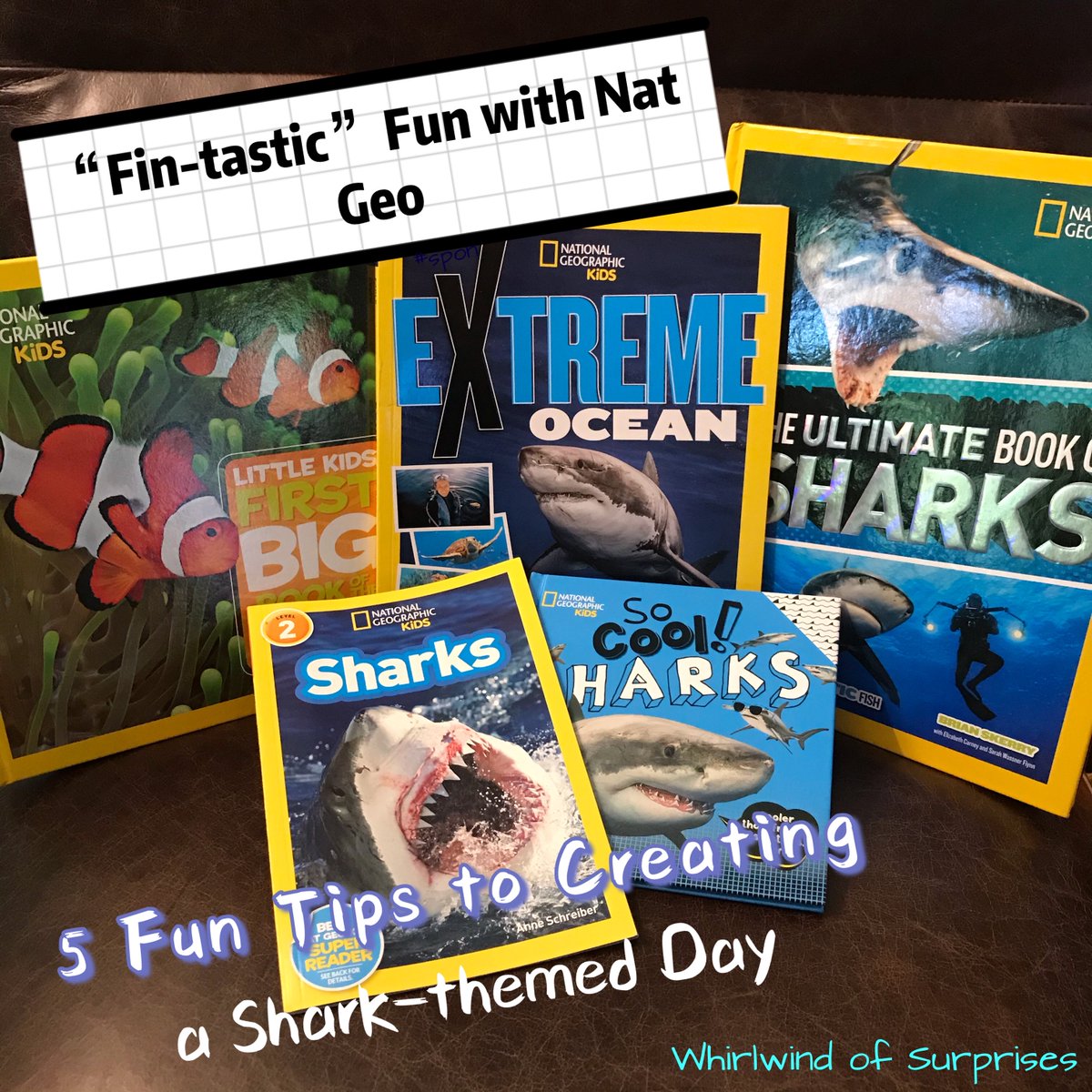 National Geographic Readers: Sharks! (ages 5-8, paperback, $4.99) - This reasonably priced shark book is nicely formatted for kiddos that are learning to read on their own. Being a level 2 book, this book was created with early education experts and written to maximize interest to help with reading success.
The Ultimate Book of Sharks (ages 9-12, hardcover, $19.99) -For the older kids, the Ultimate Book of Sharks is written by internationally acclaimed marine photographer and National Geographic Explorer Brian Skerry. This book gives an insight into what its like to swim with sharks, how they live, what they eat, their superhero-like senses.
Extreme Ocean: Amazing Animals, High-Tech Gear, Record-Breaking Depths and Much More by National Geographic Explorer Sylvia A. Earle (ages 8-12, paperback, $12.99) -This book is full of fun facts and the newest tech used to explore the ocean floor. It offers educational tidbits and fun experiments to keep kids busy. More importantly, it teaches about the importance of the ocean.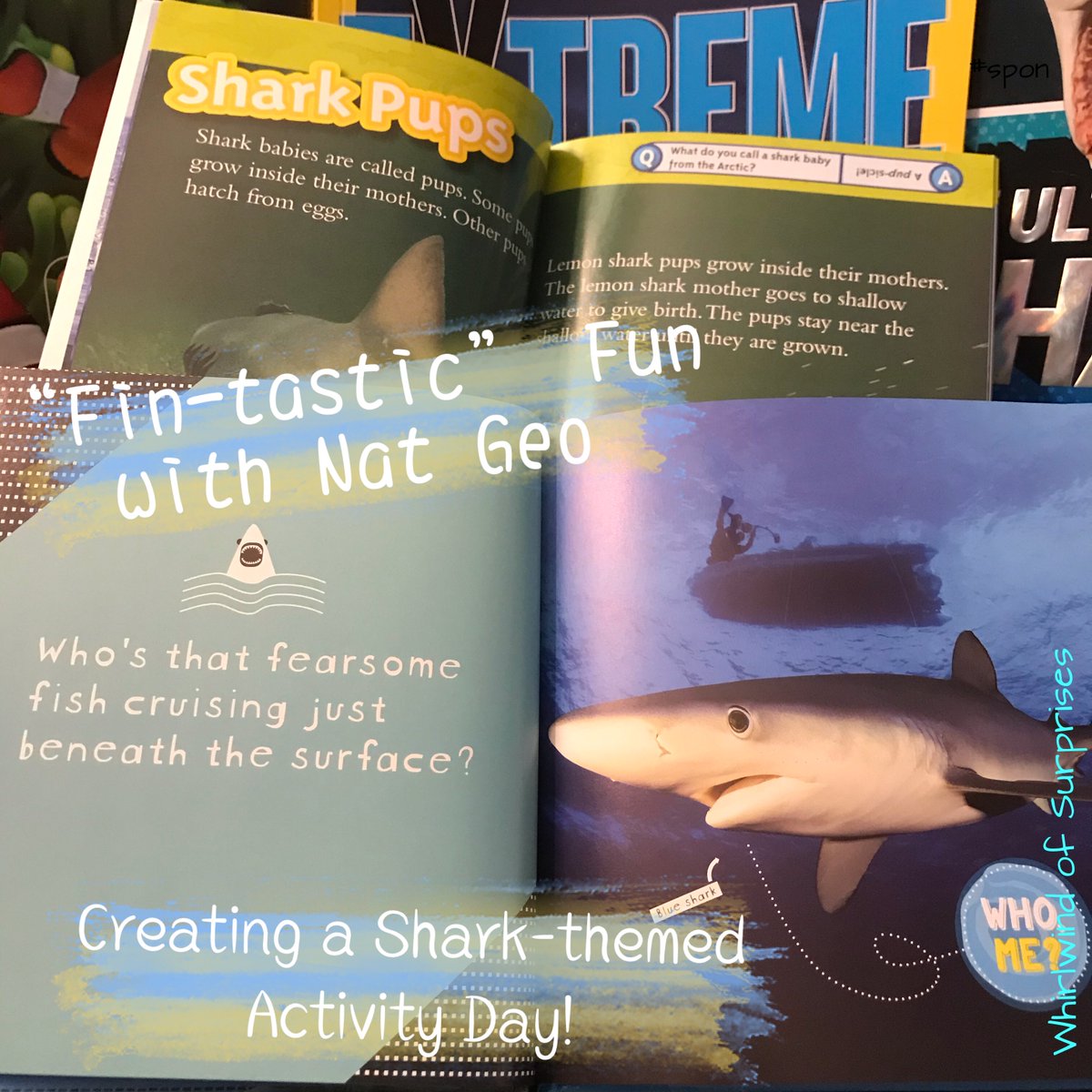 5 Fun Tips to Creating a Shark-themed Day
We all know how popular baby shark is. We have a little stuffed Baby Shark that sings, a few Baby Shark books and yes, our child loves to sing and dance to...Baby Shark doo doo doo doo doo doo! So, it's fun when we have Shark-themed days.
1) Get the entire family involved. Pups included. We have a shark fin costume that BabyPom wears around Halloween so it's fun to dress him up as well to create that atmosphere!
2) Don't be afraid to be goofy. We sing and dance to Baby Shark on our TV, without a care of who might be walking by outside or looking. Toddlers respond to fun and uninhibited silliness.
3) Read Shark-themed books -With a fun plethora of Shark books listed above, there's something for kids of all ages. Even adults can learn some interesting facts.
4) Shark-themed arts and crafts -Our toddler's more into tracing lines and coloring at his age. So, tailor it to your age group. We can draw sharks and have him try to copy it or even color it in. We love using water drawing so that it disappears when it dries and it's easy to clean up. He also loves to color with markers! In older preschool kids, it may be more fun to create sharks out of paper. Or it would be fun to try out some of the experiments in Extreme Ocean: Amazing Animals, High-Te h Gear, Record-breaking Depths and Much More.
5) Finish it off with a trip to the pool, bath, or backyard kiddie pool! Our toddler isn't swimming quite yet but he sure loves to play with his duckies in the bath...splashing water...kicking his mother out of the bath so he can have it all to himself! Best part it, he gets all tired out playing in the water and he sleeps well afterwards.
Get started with your Shark-themed day by entering to win a "Fin-tastic Grand Prize Pack" from National Geographic which consists of all 5 titles listed above (total ARV $60). U.S. only, 18+. Good luck! Ends Aug 14, 2020 at 11:59PM EST. Winners have 24 hours to respond before a new winner is chosen.
Nat Geo "Fin-tastic" Prize Pack $60
Stay connected:
Facebook
||
Site
Follow WOS:
@CinnyBBS
||
WOS on facebook
||
Pinterest
||
Instagram
Until next time,